Looking for the perfect air fryer to add to your kitchen? Confused by all of the different brands and styles of air fryers on the market? Read my complete Breville Smart Oven Air review to see if it's the right air fryer for you.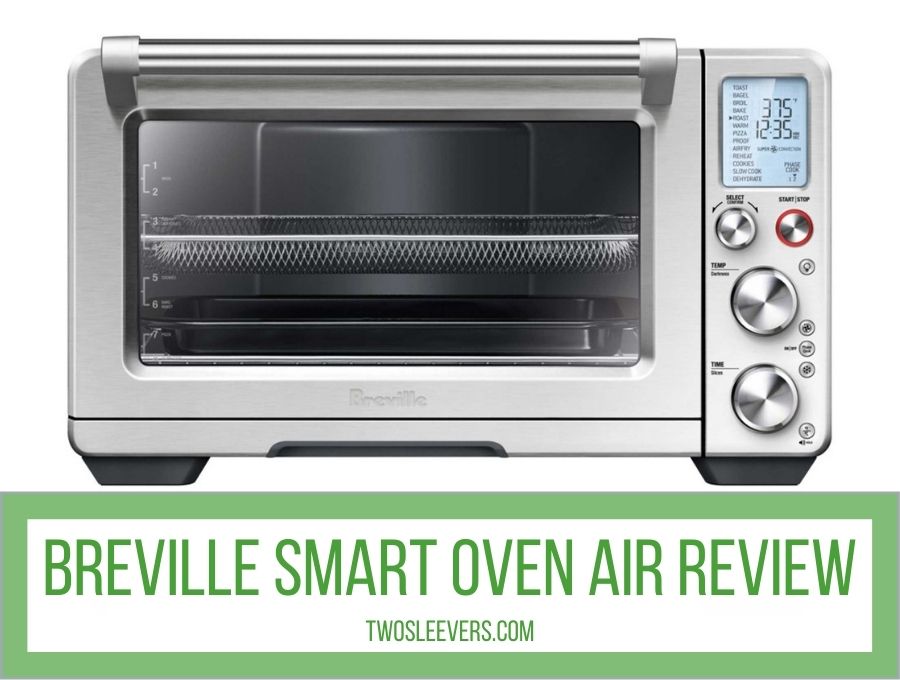 Why You Should Trust My Review On The Breville Smart Oven Air
Air Fryer Cookbooks: I have two best-selling air fryer cookbooks, Every Day Easy Air Fryer and Air Fryer Revolution, so you can feel confident in knowing that I use air fryers on a regular basis, I'm quite familiar with how they work and I know what makes a good air fryer.
Experienced Reviewer: I've done various air fryer reviews in the past, so I have a wealth of knowledge about air fryers and what makes one better than another.
Gadget geek!: I'm a self-proclaimed food tech enthusiast and have been known to purchase (and review) just about any kitchen appliance I can get my hands on.
Here are a few factors I'm using to review the Breville Smart Oven Air:
I'm going to start out absolutely gushing about this Breville Air Fryer. I normally try to stay pretty neutral about how I feel about a kitchen gadget through my review posts, but I just can't with this one. However, I literally haven't used my full-size oven since I purchased this. I use it at least 2-3 times a week because it is such a fantastic appliance.
Footprint
Capacity
Features
Ease Of Use
Ease Of Cleaning
Price
1. Footprint
The Breville Smart Oven Air is rather large, but that's one of it's most enticing selling points. Many other air fryers can be quite small and make cooking larger quantities of food or larger items impossible. This air fryer/oven combo is large enough to hold baking sheets, muffin tins, and loads of other larger items like whole chickens, or loaves of bread.
2. Capacity
The capacity of this air fryer oven is absolutely huge. It has a 6-quart capacity. This doesn't sound much bigger than some of the other air fryers that I have reviewed, but unlike other air fryers with a similar capacity, the Breville Smart Oven Air has several different trays that can all be inserted in the air fryer.
Since food cooks best in single layers in an air fryer, being able to cook several different pans at once increases the amount of food you can cook in one cooking cycle.
Can I Use My Regular Baking Pans In This Oven?
Whether you can use your regular baking pans or not depends on the size of the pan. Anything that is oven safe is safe to use in it.
Here are a few different sizes of pans that will fit comfortably inside:
5-quart dutch oven12 cup muffin tin9x13 baking dishes
Buy One
Breville Smart Oven Air Review - Breville Air Fryer Oven Combination
3. Features
The Breville Smart Oven Air has 13 different cooking functions to make life in the kitchen even easier. The functions you can choose from are:
Toast
Bagel
Broil
Bake
Roast
Warm
Pizza
Proof
Air fry
Reheat
Cookies
Slow Cook
Dehydrate
With that many options to choose from, this kitchen gadget does way more than just air fry.
It also has two different fan speed settings to customize your cooking experience even more. The fan speed options are:
Super
Regular
4. Ease Of Use
The Breville Smart Oven Air is SO simple to use. After reading all of the different functions that it offers, you may be concerned that it might be tricky to learn how to use. If you can figure out how to turn three separate knobs and push a button, you can use this air fryer. The knobs control three different things. They are:
Cook Function
Cook Time
Temperature
The button I mentioned before is to start and stop the air fryer.
What Can I Make In A Breville Smart Oven Air
The possibilities of what you can make in the Breville Smart Oven Air are nearly limitless. With all of the different functions it offers and its large capacity, you can make almost any of your favorite recipes easily.
And don't forget to check out my air fryer cookbooks! Every day easy air fryer, and Air Fryer Revolution.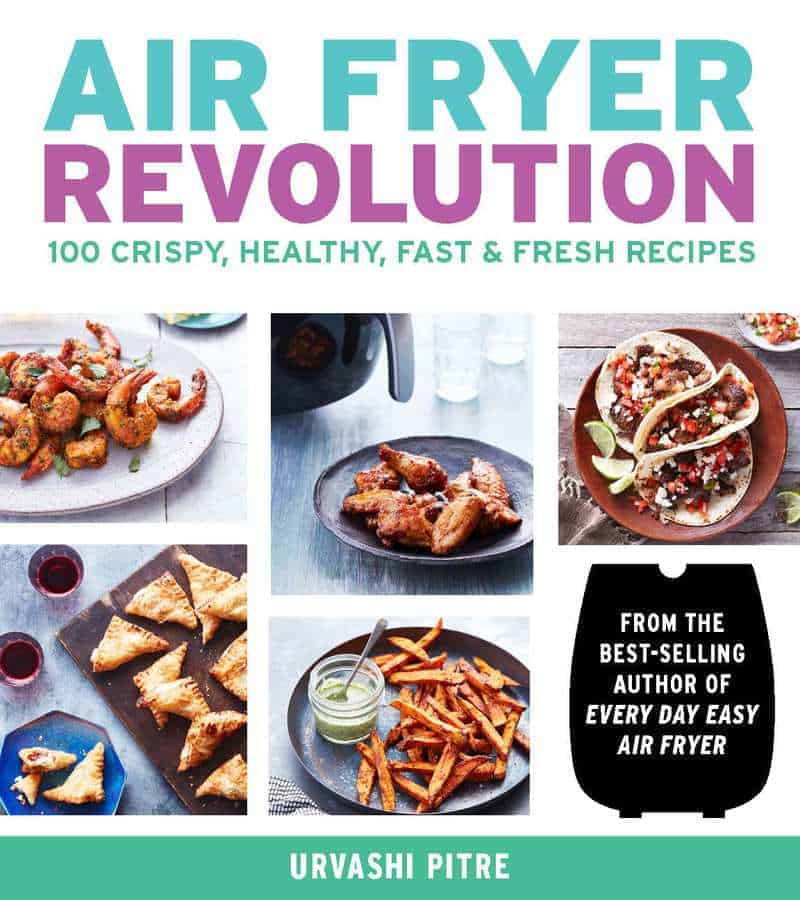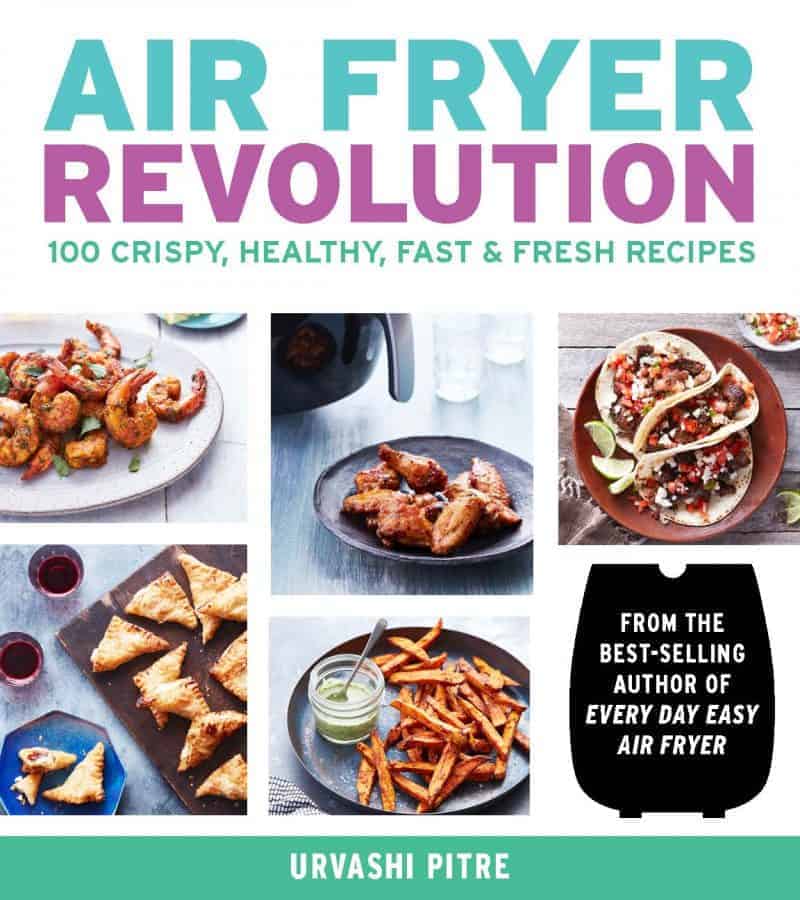 5. Ease Of Cleaning
The Breville Smart Oven Air is incredibly easy to clean. It is a larger air fryer than others, but it has fewer small nooks and crannies than other air fryers to clean. Here are some quick tips and tricks for making clean up even easier:
Use a silicone mat on the bottom when you're cooking. Then when it's time to clean up, just pull the mat out, pop it in the dishwasher, and skip the scrubbing.
If you use several of the removable racks and trays inside of your air fryer oven at one time, it can be a little time consuming to clean them all. They ARE dishwasher safe, so that's a good solution for cleaning them easily.
You can also let the racks and trays soak for 15 minutes in hot, soapy water and then rinse clean. Avoid scrubbing as much as possible so you do not remove the nonstick coating.
6. Price
I won't lie. This is a fairly expensive kitchen gadget. BUT, you have to remember it has the functionality to replace or work as several kitchen gadgets.
If you're wanting to reduce the amount of clutter on your countertops, are trying to minimize the amount you use your oven, or just want to invest in a durable, quality piece of equipment, I would spend the extra money on this Breville Smart Oven Air.
If you're just looking for an air fryer or dehydrator, there are more affordable options.
What Is Included With The Breville Smart Oven Air?
13" Pizza Pan
2 Oven Racks
9"x13" Broil Rack
Enamel Roasting Pan
Mesh basket rack for dehydrating and air frying
Would I Buy This?
This Breville Smart Oven Air is an amazing machine, however, it might not be great for everyone. Here are a few noteworthy things to help you decide if this air fryer is right for you:
Buy This If:
You want a quality, durable air fryer
Have a large family or like to make enough for leftovers
Want to replace several kitchen gadgets with one
You have a larger kitchen or cooking space
Pass On This If:
You're on a budget
You want something that just offers simple air frying options
Have a small kitchen
Have a small family or don't like leftovers
Breville Smart Oven Air Pros and Cons
I'm going to be honest with you. I absolutely LOVE this Breville Smart Oven Air. A majority of the gadgets I review get donated or resold. I couldn't bring myself to part with this one. That being said, I haven't found a lot of cons with this air fryer.
Pros
Large capacity
13 different cooking functions
Two different fan settings
Easy to use
Cons
Large footprint
Very heavy
Rather expensive
If you found this Breville Smart Oven Air helpful, please share with your friends on Facebook and Pinterest so they can see if this air fryer is right for them too.
Breville Smart Oven Air Review - Breville Air Fryer Oven Combination
Originally Published August 20, 2020