Are you contemplating a new coffee maker? Hate spending a ton of money on fancy coffee at your favorite coffee shop? See if this coffee maker would make a great addition to your kitchen gadget collection. Here's my review of the Instant Pod, the Instant Pot coffee maker.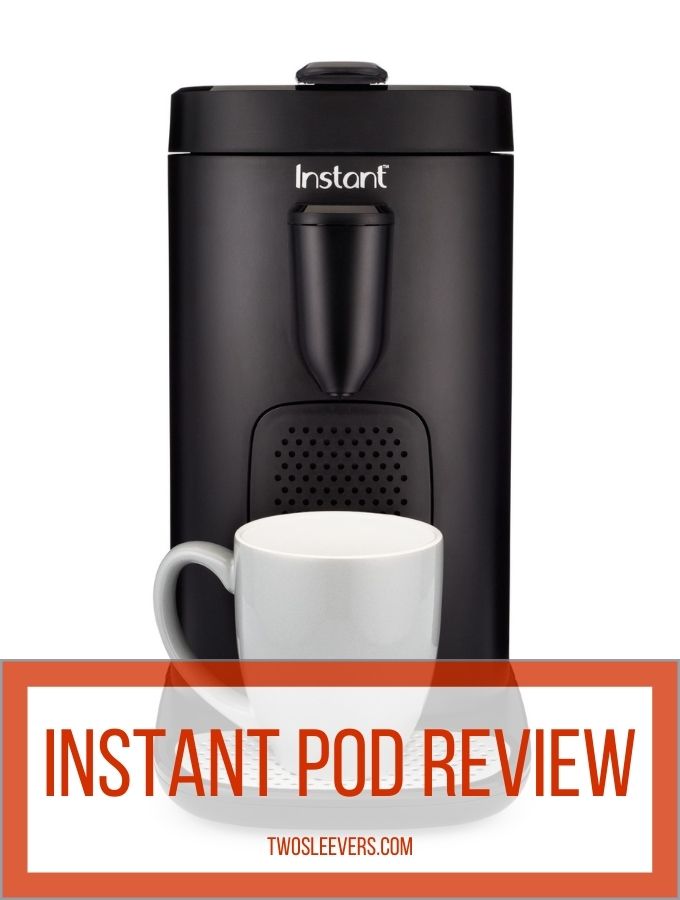 Jump to:
Buy One
Instant Pod Review - Instant Pot Coffee Maker + Video
Why You Should Trust My Instant Pod Review
Coffee Fanatic. I absolutely adore coffee. When I'm not grabbing a coffee on the go, I'm using one of my many other coffee makers to make the perfect cup at home.
Efficient. I love using kitchen gadgets to make cooking more efficient. That's the only way I know how to do things. If a cup of coffee is creating problems instead of fixing them, I'm not interested.
Gadget geek!: I'm a self-proclaimed food tech enthusiast and have been known to purchase (and review) just about any kitchen appliance or tool I can get my hands on.
Watch The Video Review
What Is An Instant Pod?
The Instant Pod is Instant Pot's version of a coffee maker. But it's not just any regular coffee maker. It makes coffee and espresso all in one machine.
Four Reviewing Points For The Instant Pot Coffee Maker
There are four factors I took into consideration when I was reviewing the Instant Pod. They are:
Footprint
Capacity
Ease of Use
Price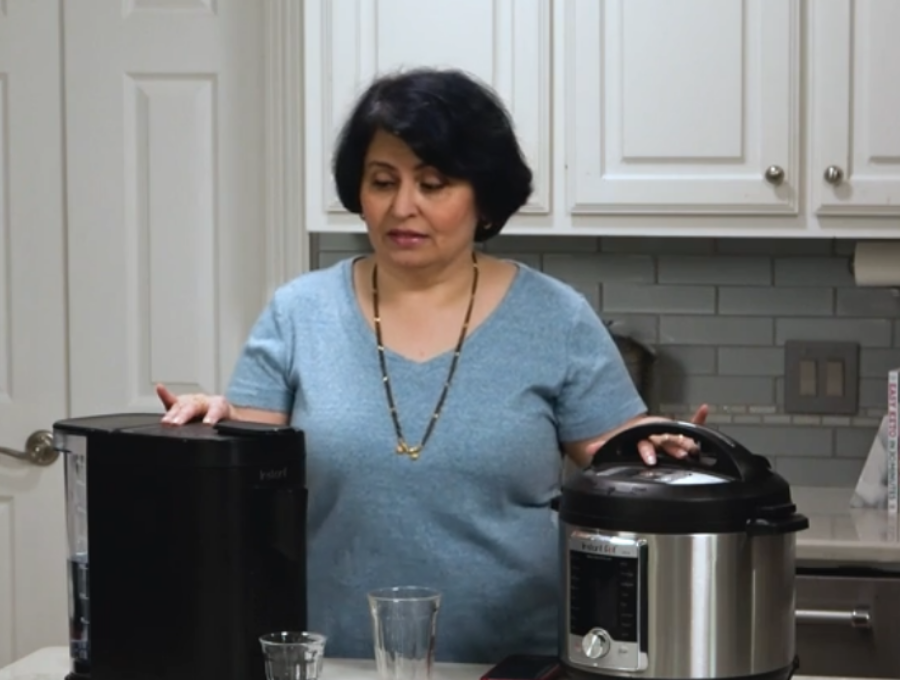 1. Footprint
One of the biggest factors a person will take into consideration when they're thinking of expanding their kitchen gadget collection will be how much space it takes up on their kitchen counter or how easy it will be to store if they don't use it very often.
The easiest way for me to show you this is to compare it to another common kitchen gadget that you likely already have in your kitchen. In this case, I used a 6 quart Instant Pot.
Will The Instant Pod Fit Under My Kitchen Cabinets?
The height of these appliances is about the same. The Instant Pod coffee maker might be an inch taller than the 6 quart Instant Pot with the lid on.
While the Instant Pod may fit under your kitchen cabinets, it is probably too tall to be functional. Since you have to raise the top to put the pods in, you would need to move it out to put the pods in and move it back under the cabinets.
If you're looking for the actual dimensions of this espresso/coffee machine, it's 16.2L x 7.2W x 13.0H in inches.
2. Capacity
This machine has two different compartments that you will need to become familiar with. they are:
Water Reservoir- The part you fill with water to brew coffee or espresso.
Used Pod Drawer- The part that holds the used pods after the coffee or espresso is brewed.
Water Reservoir Capacity
If you're a frequent coffee drinker, this will be very important to you. The idea behind a machine like this is that it makes coffee quick and easy. If you're constantly refilling the reservoir with water, it isn't saving you any time.
This Instant Pod holds 68oz (or 2L) of water. This is large enough that you won't be constantly refilling it.
Used Pod Drawer
If you choose to use smaller pods (like the Nespresso pods) they automatically empty into the used pod drawer after your Instapod coffee is done brewing. This is great because you don't have to worry about tossing the used pod after every use.
This drawer holds around 12 used pods before you have to empty it.
What Kind Of Coffee Do You Use In The Instant Pod Coffee Machine?
Speaking of Nespresso pods, you're probably wondering what kind of coffee you can brew in this coffee maker. This is ideal for people making just one cup of coffee at a time.
If you're familiar with Keurig coffee makers, it's similar to that--but more versatile. You can use: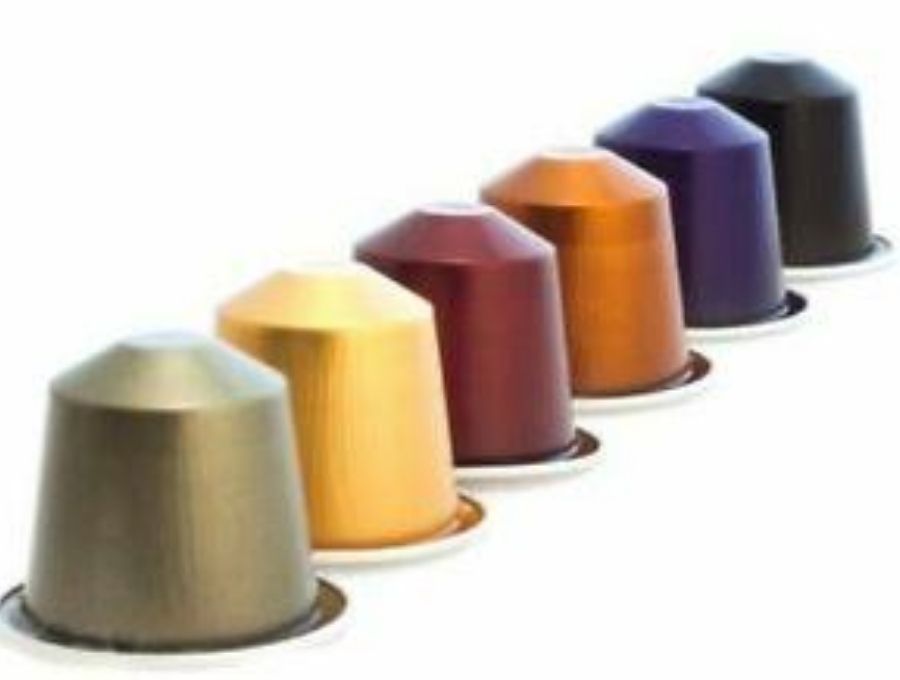 3. Ease Of Use
Who wants a coffee maker that is a pain to use? When selecting the right coffee maker, you want something that's functional and easy.
I will say with the Instant Pod, I had to use it a couple of times to figure it out. You have to lightly press the buttons to select them. Don't try to press them down hard, or nothing will happen.
However, I will say once you get the hang of how it works, it is very simple to use.
How To Use The Instant Pod Coffee Maker and Espresso Maker
Fill. Add the water to the reservoir.
Stage. Place glass or mug of choice at the base of the machine under where the coffee or espresso dispenses.
Push. Press the power button.
Choose. Select the style and size of coffee you wish to brew.
Wait. In 10-15 seconds, the Instant Pod will begin to pour the coffee into your cup.
How Many Different Brewing Functions Does The Instant Pod Have?
This has 6 different button functions on the top. They are:
Espresso
2 oz. espresso
4 oz. espresso
6 oz. espresso
Coffee
8 oz. coffee
10 oz. coffee
12 oz. coffee
4. Price
The price of coffee machines that have similar functions can vary significantly. But the price of ownership is the more important thing to take into consideration. Here are a couple of things to help you decide if the price of this Instant Pod justifies purchasing one for YOU.
How often do you stop for coffee at your local coffee shop? If you find yourself stopping several times a week for coffee, and would be just as happy with coffee at home, this will easily save you money.
Do you find yourself making a full pot of coffee and throwing half of it away? This machine reduces the waste of coffee by only brewing one or two cups at a time.
Things I Like About The Instant Pod
There are several functions of this machine I like a lot. Here are some of my favorites:
Smaller footprint. Since this is a two in one machine (a coffee and espresso maker), I don't have to find room on my kitchen counter for two separate gadgets.
Large water reservoir. I don't have to fill the water in the machine every day.
Variety. This gives me the option to make a variety of different espressos and coffees depending on what I'm in the mood for.
Easy Cleaning. The parts of the Instant Pod that would need to be cleaned frequently are all separate parts, so it is very easy to clean and reassemble.
Things I Don't Like About The Instant Pod
While there aren't a ton of things I don't like about this machine, there are things I wish were slightly different about it.
Temperature. The espresso and coffee that come out of this machine aren't piping hot like I prefer my coffee to be. It still temps around 160 degrees, so it's not iced coffee by any means, but I prefer mine to be hotter.
Buttons. The buttons aren't press buttons, so they can be temperamental.
Would I Buy This?
I think the Instant Pod is a great machine for the right person.
I would say you should buy this coffee/espresso maker if:
You like to drink both coffee and espresso.
Don't have room for both a coffee maker and espresso machine.
Drink a lot of coffee.
Want to cut down expenses from buying coffee out a lot.
You might decide to pass on this gadget if:
You only drink coffee or you only drink espresso.
Only drink coffee on occasion.
You would rather have all of the extras on and in your coffee as you get at the expensive coffee shops.
If you think this is the right coffee maker for you, you can buy one HERE.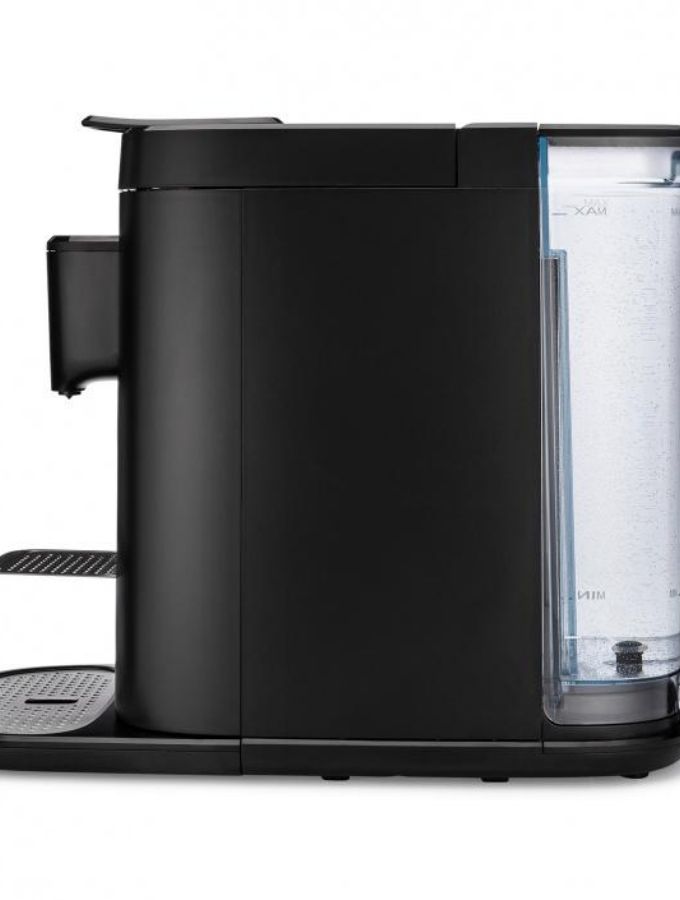 Want More Coffee Maker Reviews?
If you found this Instant Pod review helpful, make sure you share it with your friends on Facebook and Pinterest so they can decide if they need to add this coffee/espresso maker to their kitchen gadget collection.
Originally Published August 15, 2020