Sweet and spicy chicken thigh marinade is a delicious and easy-to-make marinade recipe that's perfect for summertime barbecues, quick weeknight dinners, or any occasion.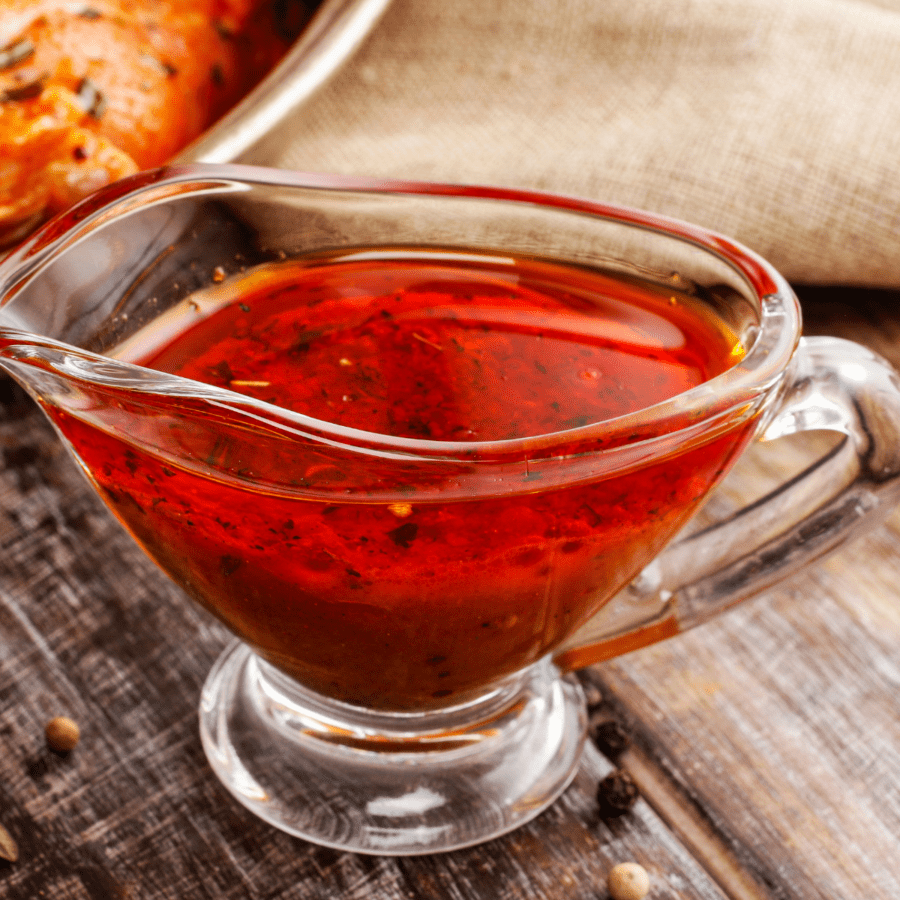 Why This Will Be Your Go-To Marinade
Fast. A quick marinade you can whip up and put to work in under 30 minutes.
Easy. Mix a few ingredients in a bowl and whisk until it creates a beautiful marinade.
Vegetarian. Use this tasty marinade to coat tofu or pour over your favorite veggie blend before tossing them on the grill.
How Long Should You Marinate Chicken Thighs?
When marinating chicken thighs, it's best to marinate them for at least 30 minutes, but no more than 24 hours.
Marinating chicken thighs for a shorter period of time will still allow them to absorb some of the flavors and become moister while marinating them for longer can cause the meat to become mushy and develop a mealy texture.
It's important to note that the marinade time may vary depending on the size and thickness of the chicken thighs. Thin or small chicken thighs may only need to marinate for a couple of hours, while larger or thicker chicken thighs may require up to 24 hours.
What Do You Put In A Chicken Marinade?
Minced Garlic
Minced Ginger
Sweet Chili Sauce
Soy Sauce
Sesame Oil
Vegetable Oil
Apple Cider Vinegar
How To Make Chicken Thigh Marinade
To make this chicken thigh marinade, you only need to follow two steps! It's so simple, you'll wonder why you have been spending a ton of money on premade marinades loaded with ingredients you can't pronounce.
Here are the simple steps you'll need to follow to get perfectly seasoned marinade every time:
Pour all ingredients into a bowl.
Whisk briskly until all ingredients are combined.
Pour over some chicken thighs for a flavorful and tender bite.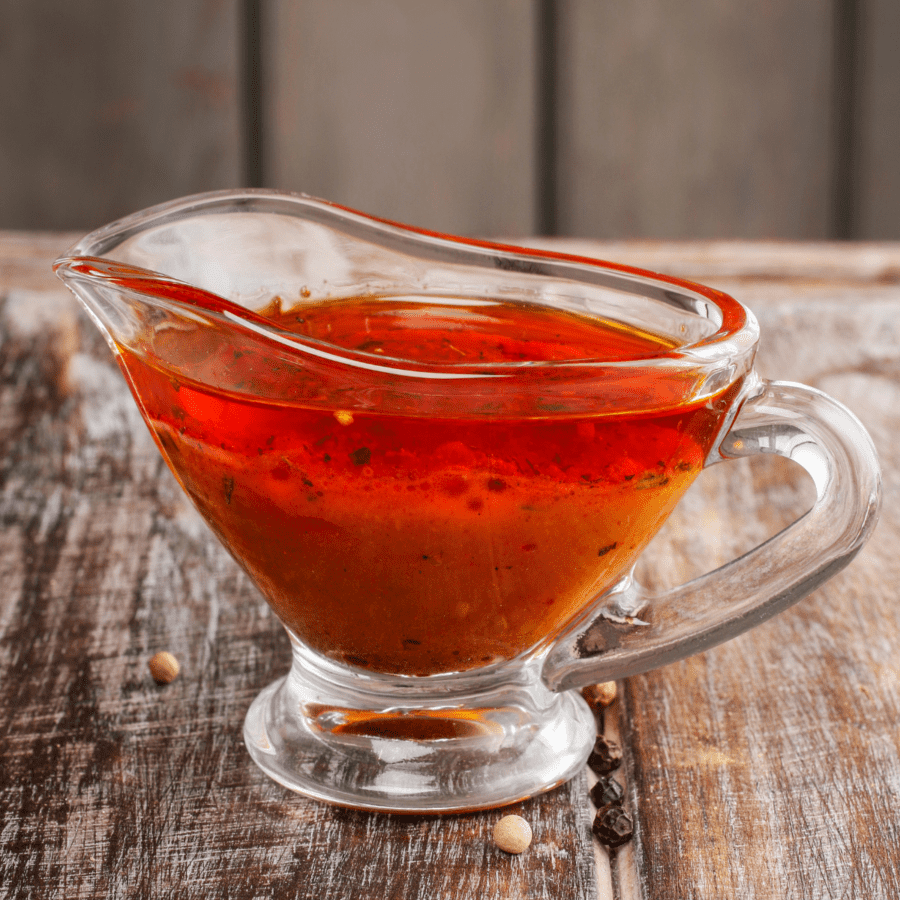 Variations
Make it low carb. If you're looking for a low carb marinade, you can easily swap out the sweet chili sauce in this dish with liquid stevia and red pepper flakes. Remember that Stevia is extremely sweet tasting, so you will only need about 1/2 a teaspoon to achieve the same flavor profile.
Double it up. As long as you keep the portion of chicken marinade separate from the chicken until you're going to cook it, you can double up the amount to keep flavorful, tender, and moist chicken on your table all week long.
Switch up the protein. If you have a different protein in your fridge or just need to switch up the flavors you're serving up at your dinner table, check out some of the other cuts of meat that you can use with this chicken thigh marinade below!
What Other Proteins Can You Use It For?
The chicken marinade can be used on a variety of different meats, depending on your preferences and what you have available. Here are a few examples of meats that can be marinated using a chicken marinade:
Shellfish- Shrimp, scallops, and squid can be marinated to add flavor before grilling or sautéing.
Pork- Pork cuts such as tenderloin, chops, and shoulder can be marinated with a chicken thigh marinade to enhance the flavors.
Beef- Beef cuts such as flank steak, skirt steak, or sirloin can be marinated using a similar marinade. The acid in the marinade will help to break down the connective tissue, making the meat more tender.
How Long Does It Last?
Properly stored, a chicken thigh marinade can last for 3 to 4 days in the refrigerator. The marinade should be stored separately from the chicken, and in an airtight container, to prevent cross-contamination and bacteria growth.
Also, it's essential to discard any marinade that has come into contact with raw chicken as it is not safe to consume. If you plan on using the marinade as a basting or a dipping sauce, set aside a separate portion that has not come into contact with raw chicken before marinating.
Other Tasty Sauce Recipes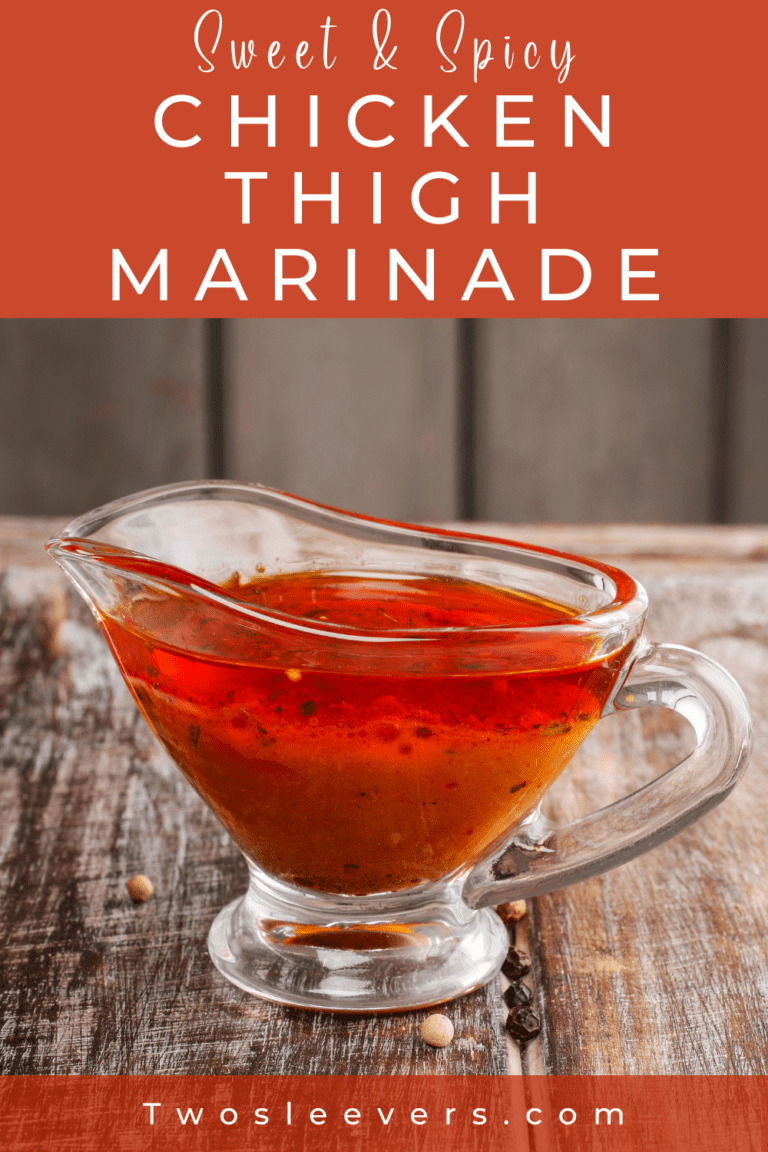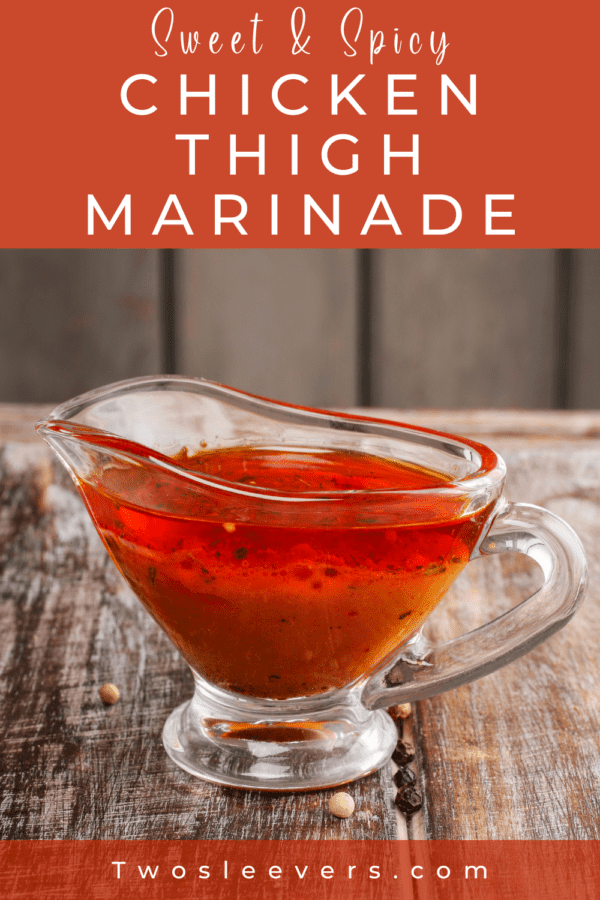 Pin It!
If you love this Chicken Thigh Marinade as much as we do, share it with your friends on Facebook and Instagram so they can try it too! Don't forget to Pin it so you can make it again soon.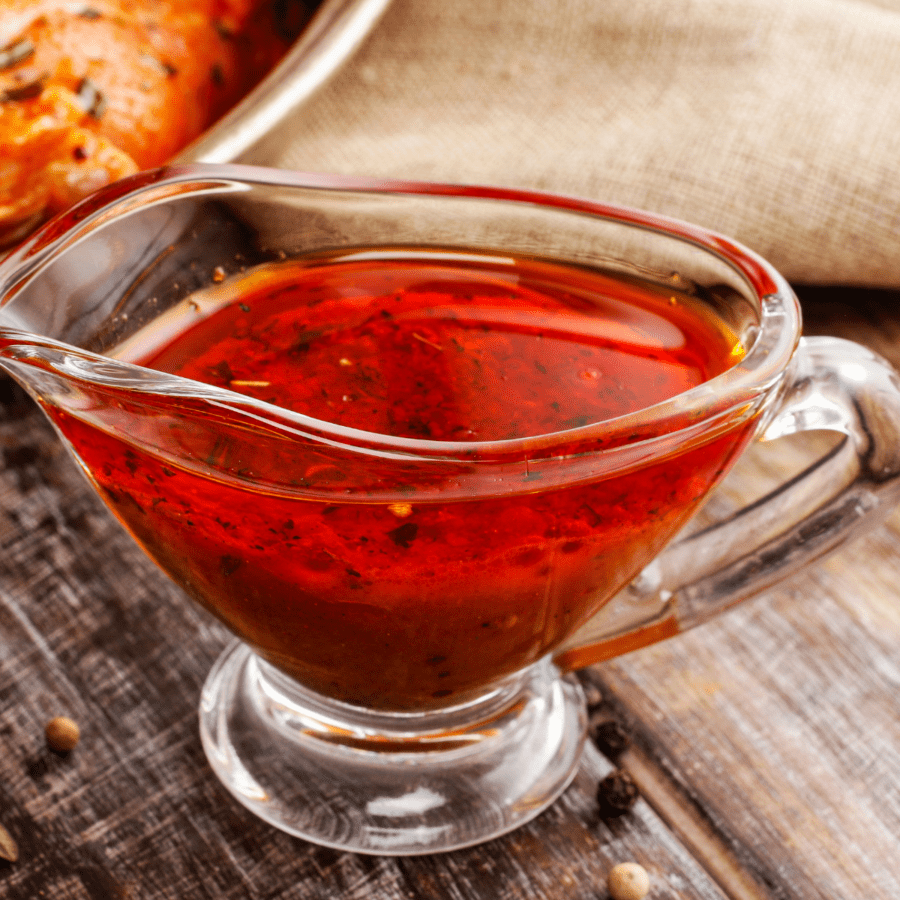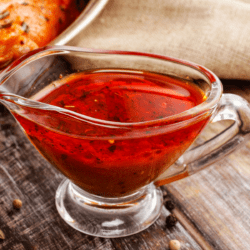 Chicken Thigh Marinade | Sweet and Spicy Marinade For Grilling
Ingredients
2

tbsp

Minced Garlic

2

tbsp

Minced Ginger

1/2

cup

Thai sweet chili sauce

2

tbsp

Soy Sauce

1

tbsp

Sesame Oil

2

tbsp

Vegetable Oil

1

tbsp

Apple Cider Vinegar
Instructions
Pour all ingredients into a bowl.

Whisk briskly until all ingredients are combined.

Pour over some chicken thighs for a flavorful and tender bite.
And don't forget to check out my air fryer cookbooks! Every day easy air fryer, and Air Fryer Revolution.