Three ingredient Almond Butter Chocolate Fat Bombs cook in less than 5 minutes in your microwave. Chill overnight and enjoy when you're craving some chocolate.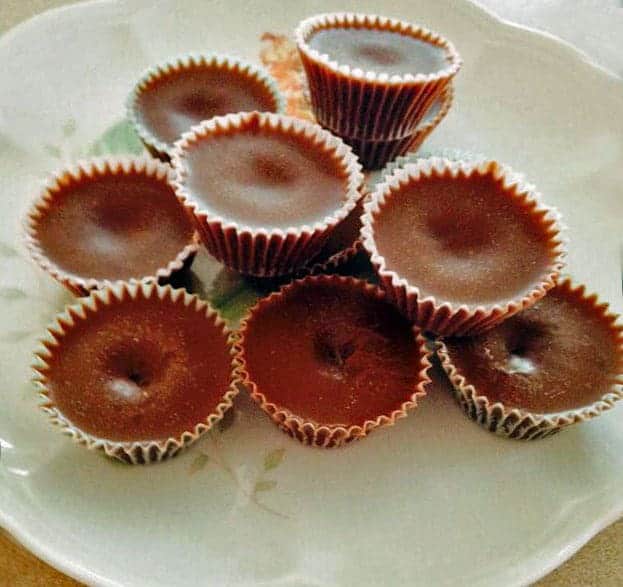 Jump to:
Why You'll Love Them
Fast. Not including the time to chill, these chocolate bombs are ready in under 30 minutes!
Few ingredients. Forget about making a keto snack that you have to buy a ton of specialty ingredients for. These are made with under 5 ingredients.
Easy. Mix the ingredients, melt them, and chill. That's it.
Low Carb. Only 3 carbs per serving.
High Fat. Perfect for keeping your hunger at bay, these chocolate almond cups have 12 grams of fat per serving.
These Almond Butter Chocolate fat bombs can be made within minutes. But if you really want them to be good, let them sit in the fridge for a while, because that's when they're perfectly set, creamy, and smooth.
So for the days when you're struggling to get enough fat, or you just want a keto chocolate treat, these Almond Butter Chocolate fat bombs are a quick solution.
What Do Fat Bombs Do For You?
Fat bombs can serve multiple purposes, but they have two primary uses when you're living a keto lifestyle.
Killing the sugar cravings. When you initially cut the excess carbs out of your diet, you may notice that you begin to crave sweets. Obviously, most sweets are loaded with carbs--so they're not an option. With the right ingredients, you'll be pleasantly surprised with the sweet concoctions you can make while maintaining your dietary lifestyle.
Meeting your fat macros. At the beginning of your low carb journey, balancing your macros is extremely important to keep yourself on track and prevent getting frustrated with hunger. One of the macros you should monitor is your fat macros. When meeting these, it will assist you in preventing excessive hunger.
How Many Fat Bombs Should You Have A Day On Keto?
There is no set number of fat bombs you are required to have a day on a low carb way of eating.
Think of these chocolate fat bombs as a way to meet your macros for dietary balance and hunger avoidance instead of a necessity. If you're meeting your fat macros with other foods in your daily routine, you can skip the fat bombs entirely.
Does Chocolate Kick You Out Of Ketosis?
The answer can be yes or no, believe it or not. Again, it all comes back to balancing your macros and grabbing the correct ingredients.
For this recipe, I chose to use sugar free chocolate chips, which are low in carbohydrates. If you consume them in moderation, it will not kick you out of ketosis.
Ingredients You'll Need
Can you believe something as delicious can be made with only three ingredients?
Here's what you'll need to grab before you get started:
Coconut Oil- This is used to help melt the chocolate chips and increase the fat content in these chocolate fat bombs.
Almond Butter- Creates a deliciously creamy touch when mixed with melted chocolate chips.
Sugar-Free Chocolate Chips- A smooth, low carb-friendly chocolate blends well with the creamy almond butter.
How To Make Chocolate Fat Bombs
I'm not sure this recipe could get much easier. Short of going to the grocery store and buying an overpriced version, it just doesn't get any easier than this.
Put all of the ingredients in a microwave-safe cup and microwave for 1 minute.
Remove and stir.
Keep doing this until the ingredients are mixed well, heating for 1 min at a time.
Line a muffin pan with paper cups. This is to prevent sticking and allow for easy removal after the chocolate fat bombs are chilled.
Pour the liquid into 12 muffin cups or 24 mini muffin cups. 
Put the muffin pan in the freezer and allow it to set for several hours.
Remove from the freezer as needed for a snack, and enjoy!
Variations
I shared the Chocolate Fat Bomb recipe with some friends on a WLS group on Facebook, and before you know it, several of us were trying our hand at them. Here are some variations.
Erin put some cranberries in hers. I tasted one of the bombs with cranberries and they were so good!
Barb tried hers with a few little twists. Here's what she did:

"Just made a batch with a little change-up. I used your proportions of coconut oil and almond butter. I used some melted s/f chips, 2 tablespoons of Splenda brown sugar. I also added a splash of cold coffee which really enhances the chocolate flavor. Those babies are in the freezer now. I used the mini pan and made 12... Now we wait!"

I decided I wanted mine with a little peanut butter on top. Next time I may add a few almonds for extra texture and variety.
How Long Do They Last?
If you have a decent amount of self-control, these chocolate fat bombs will last 1-2 weeks when stored in an airtight container in the refrigerator.
If you're making a double or triple batch to keep a sweet treat on hand at all times, you can store these almond butter cups in the freezer for up to 6 months. Just pop one out and give it a few minutes to defrost before digging in.
More Fat Bomb Recipes
If you love these Chocolate Fat Bombs as much as we do, make sure you share the recipe on Facebook and Instagram so your friends can try them too. Don't forget to Pin it so you can make them again soon!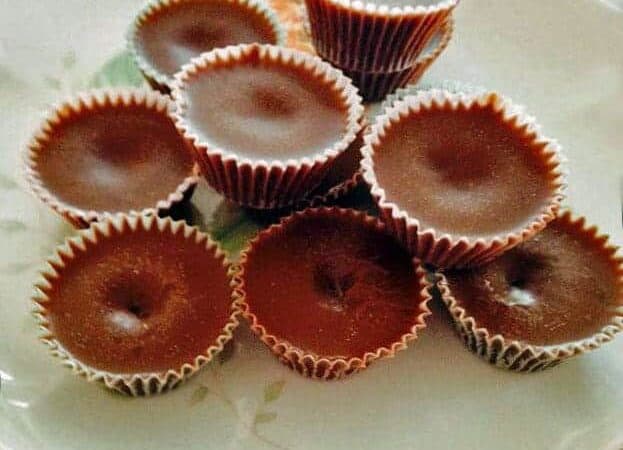 Click on highlighted ingredients or Equipment to see exactly what I use to make this recipe
Instructions
Put all ingredients in a microwave-safe cup and microwave for 1 minute.

Keep doing this until the ingredients are all mixed well, heating for 1 min at a time.

Line a muffin pan with paper cups. Don't skip this unless you want a mess on your hands.

Pour the delicious looking liquid into 12 muffin cups or 24 mini muffin cups.

Put it in the freezer to set for several hours. I left mine overnight which let me tell you, was an exercise in self-control.
Get support & connect with our community on Facebook!
Nutrition
Calories:
129
kcal
|
Carbohydrates:
3
g
|
Protein:
1
g
|
Fat:
12
g
|
Sugar:
2
g
Tried this recipe?
Follow @twosleevers and Pin it!
Don't forget to check out my other Keto cookbooks.
Keto Instant Pot, Keto Fat Bombs, Sweets, & Treats, and Easy keto in 30 minutes.