These Air Fryer Roasted Potatoes will rock your world with their combination of tartness and spice. I grew up eating these tart and spicy potatoes--along with lots of oil. Use your Air Fryer to make these perfectly crispy, with very little oil, and in no time at all.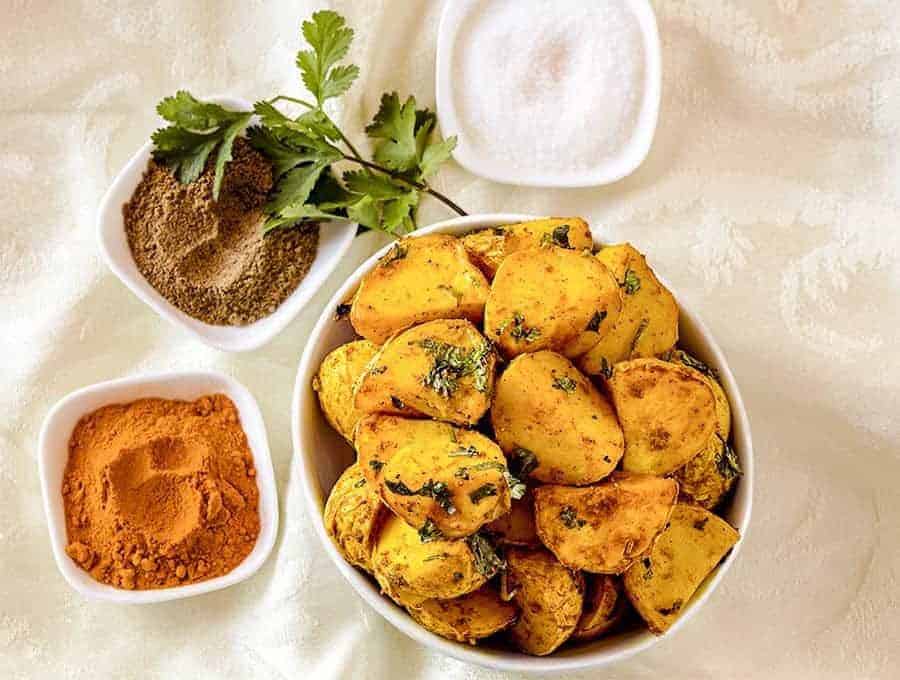 Jump to:
My mom used to make this dish and I absolutely LOVED it as a kid. These amchoor potatoes or amchoor aloo, along with a chappati and some masala chai are all anyone needs to be happy--especially when you're six years old and your biggest worry is what game to play at recess tomorrow.
I've made these once or twice as an adult but I had two problems.
One, by the time the outsides got crispy, the insides were still raw. By the time the insides were cooked, the outsides were burnt. I know I could have parboiled the potatoes, but I'm #lazyefficient. So I hate two step recipes.
The second issue was the oil--oh my goodness the oil you need to get these made right! Either you will use a lot of oil, or your potatoes will stick.
The third issue was the level of babysitting demanded by these. Worse than a naughty two-year-old.
Air frying takes care of all of these issues so bring on the amchoor potatoes!
Why You'll Love This Recipe
Fast. Ready in under 30 minutes with the help of your air fryer.
Easy. Toss your potatoes in oil and a tasty seasoning blend and air fry. That's it.
Vegan. A great vegan side dish option that doesn't require any special ingredients.
Flavorful. Bursting with amazing Indian flavors from amchoor, turmeric, and coriander.
What Is Amchoor?
Amchoor is a dried mango powder, and it's definitely worth buying for this recipe. It's tart and tangy and sour and just wonderful. Sometimes you will find it's also spelled as aamchur.
What Are Amchoor Potatoes?
These Amchoor potatoes are a staple dish in Indian Punjabi cooking. But the traditional way requires so much oil to ensure that the potatoes don't stick!
Air frying these potatoes is a great way to get tart and spicy potatoes that are slightly crisp on the outside and creamy on the inside. You can also substitute chaat masala for the Amchoor for a change of pace, or try it with sumac instead.
Do You Soak Potatoes In Water Before Air Frying?
While you CAN soak your potatoes before air frying, it is a completely optional step. You know I'm a sucker for efficient cooking, so I never do. Soaking potatoes in cool water before air frying helps remove some of the starch from them, leaving a crispier texture.
So, if you have extra time, feel free to soak your potatoes in cool water for 30 minutes before you prepare them according to the directions below for a crispier bite.
Ingredients You'll Need
Baby New Potatoes- You will want to cut these into four pieces each for quicker cooking and more surface area for that yummy seasoning.
Vegetable Oil- This helps crisp up the potatoes and give them the rich, indulgent mouth feel that I grew up loving.
Amchoor- There absolutely isn't another seasoning to compare it to. This will create a potato side dish like nothing you've ever tasted.
Ground Cumin Coriander Blend
Fresh lime or lemon juice- This pairs well with the tartness of the amchoor to finish the dish.
Chopped Cilantro or Parsley- I prefer cilantro, but many people have an aversion to the flavor. If you're one of those people, parsley will provide the freshness these air fryer roasted potatoes need.
How To Make Air Fryer Roasted Potatoes
In a bowl, add potatoes, oil, turmeric, amchoor, salt, cumin coriander blend, and cayenne pepper and mix well.
Place the seasoned potatoes in the air fryer basket and cook at 400F for 15 minutes. Check to ensure the potatoes are cooked through. You should be able to pierce them easily with a fork.
To garnish the air fryer roasted potatoes, sprinkle lemon juice and chopped cilantro onto the potatoes.
How Long Do They Last?
If you love these potatoes so much you want to make a double batch to enjoy with another meal, I wouldn't blame you in the slightest. Any leftovers or extra air fryer roasted potatoes you may have can be safely stored in an air tight container in the refrigerator for up to three days.
What To Serve With Them
These air fryer roasted potatoes are absolutely bursting with flavor and pair well as a side dish to so many main courses.
Here are a few of my favorite things to serve them with:
More Air Fryer Side Dishes
If you love the convenience of cooking a side dish in your air fryer while you use your Instant Pot or Stove Top to cook your main course, check out some of my other super simple and decadent side dishes:
Air Fryer Sweet Potatoes
Roasted Ratatouille
Air Fryer Brussels Sprouts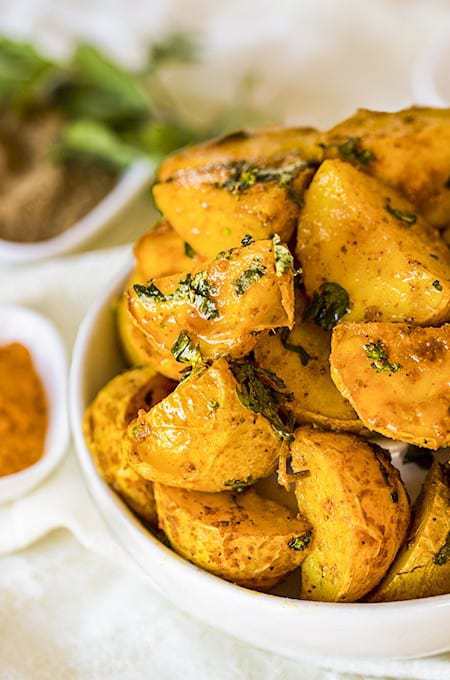 If you love these Air Fryer Roasted Potatoes as much as we do, make sure you share them with your friends on Facebook and Instagram so your friends can try them too! Don't forget to Pin the recipe so you can make it again soon.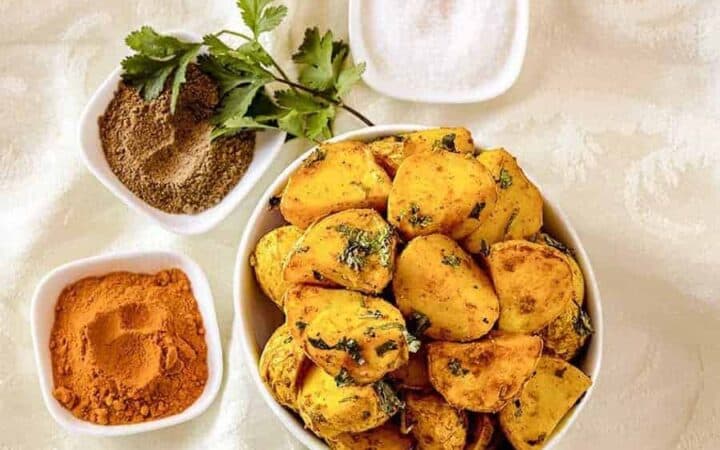 Click on highlighted ingredients or Equipment to see exactly what I use to make this recipe
Instructions
In a large bowl, add potatoes, oil, turmeric, amchoor, salt, cumin coriander blend, and cayenne pepper. Mix well.

Place the seasoned potatoes in the air fryer basket and cook at 400F for 15 minutes. Check to ensure the potatoes are cooked through.


Sprinkle lemon juice and chopped cilantro onto the potatoes and serve.

Get support & connect with our community on Facebook!
Nutrition
Calories:
210
kcal
|
Carbohydrates:
27
g
|
Protein:
3
g
|
Fat:
10
g
|
Fiber:
3
g
|
Sugar:
1
g
Tried this recipe?
Follow @twosleevers and Pin it!
And don't forget to check out my air fryer cookbooks! Every day easy air fryer, and Air Fryer Revolution.