You have got to try this 15-minute Spiced Butternut Squash recipe with Chinese 5-spice powder. It's bursting with flavor, vegan and made in an air fryer.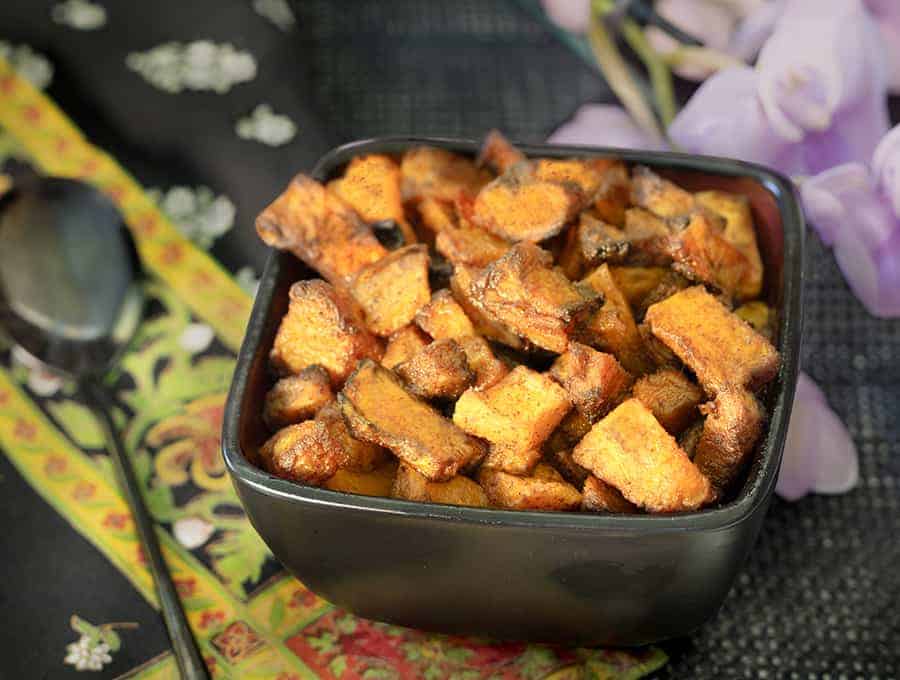 Jump to:
Thanksgiving and fall are one of my favorite times of the year. There are always so many delicious recipes popping up that it makes it hard to choose which one I'll be making next. This Spiced Butternut Squash was something I had been wanting to try and boy, I'm glad I did.
I will definitely be making this Spiced Butternut Squash, again and again, this fall. It was far too delicious and far too easy to not make a few more times. It works as a great side dish, however, it also works great as a snack by itself.
Air Fried Spiced Butternut Squash
If you don't own an Air Fryer, I urge you to get one. They make recipes so easy, not to mention, much healthier. I couldn't believe how amazing recipes turned out when I first started using it.
This Spiced Butternut Squash recipe is another winner when it comes to the Air Fryer. I couldn't help but steal bites as we took photos. It was just too delicious to look at and not eat.
What Spice Do You Use For Air Fryer Squash?
You were expecting some traditional version of Spiced Butternut squash from us? You're surprised I want to use Chinese 5-spice powder instead?
Clearly, you haven't looked around my blog enough if that's the case! You should start with my recipe index here and play around, to find different cuisines, and recipes to suit different diets here.
Chinese Five Spice Powder is a blend of star anise, Szechuan peppercorns, fennel seeds, cinnamon, cloves, fennel, star anise, and sometimes ginger. It has a lovely sweet, hot flavor that is like no other. It's pretty easy to find in stores, but you can also get it on Amazon.
Can I make this Spiced Butternut Air Fryer Squash in the oven?
Yes! All you need to do is spread it on a baking sheet into a single layer, cook for 15 minutes at 400 degrees, and then broil on high for 3-4 minutes to finish it off.
Why Make This Spiced Butternut Squash In The Air Fryer?
You'll notice with the oven you have to dirty a big sheet pan and add the step of broiling after baking. With the air fryer, you only need to dump the butternut squash into the air fryer basket and let it cook. The air fryer just makes things faster and more efficient, so it's my first choice!
What flavors pair well with butternut squash?
Butternut squash has a slightly sweet flavor naturally. When you think of things to pair well with it, going savory is a great tip. Apple, bacon, and ginger all pair well with butternut squash.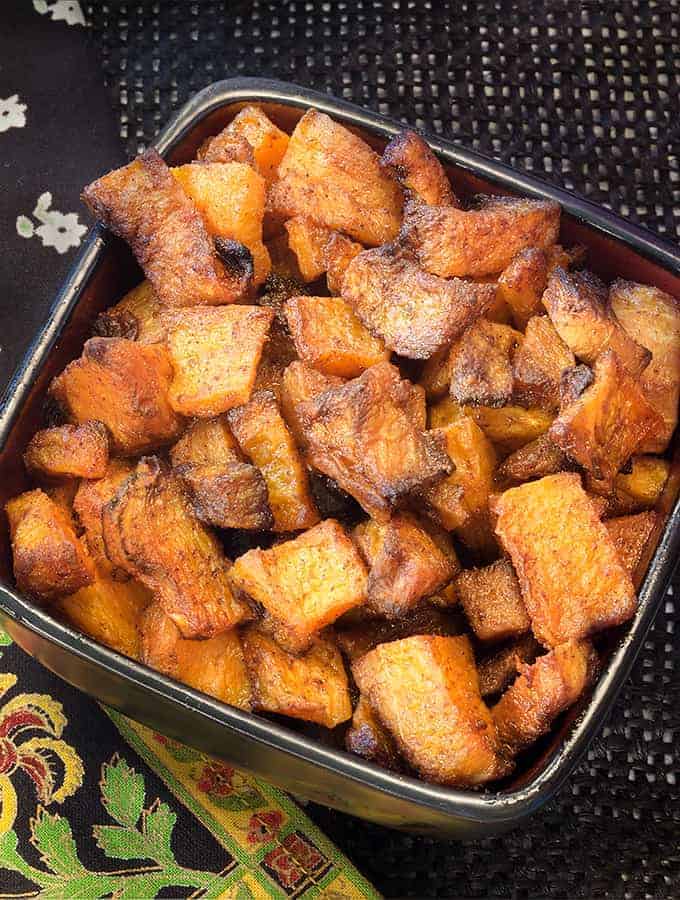 If you're needing a new side dish or a yummy new way to prepare your favorite squash, this Air Fryer Squash would be perfect. It's the epitome of comfort food and is sure to please everyone at the dinner table. It's one of our favorite dishes.
Want some more easy squash recipes?
If you like this Spiced Butternut Squash as much as we do, make sure you share it with your friends on Facebook and Pinterest so they can try it too.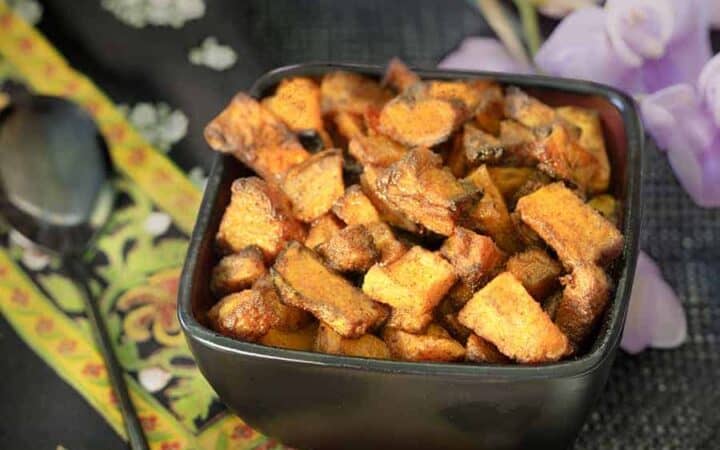 Click on highlighted ingredients or Equipment to see exactly what I use to make this recipe
Instructions
In a small bowl, mix together the butternut squash, oil, Truvia or sugar, and the Chinese 5 spice powder.

Place the squash in the airfryer basket. Set the airfryer to 400F for 15 minutes.

Yeah, that's seriously all that there is to it. You're done. Eat.
To make this in the oven, cook at 400 for 15 minutes, and then broil on high for 4-5 minutes. 
Coat your butternut squash evenly to maintain even spice distribution, or you could get a mouthful of Chinese 5 Spice!
Get support & connect with our community on Facebook!
Nutrition
Calories:
128
kcal
|
Carbohydrates:
16
g
|
Protein:
1
g
|
Fat:
7
g
|
Fiber:
2
g
|
Sugar:
3
g
Tried this recipe?
Follow @twosleevers and Pin it!