These Keto Coconut Macaroons are gluten-free, vegetarian, and low carb. Who knew a sweet treat could taste so good and still be healthy? Well, I did, and love these enough that I'm going to show you how I make them so you can enjoy them too.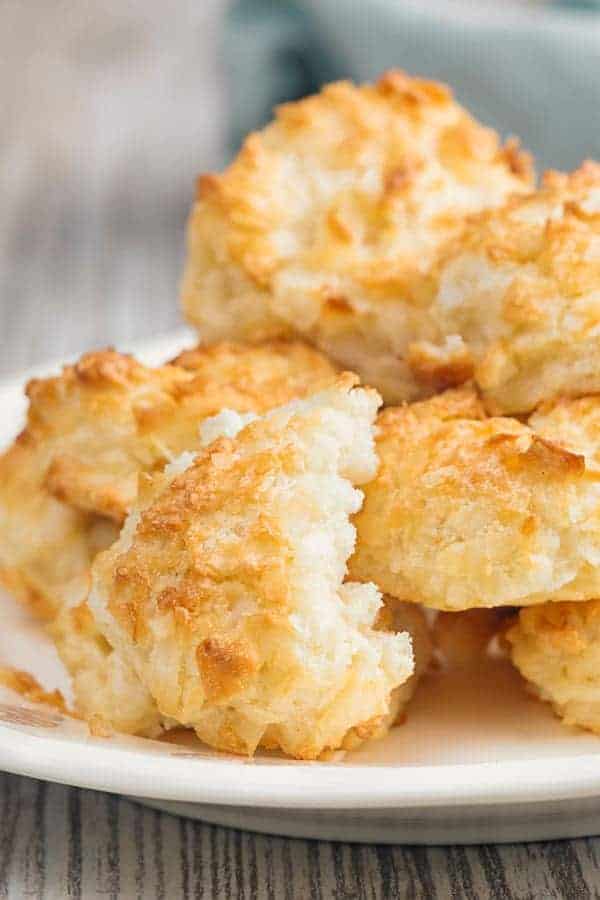 Jump to:
Do you ever have a craving for a sweet little treat but want it to be healthier? Of course you do, we all do. These Keto Coconut Macaroons are perfect little keto cookies with spectacular flavor.
Keto Coconut Macaroons | Keto Cookies Recipe
I am a huge coconut fan. I know coconut is one of those tricky ingredients. Not everyone loves it but, at the same time, many people love it. You either love it or you hate it and I, personally, love it. If you're like me, then you are going to love these Keto Coconut Macaroons.
What Makes These Keto Coconut Cookes So good?
Fast. Ready in under 30 minutes.
Easy. Just measure, mix, bake, and eat.
Low Carb. Only 2 net carbs per serving.
Few Ingredients. Only 6 ingredients to make these delicious keto cookies.
Yummy. Packed with coconut flavor you'll love.
Is Coconut Keto?
Yes! Did you know that coconut is high in iron, zinc, and fiber? That's right, coconut has quite a few nutritional benefits. That's what makes me love these Gluten Free Coconut Macaroons even more.
Don't substitute Coconut flour in place of almond flour for this recipe. They do not act the same, and therefore, are not interchangeable.
Remember, eating better and more low-carb doesn't mean you need to eliminate your favorite foods and desserts, it just means you need to get smart about how you make them.
Swerve in Place of Sugar
If you are on a Keto diet, then you are familiar with the struggle of replacing sugar in baking. Swerve is ideal for cooking and baking because it doesn't have an after taste, and it doesn't spike your blood glucose level. Swerve has no net carbs, and can be used cup for cup to replace sugar.
Macaroon, Macaron, what's the difference?
Well, a lot actually.
Coconut Macaroons
I find Macaroons a lot easier to make since you basically mix in a bunch of ingredients in one pot and you have a super easy keto coconut dessert.
Macaroons are typically coconut-based and have at the very least, egg whites, coconut, and a sweetener. There are a lot of not-so Keto Coconut Cookie recipes that use condensed milk but that doesn't work for me.
Coconut Macarons
Macarons, on the other hand, are meringue-based, and let's face it, are VERY fiddly to make! There's a reason they're so expensive to buy because they're actually a pain to make if you ask me.
Those two do not act the same way in recipes, so stick to the way I've written this recipe for Keto Coconut Macaroons, and soon, a plateful of delight will be yours--or you could be nice and share.
Where Are Macaroons From?
Macaroons originated in Italy. But not this keto recipe. It's straight from my kitchen.
Ingredients You'll Need
HOW TO MAKE KETO COCONUT MACAROONS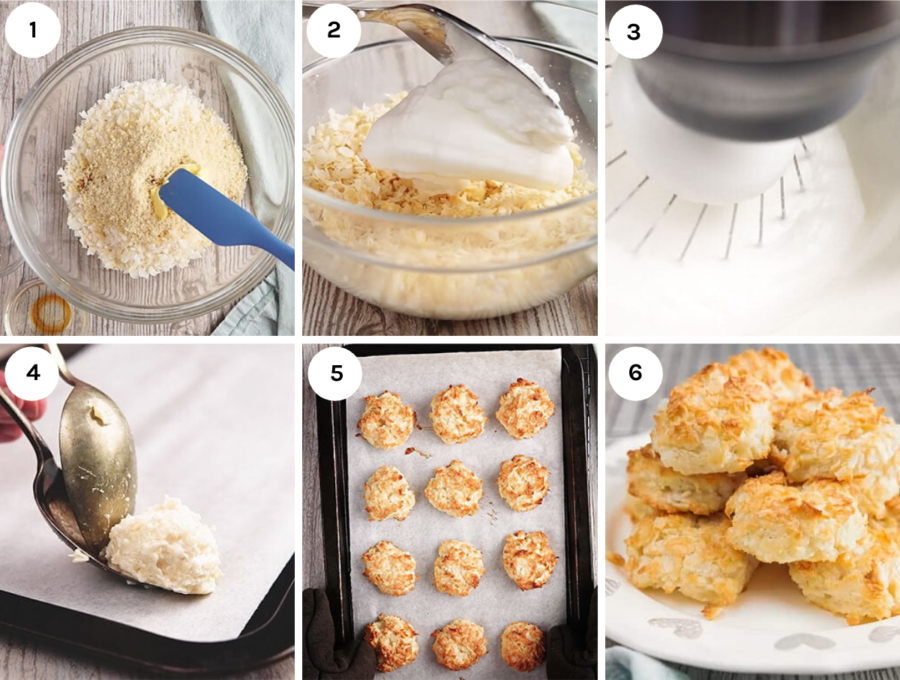 1. Mix together almond flour, coconut, coconut oil or butter, and vanilla extract and set aside in a large bowl.
2. Beat together the egg whites and Swerve in a stand mixer until stiff peaks form.
3. Gently fold together the egg white mixture with the dry ingredients.
4. Spoon the Coconut Macaroon batter onto a baking sheet to get 10 to 12 scoops, about a quarter cup size.
6. Bake at 400 F for 15 to 16 minutes until the tops get lightly browned. Remove and cool completely.
6. Serve.
How Long Do Coconut Macaroons Last?
These crave-worthy keto coconut macaroons are good for about a week. But I promise you'll eat them all way before they go bad.
More Keto Coconut Desserts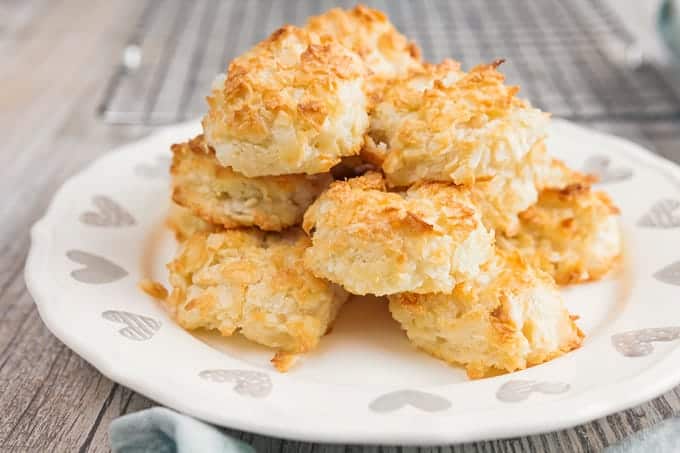 You can't beat a sweet treat that's low carb and gluten-free. Coconut Macaroons have always been a favorite dessert of mine. However, when I adjusted them to be healthier, keto cookies, I couldn't stop making them. If you love them as much as I do, make sure you share the recipe with your friends on Facebook and Pinterest.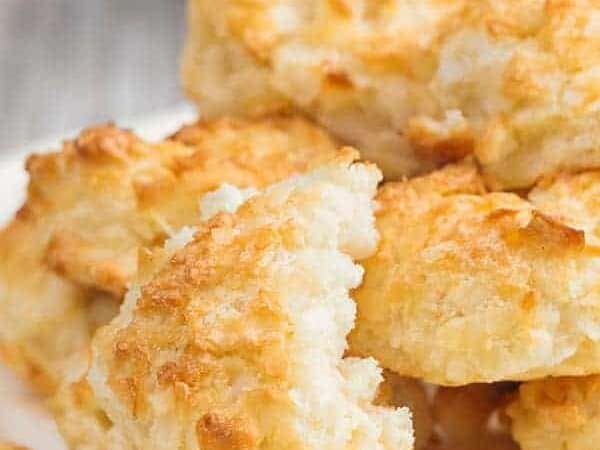 Click on highlighted ingredients or Equipment to see exactly what I use to make this recipe
Instructions
Preheat an oven to 400F. Line a 9 x 13 cookie sheet with parchment paper and set aside.


In a large bowl, mix together almond flour, coconut, coconut oil or butter, and vanilla extract and set aside.


Using the whisk attachment on your stand mixer, beat together the egg whites and Swerve until stiff peaks form.


Gently fold the egg whites into the almond flour mixture.


Spoon the mixture onto the cookie sheet to get 10-12 scoops.


Bake for 15-16 minutes until the coconut tops start to brown lightly.


Remove from oven and let cool before removing from the cookie sheet.

TIPS
Do not substitute anything for the almond flour
Mix the egg whites and Swerve together just until stiff peaks form.
Coconut is good for a Keto diet!
Get support & connect with our community on Facebook!
Nutrition
Calories:
123
kcal
|
Carbohydrates:
4
g
|
Protein:
2
g
|
Fat:
11
g
|
Fiber:
2
g
|
Sugar:
1
g
Tried this recipe?
Follow @twosleevers and Pin it!
Originally Published December 3, 2018
Don't forget to check out my other Keto cookbooks.
Keto Instant Pot, Keto Fat Bombs, Sweets, & Treats, and Easy keto in 30 minutes.