People tell you that sprouting beans is good for you because it makes the nutrients more bioavailable, and helps with digestion. I do it because it makes the very same bean act differently in cooking and it makes it delicious. Yup, taste before science sometimes. I sprouted some whole red lentils (because that's what I had in the house) and once they'd sprouted, I used a basic technique to make this into a standard Marathi dish called Ussal. The beauty of learning this recipe, is that once you learn this method, you can use it for any sprouted bean. Most of the taste comes from the bean itself, with the spices and aromatics serving to slightly enhance those tastes.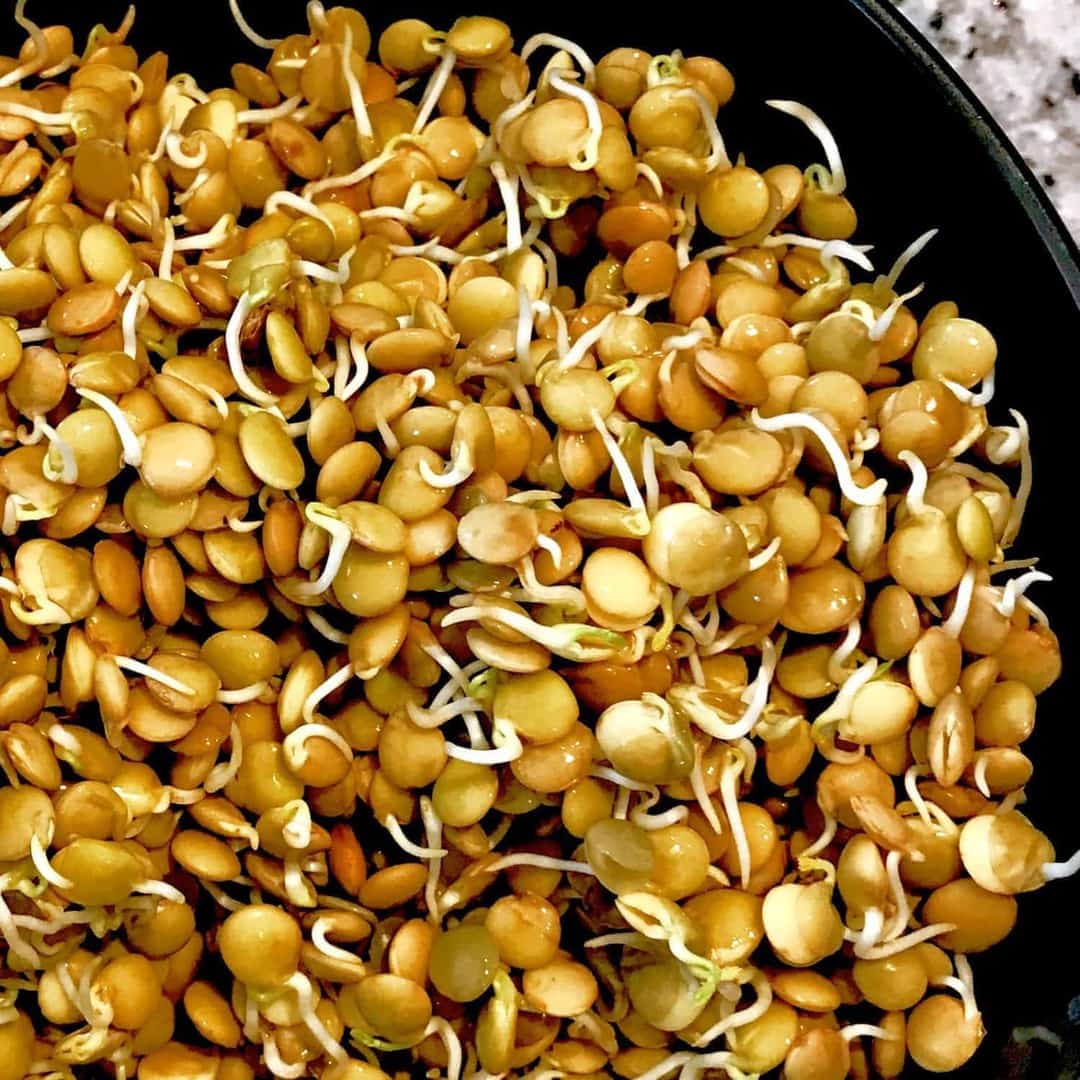 Indian Ussal | Pressure Cooker Sprouted Beans
So it won't matter which bean you use to sprout, you can still use this same method of cooking it. What's more, the method to sprout any beans is pretty much the same. To make this even more versatile, you can either make this as a relatively dry side dish, or you can make it more soupy to have over rice, or–get this–you make it dry and add fresh chopped onions, tomatoes, and lime juice, and have it as a salad. It's a total three-for-one here. Lots of ways to look like a hero.
If you want to sprout your own beans, here's what you do:
Soak beans overnight
In the morning, drain and set into a jar, bowl, or whatever you have lying around. You really don't need a fancy jar/kit to do this. I sprouted mine in a disposable plastic container.
Let them sit near a kitchen window with some natural light.
Wash and drain twice a day if you can, so they stay moist.
That's it. You know they're done when they have tails sprouting, and when you're hungry. See my picture to get a feel for it.
As to making the Ussal, simplicity itself, especially with an Instant Pot, although this is easily made on the stove top as well. The steps to making this are:
Grind together onions, tomatoes, ginger, and garlic, cook for a little bit
Add sprouts and water
Cook for 3 mins HP, NPR for 10 mins
Garnish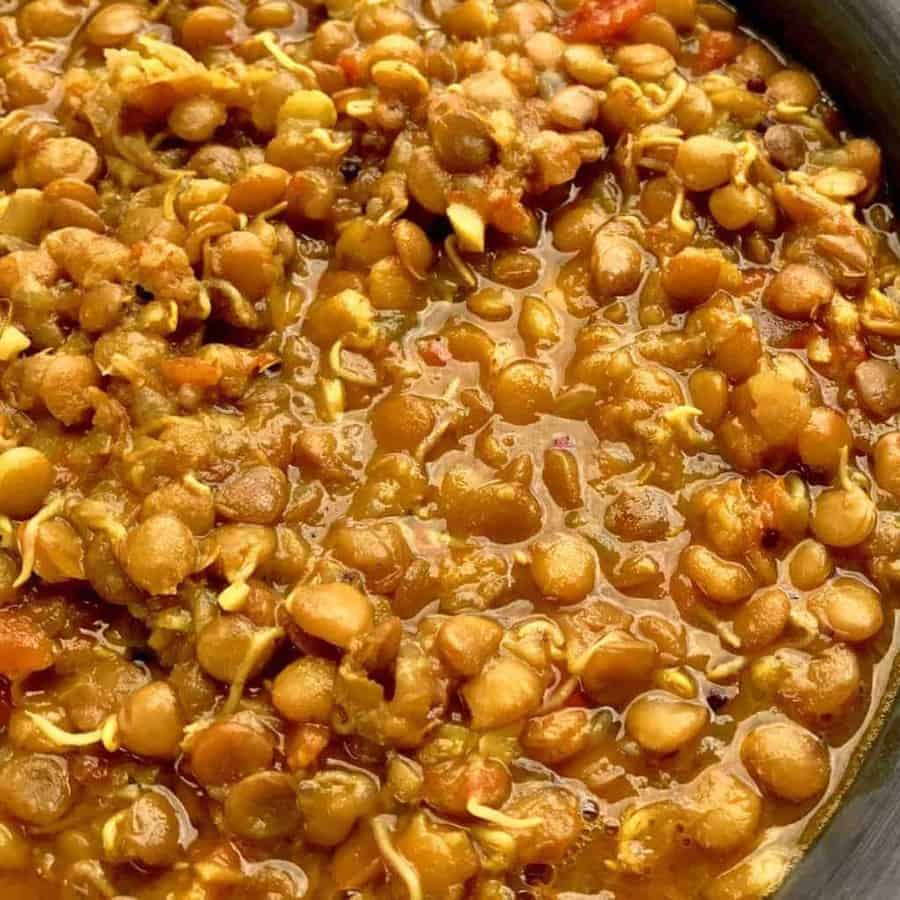 ★

Did you make this recipe? Don't forget to give it a star rating below! Just click on the stars in the recipe card to rate.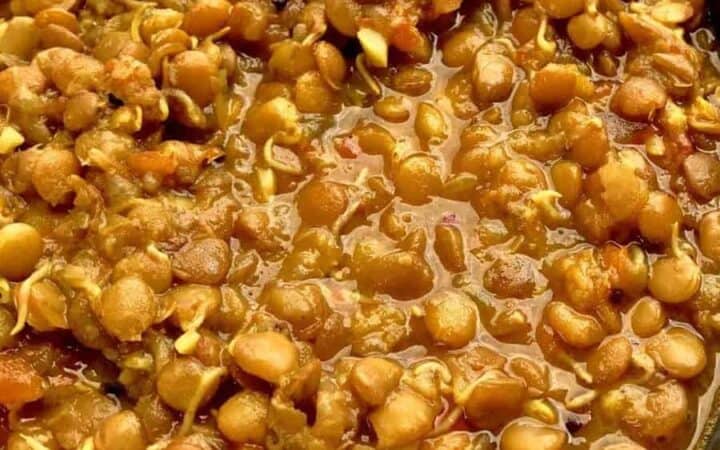 Ingredients
For beans
2

cups

sprouted beans

(soak and sprout 1/2 c dry beans)

1

cup

water
Instructions
Blend together the vegetables and spices

Meanwhile heat your Instant Pot on Sauté, and when hot, add oil. When that is hot, pour in blended vegetables, taking care to avoid the splatter.

Cook vegetables for 3-5 minutes, add beans and water.

Cook for 3 minutes at High Pressure, allow it to release pressure naturally for 10 minutes, and then release all remaining pressure.

You can choose to use a little soupy, boil to eliminate the water, or add water depending on how you plan to serve this (see article above for details).

Garnish with cilantro and serve.
For Stovetop
Blend together the vegetables and spices.

Meanwhile, add oil to a hot sauce pan. When that is hot, pour in blended vegetables, taking care to avoid the splatter.

Cook vegetables for 10-15 minutes to get them well cooked.

Add beans and 2 cups of water. When the water boils turn it down to a simmer and let the beans cook. You'll know they are done when you can press a bean between your fingers and not feel a hard core in the middle--same way you know when rice is done.

You can choose to use a little soupy, boil to eliminate the water, or add water depending on how you plan to serve this (see article above for details).

Garnish with cilantro
Nutrition
Calories:
39
kcal
|
Carbohydrates:
4
g
|
Fat:
2
g
|
Sodium:
393
mg
|
Potassium:
129
mg
|
Sugar:
1
g
|
Vitamin A:
340
IU
|
Vitamin C:
7.4
mg
|
Calcium:
11
mg
|
Iron:
0.3
mg