In about 30 minutes from start to finish, you can have beautiful Herb Roasted Chicken from your Air Fryer. It's full of flavor and is so quick and easy, that you will want to make this weekly.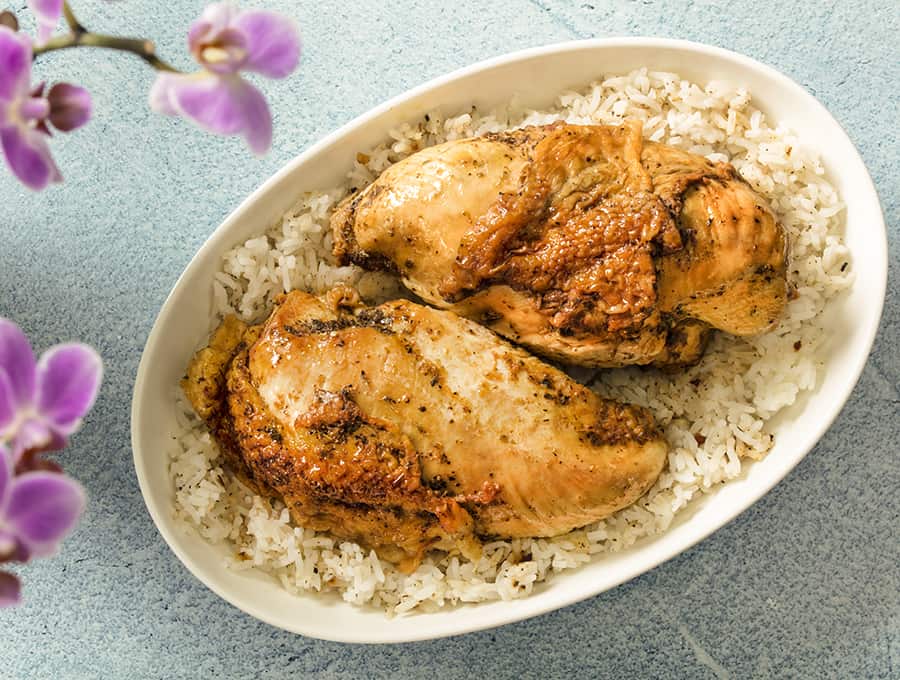 Ingredients You'll Need
This recipe uses spices you probably already have in your pantry, so you can rest easy that if you have chicken you have the ingredients you need to make this recipe. It's perfectly served with rice, but can be served with veggies or so many other side dishes to make it a complete meal as well.
Salted butter or ghee
Lemon wedges
Bone-in, skin-on chicken breast halves
Herb Roast Chicken | Air Fryer Herbed Roast Chicken
The air fryer makes the most crispy chicken with so little oil, and I love to cook my chicken in it. Just look at the beautiful golden color the chicken gets! The chicken cooks quickly so it stays juicy, so you get crispy skin and juicy meat which is the perfect combo.
But the one thing to note is that it's actually difficult to make dry meats in the air fryer and get them to taste good. So for this recipe, I wanted to see about making chicken breast in the air fryer without drying it out. You MUST leave the skin on!
Do NOT take the skin off when cooking. If you don't want to eat it afterward, you can take it off. But allow it to cook with the skin on so you get some natural basting from that chicken skin.
Also, be sure to use a meat thermometer so you aren't overcooking the chicken. If you overcook it, it will definitely dry out.
Feel free to spray with oil while cooking to keep the surface moist and evenly browning if you need.
The herbs and spices used in this are paprika, thyme, rosemary, garlic powder and salt and pepper. Simple right?
Combine that with butter and some lemon wedges and that's really all you need to make this recipe. Classic Herb Roast Chicken in very little time that comes out perfect in the air fryer.
Want More Air Fryer Chicken Recipes?
Another fantastic air fryer chicken recipe is my Air Fryer Huli Huli Chicken. It's a sweet and slightly spicy chicken dish with a tropical flair!
If you're looking for a great side dish to pair with this, check out my Barley Pilaf With Mushrooms!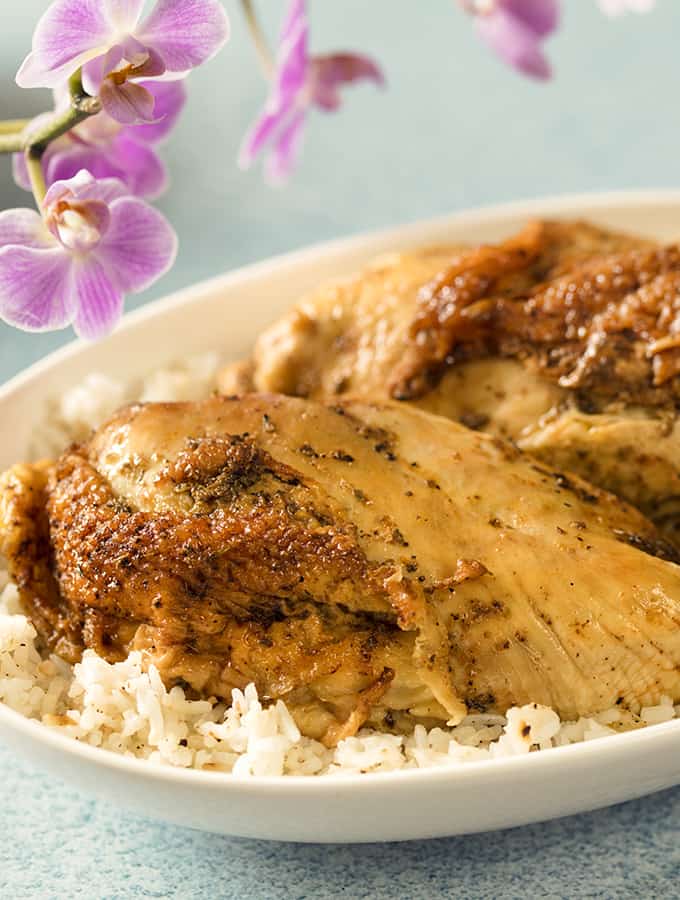 If you love this Herb Roasted Chicken as much as we do, don't forget to share it on Facebook and Instagram. Don't forget to Pin it so you can make it again soon!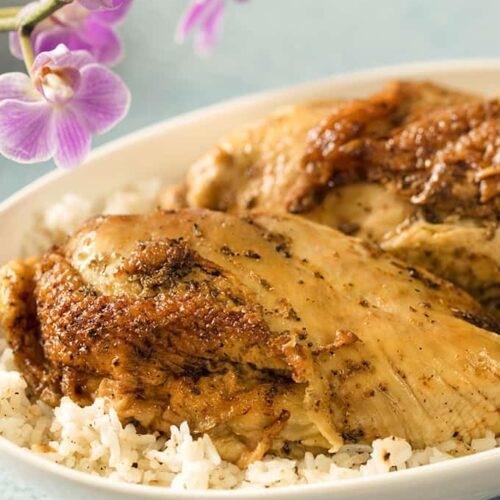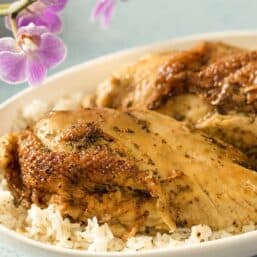 Herb Roast Chicken
Herb Roast Chicken turns out amazing with this recipe designed for the air fryer. All the traditional flavors you want, with none of the fuss!

Ingredients
2

tablespoons

salted butter or ghee

softened

1/2

teaspoon

Kosher Salt

1/2

teaspoon

Smoked Paprika

1/2

teaspoon

Dried Thyme

1/4

teaspoon

dried rosemary

1/4

teaspoon

Garlic Powder

1/4

teaspoon

Ground Black Pepper

lemon wedges

for serving

2

bone-in, skin-on chicken breast halves

about 10 ounces each
Instructions
In a small bowl combine butter, salt, paprika, thyme, rosemary, garlic powder, and black pepper. Stir until thoroughly combined.


Using a small sharp knife, carefully loosen the skin on each breast half, starting at the thin end of each half. Very carefully separate the skin from flesh, leaving skin attached at thick end of each breast. Divide herb butter into quarters. Rub one-quarter of the butter onto the flesh of each breast. Fold and lightly press skin back onto each breast. Rub remaining butter onto skin of each breast.

Place chicken in air fryer basket. Set fryer to 375°F for 25 minutes. At end of cook time, use a meat thermometer to ensure the chicken has reached an internal temperature of 165°F.

Let chicken rest for 5 to 10 minutes. Serve with lemon wedges.

And don't forget to check out my air fryer cookbooks! Every day easy air fryer, and Air Fryer Revolution.