Here's a list of the perfect low carb snacks you can have while on a Ketogenic diet. Best of all? No cooking required. Yes indeed. Best no cook keto snacks coming right up for you.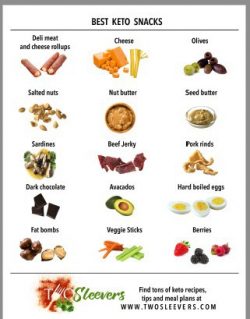 When you're out and about or in between meals and get hungry, impulsive snack choices can be difficult. For me, that's when non-keto, unhealthy choices can start calling my name. In order to avoid making poor choices, I always keep some good keto snacks close by to ward off hunger until it's time for a proper keto meal.
For me, what makes a good snack is that must be easy and quick to grab or prepare, and it has to require very little to no prep since I do plenty of cooking for meals and of course follow the keto guidelines of no sugar, low or no carb with plenty of good fat.
In the article below I've listed some ideas of low or no carb foods you can snack on a keto diet based on where you can find them in the grocery store.
You can bring this list along when you go shopping so you always have snacks on hand for keto snacks on the go, late-night keto snacks, or a keto friendly movie snack.
In fact, I've made this easy by letting you download a Free printable here.
Keto Snacks at the Deli:
Deli Meat and Cheese Rollup
One of the quickest and easiest keto snacks. Just make sure that you are buying quality deli meats that don't include fillers (Boar's Head is a great choice) and stay away from honey or maple flavors that add sugar and carbs to the meat. You can make these as elaborate as you want by adding cream cheese, mayonnaise, lettuce, cucumbers etc. between the meat and cheese but when I'm on the go I keep it simple and just wrap a slice of roast beef or salami around a slice of cheese or cheese stick. If you really want to be lazy you can find the salami wrapped mozzarella cheese sticks like the ones shown here.
I will often try different kinds of cheeses from the deli. I chop them into cubes as soon as I get home from the grocery store so they are portable if I need a quick snack to take with me. If you want your cheese to crunch, Moon Cheese is a great movie snack. This company has figured out how to remove the moisture from cheese and make it crunch. This is a great low carb snack with no sugar and just 1g carb.
Olives really help with the cravings for a salty snack and make me feel full. You can usually find an olive bar in the deli section of your grocery store with many varieties but I recommend pitted olives so you can eat them without worrying about figuring out where to put the pits. You can also find individual serving packages in the canned aisle with the regular jars and cans of olives.
Never in my life have I eaten as many pickles as since I started keto. Salty, crunchy, tangy, and low carb. Love them. LOVE them. Don't be afraid to try pickled veggies like pickled okra, pickled mushrooms, or pickled onions.
No-Cook Keto Snacks in the middle Grocery Aisles:
Not all nuts are created equally for the keto diet. The best nuts for keto are macadamias, hazelnuts and pecans because of their protein and low carb ratio.  Stick to the basics and stay away from varieties that are coated in sugar.  These are great salty crunchy low carb snacks for the movies because they're easy to hide in your bag. 🙂
Try to get the grass-fed beef sticks and check the nutrition label. Some of the most popular jerky is marinated with a sugar-based marinade.
Pork rinds are a great salty-crunchy keto-friendly snack option and now come in a variety of flavors. These can be eaten alone or dipped in guacamole for an even tastier treat. Pork Clouds are my absolute favorite brand and they come in a variety of flavors.
Yes, you can! Everyone once in a while if you have a sweet tooth it's ok to indulge in dark chocolate as long as it meets the following criteria:
The chocolate should have a minimum of 70% cacao
Each bar should have minimal ingredients
All bars should be free of artificial sweeteners
I think the best chocolate bar for a keto sweet tooth is Lily's. They sell sugar-free (sweetened with Stevia) baking chips and chocolate bars for snacking.
Low Carb Snacks in the Dairy Section:
Again, not necessarily a keto movie treat, but hard-boiled eggs are one of the best snacks – they are nutritious, portable, and don't make a mess. I like to pre-peel mine and put a couple in a small container, sprinkled with a little paprika and salt.
Look for the full-fat versions to keep on hand.
Use your favorite cheese (I like parmesan) and make my super simple Cheese Crisp recipe
Keto No Cook Snacks in the Produce Section
One of the best keto fats around and easy to simply cut open and eat right out of the shell or perhaps sprinkle some hot sauce on it. If you have some time, you can make guacamole. This is one of my favorite snacks and I often eat it with just a spoon. Wholly guacamole even sells individual serving sizes. These are great because they don't go bad once you open them and they're portion controlled.
Chop up carrots and celery for a delicious and healthy quick snack. Keep them in the fridge until you are ready to leave or dip in guacamole or a keto dressing if you're staying home.
If you would like to get a fruit fix you can have raspberries, strawberries or blackberries in small amounts. Sometimes I freeze them to have a frozen treat and slow down my snacking. 100 grams (about 3 handfuls) have 5-6g of carbs. Avoid blueberries as they have about twice the amount of carbs as the other berries. See HERE for a list of low carb fruits, vegetables, and nuts.
New to Keto? Read this post on What to Eat On Keto To Get Started if you're brand new to Keto and need to know the basics. It will help you understand Keto and the basics of the diet.
What are Keto Fat Bombs?
Last but not least with just a little prep work you can make fat bombs. Fat bombs are a great way to stay in ketosis because they are so high in fat and low in protein that they will help you burn more fat for fuel. You can make many of the fat bombs in my Keto Fat Bombs, Sweets and Treats book in bulk and keep them in the fridge or freezer until you're ready to eat them.
It takes so little effort now to plan ahead and have low carb snacks on hand so you don't make hunger-based bad decisions. And with the snacks I've mentioned, you won't feel like you're missing out on anything!