Have you been toying with the idea of buying an air fryer but hate clutter on your kitchen counter? Love your Pressure Cooker and want a way to use it even more? Let my Mealthy CrispLid Review help you decide if this air fryer attachment is the right addition to your kitchen.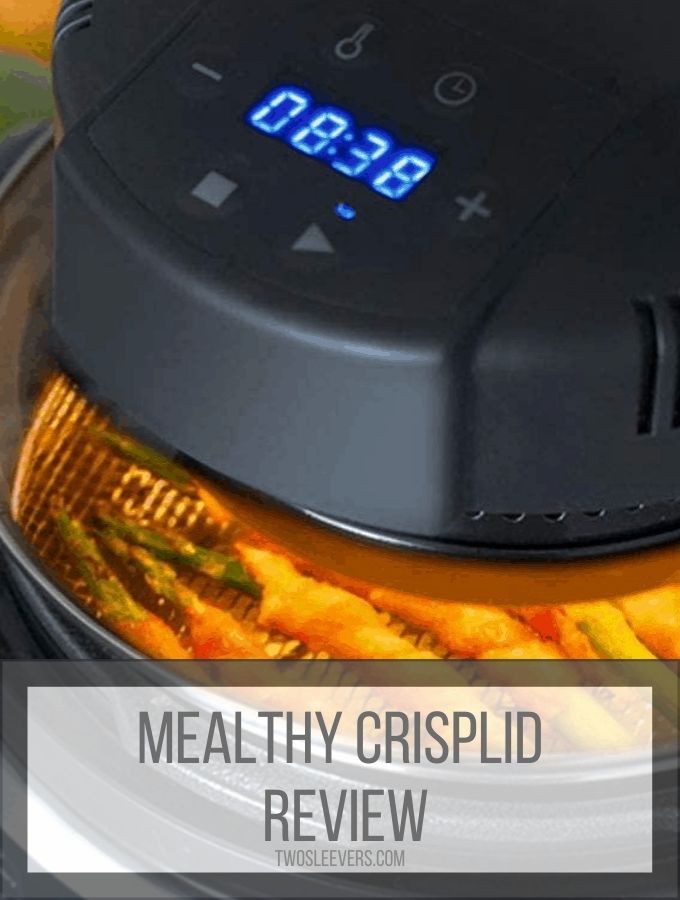 Why You Should Trust My Mealthy CrispLid Review
Air Fryer Cookbooks: I have two best-selling air fryer cookbooks, Every Day Easy Air Fryer and Air Fryer Revolution, so you can feel confident in knowing that I use air fryers on a regular basis, I'm quite familiar with how they work and I know what makes a good air fryer.
Experienced Reviewer: I've done various air fryer reviews in the past, so I have a wealth of knowledge about air fryers and what makes one better than another.
Gadget geek!: I'm a self-proclaimed food tech enthusiast and have been known to purchase (and review) just about any kitchen appliance I can get my hands on.
Watch The Video
What Is A Mealthy CrispLid?
The Mealthy Crisplid is an attachment that goes on the top of a pressure cooker to convert it into an air fryer.
It cooks by directing heat directly onto the food and circulating air around the surface to create a crispy texture.
What Features Does It Have?
Controls. The Mealthy CrispLid features customizable time and temperature controls so you can broil, crisp, air fry, and dehydrate.
Safety Features. It comes with multiple safety features (including a lever that prevents you from operating it without the lid your pressure cooker correctly and a short cord to prevent tripping).
Easy Viewing. It has a glass lid that makes it easy to see your food as it cooks.
What Does It Come With?
Mealthy Crisplid attachment
Trivet
A mesh basket
Tongs
Silicone Trivet
A recipe book (that you won't need if you have any of my air fryer cookbooks).
If you want a deeper basket for more cooking capacity, you can purchase a deep basket.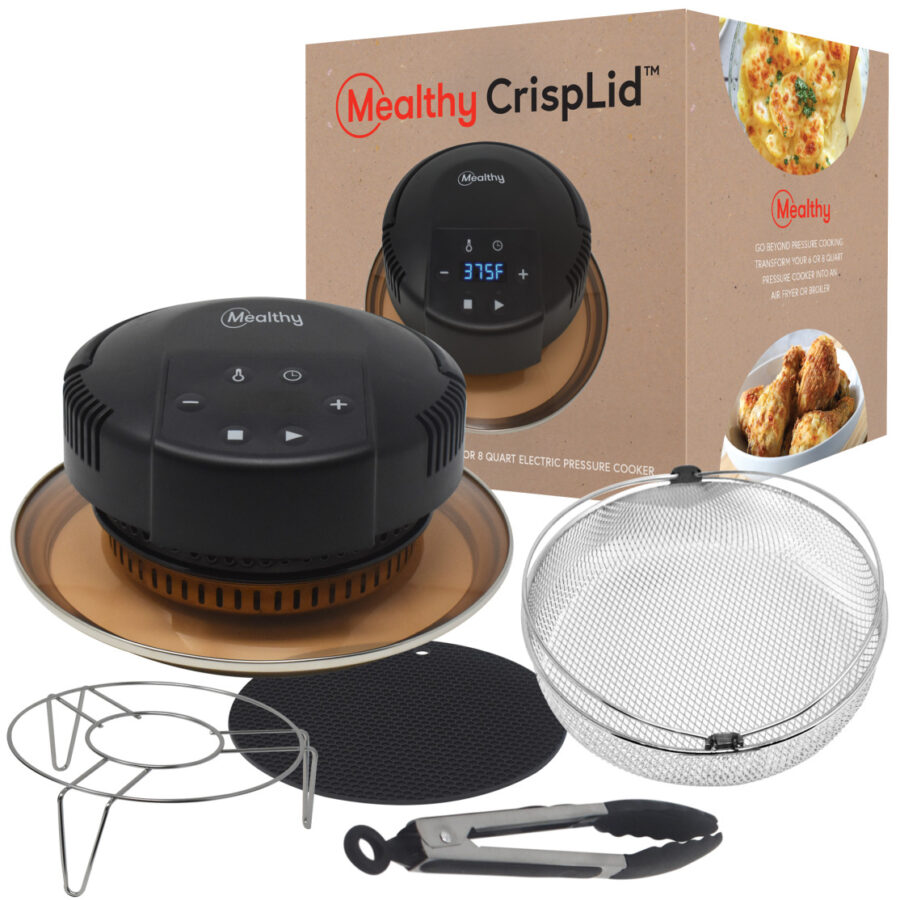 What Other Products Are Similar To The Crisp Lid?
While this technology is still relatively new, the Mealthy CrispLid is certainly not a one of a kind item. There are several air fryer attachments that are compatible with your electric pressure cooker.
Mealthy CrispLid Pros
Versatile. Fits on any 6 quart or 8 quart electric pressure cooker.
Customizable. Adjustable time and temperature buttons.
Safety Functions. The safety lever on the top ensures it only heats when the lid is locked in place.
Viewing. The glass lid lets you see your food as it cooks.
Inexpensive. Compared to freestanding air fryers, this is a much cheaper option.
Clean Up. Easy to clean.
It Dehydrates. It comes with 5 dehydrating settings.
Mealthy CrispLid Cons
Small. It has a smaller cooking capacity than other air fryers.
Safety. Can be dangerous for small children since you're moving a hot lid on and off.
No presets. This can be a con for some people, but I don't mind the lack of presets.
Flipping. For it to crisp the food on both sides, you have to flip it halfway through cooking since there is only a heating element on the top and air doesn't circulate around the food like it does in a standard air fryer.
Should I Get a CrispLid Or A FreeStanding Air Fryer?
The CrispLid is good if you expect to make smaller portions, or if you just want to cook something in a pressure cooker and then brown it. But if you plan to make large batches you can't do it in this.
It's also easy to clean because you can put the instant pot stainless steel insert straight into the dishwasher.
Taking those things into consideration will help you make the right decision for you. They both have their own perks, so it's truly up to personal preference.
Would I Buy It?
I won this Mealthy CrispLid in a giveaway, but I can say that I would purchase it on my own.
If I was short on space in my kitchen or needed an inexpensive air fryer option, I would consider purchasing this product. It's such a great space saver and gets the job done if you need to air fry something. While it does take a little longer to cook food, it still produces the same quality of air fried food as some of my other air fryers.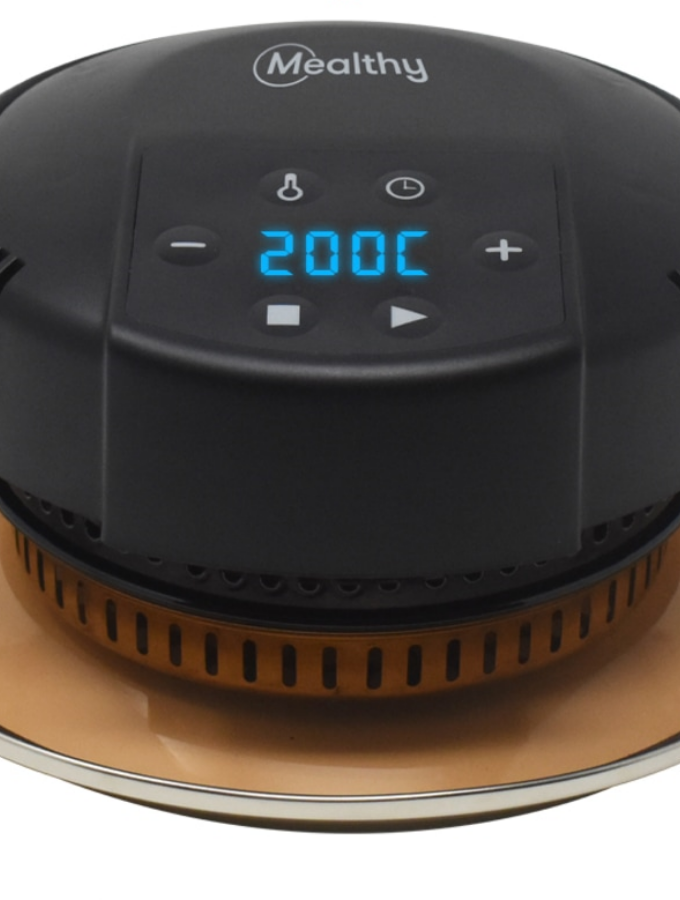 If you decide the Mealthy Crisplid is the right fit for your kitchen, you can purchases it HERE. And if you need the pressure cooker to go with the crisplid, you can grab the Mealthy MultiPot HERE. Use the Coupon Code TWOSLEEVERS for $10 off of a $100 purchase on the Mealthy website.
And don't forget to check out my air fryer cookbooks! Every day easy air fryer, and Air Fryer Revolution.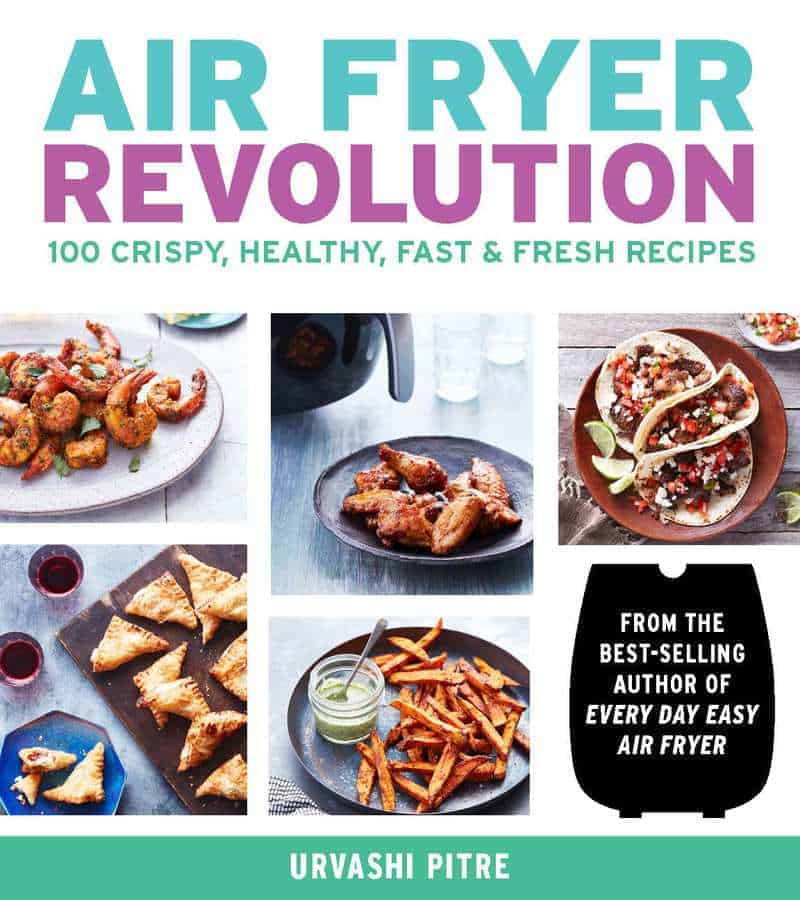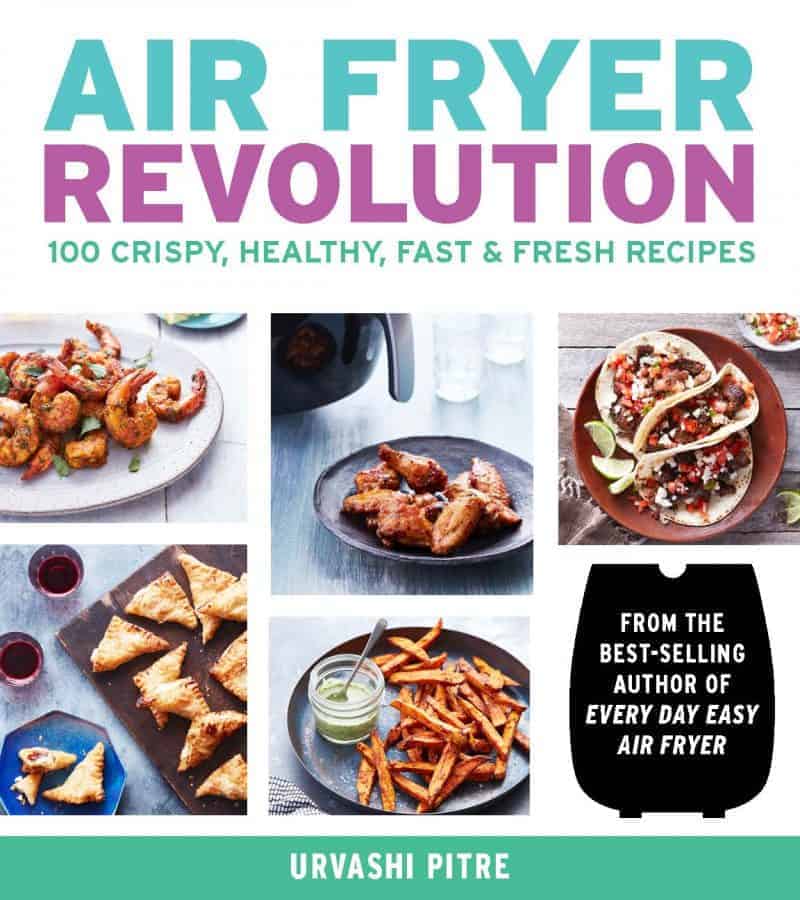 Originally Published July 30, 2020