One of the best thing about Keto Desserts is being able to recreate flavors and regular desserts you love in a version that won't bust my diet. Keto Mint Chocolate Bars are amazing and taste just like an Andes Mint! I can't wait for you to try these.
This is another one of those recipes that you could easily serve to your friends who aren't on a diet and they would never know or guess that this was Keto friendly based solely on taste alone. They're simple to make, but taste oh so good. Let's get cooking!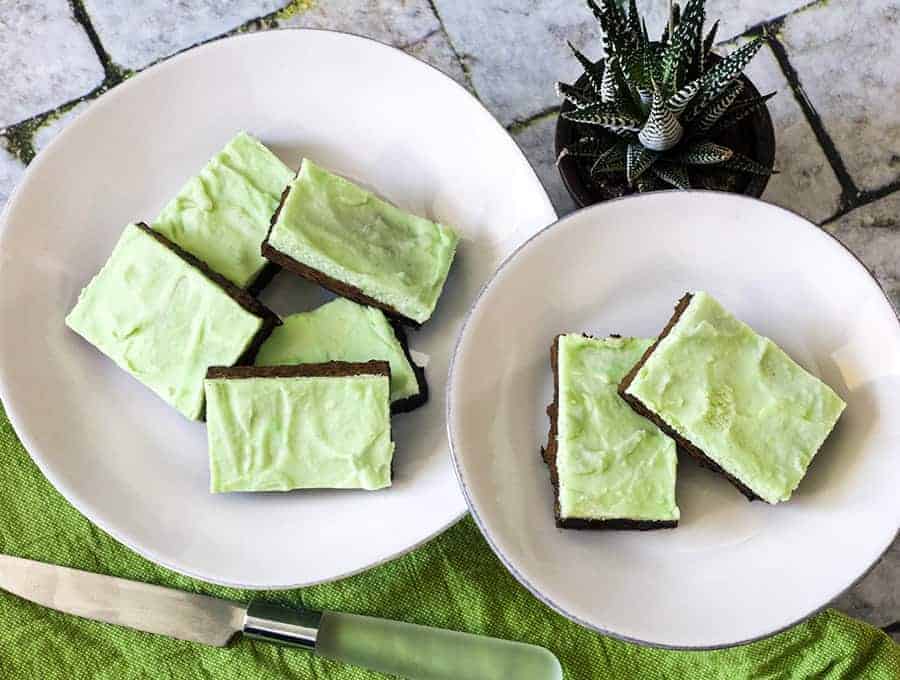 Keto Mint Chocolate Bars | Low Carb Dessert Recipe
I'm a sucker for chocolate. One of my favorite things about doing the Keto diet is that you can have chocolate while doing it. There are so many ways you can modify an existing recipe to make it Keto-Friendly. These Keto Mint Chocolate Bars are so good, and I'm so happy I decided to make them.
The recipe makes a pretty good sized pan of them, so it would be perfect for a family dessert, or as a dish to bring with you to a potluck or dinner get together. I like bringing dessert options with me I know I will enjoy and that are Keto friendly when I go to get togethers because it helps me stay on diet and helps me meet my goals faster.
Another amazing Keto Dessert are these milky, chocolate Keto Truffles! Don't they look so melty and delicious? That's because they are! You will not regret making them!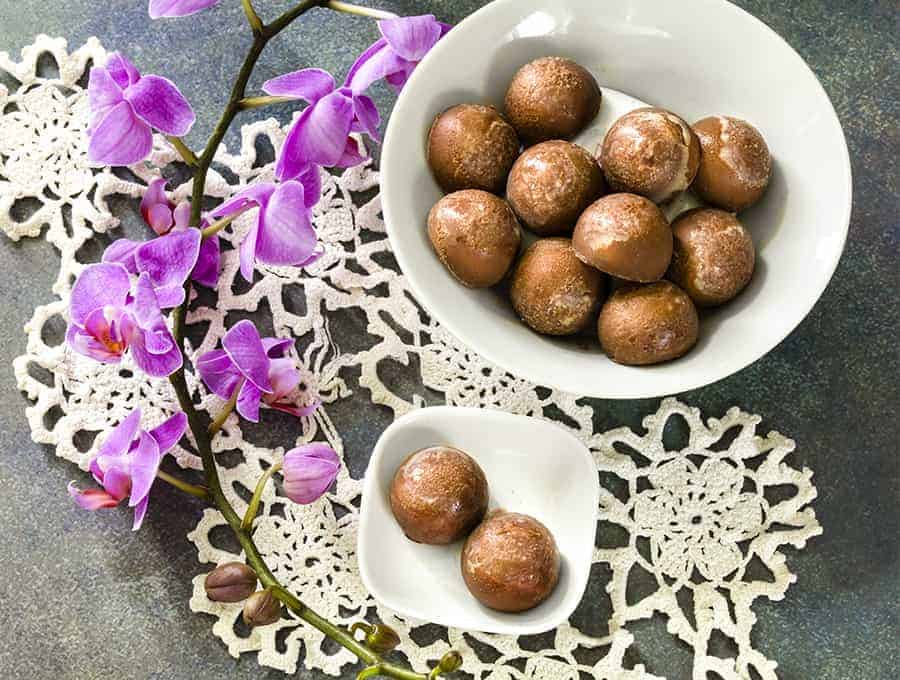 Another one of my favorite Keto friendly desserts is my gluten-free, nut-free Keto Chocolate Cake! So good you don't even need frosting!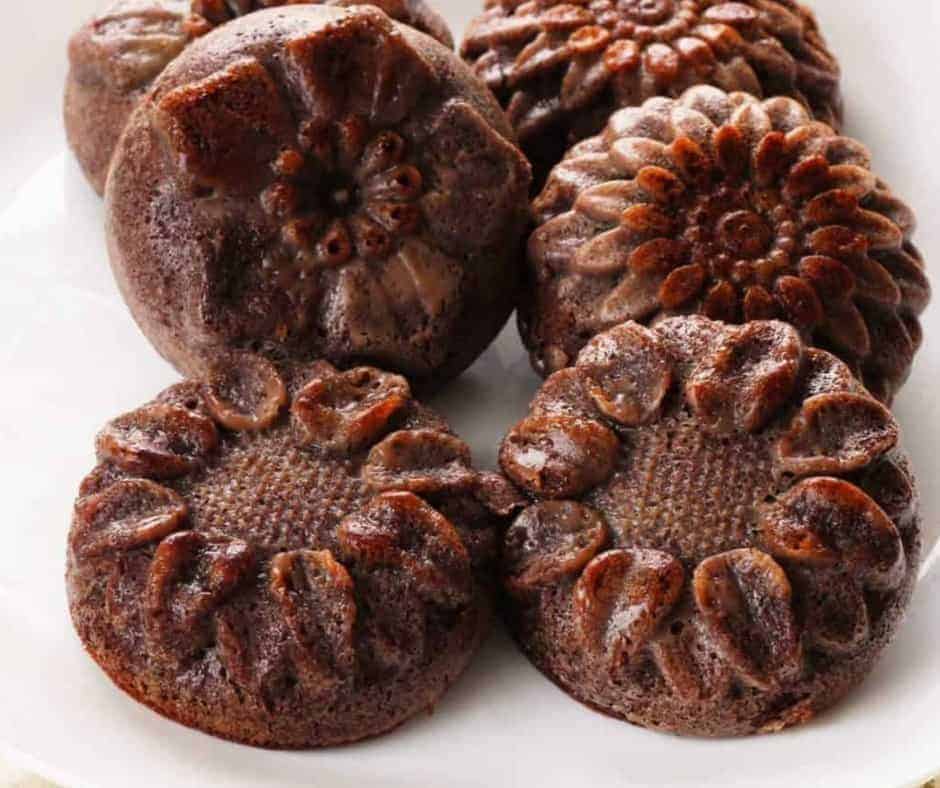 But enough about those other desserts, let's get back to these Keto Mint Chocolate Bars. I used green food coloring to make the frosting a pretty minty green color. If you don't care what color the frosting is, you can omit that step.
The best part about these though? You make them in the microwave. Yep! No oven or baking, just a few minutes in the microwave and then let them set up in the fridge for a while and then you can eat your yummy Keto Mint Chocolate Bars. They're even easy to make in a pinch, which is why I love them.
Sometimes the craving for low carb sweets will just hit me, and recipes like these make it easy to satisfy that without ruining my diet.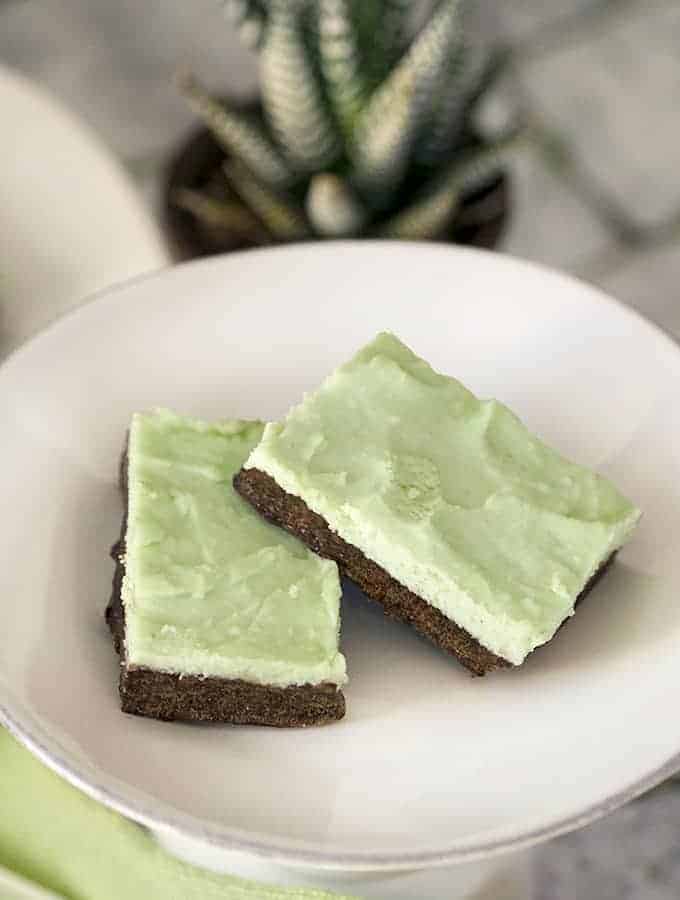 ?

Did you make this recipe? Don't forget to give it a star rating below! Just click on the stars in the recipe card to rate.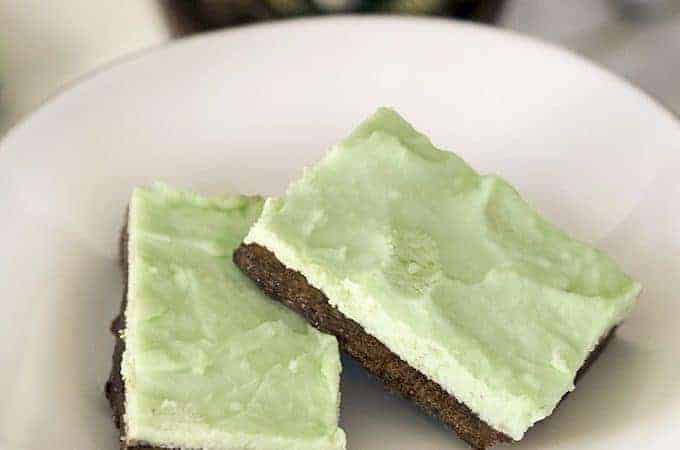 Resting Time::
15
minutes
Instructions
Lightly grease 8 x 6-inch square pan with shortening or cooking spray.


Place butter and chocolate in a large microwave safe bowl. Heat for 15-20 seconds in the microwave and stir well until the butter and chocolate are melted. Add in almond flour and mix well. Pat this mixture into the greased pan and set it in the refrigerator.


In a small bowl, beat 1/4 cup butter, whipping cream, peppermint extract, and food color with electric mixer on medium speed until well mixed. On low speed, gradually beat in powdered Swerve until smooth.

Spread peppermint mixture evenly over chocolate mixture. Refrigerate for 15-20 minutes For bars, cut into 5 rows by 5 rows.

Nutrition
Calories:
215
kcal
|
Carbohydrates:
8
g
|
Protein:
3
g
|
Fat:
21
g
|
Saturated Fat:
11
g
|
Fiber:
2
g
Don't forget to check out my Keto Desserts Cookbook!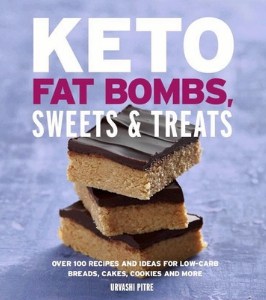 Featuring recipes for many classic, high-carb favorites that have been reworked to be "fat bombs," which help keep your macros in balance, as well as prevent you from craving all the things you usually can't eat when you're trying to lose weight. Many of the more than 100 recipes require no more than 10 to 15 minutes of prep time, and they taste as delicious and indulgent as they sound—how about Chocolate Peanut Butter Pops, Mocha Cheesecake, or Almond Butter Bombs?