Food processor vs blender: which is right for you? Food processors and blenders are both useful gadgets to have in your kitchen, but many people don't have the space or the budget to grab one of each. Not sure which one is right for you? Let me explain some of the differences to help you decide.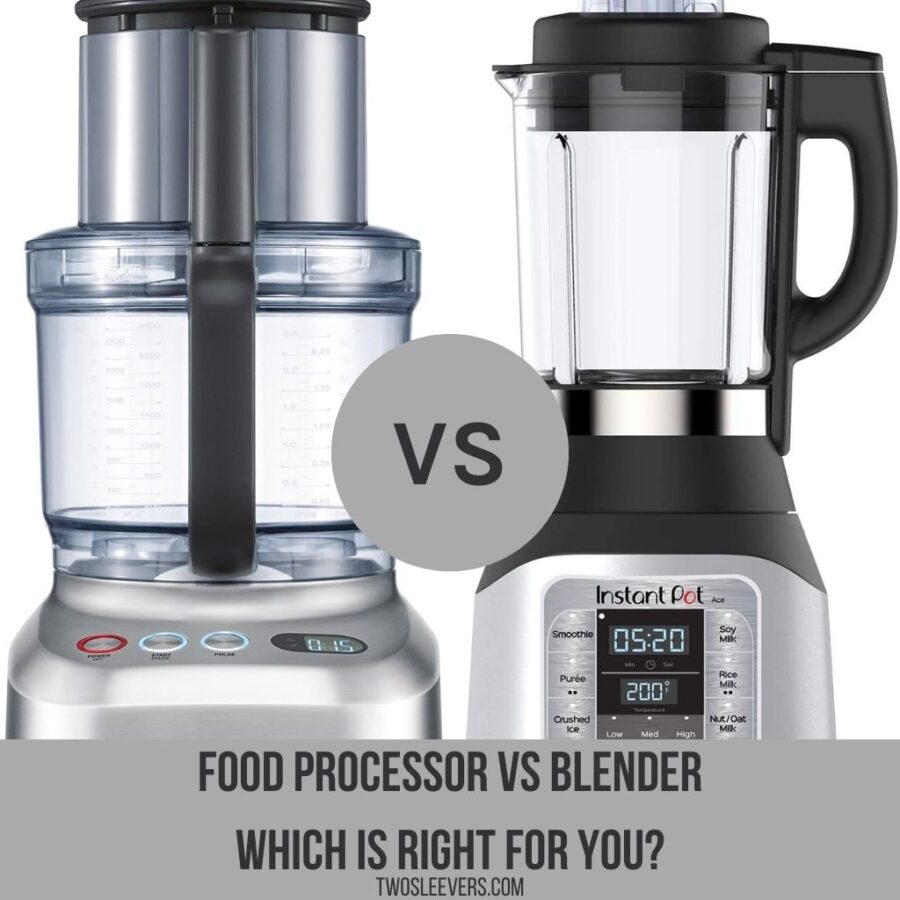 Food Processor Vs Blender : Why You Should Trust My Opinion On Which To Buy
Cookbook Author: I've written 5 Instant Pot Cookbooks and 2 Air Fryer Cookbooks so I've spent more than my fair share of time in the kitchen.
Efficient: That's the only way I know how to do things in the kitchen. Who has time to waste when you're trying to get food on the table? I'm known for my ruthless efficiency and use the pot in pot cooking method every chance I get.
Gadget geek!: I'm a self-proclaimed food tech enthusiast and have been known to purchase (and review) just about any kitchen appliance I can get my hands on.
Food Processors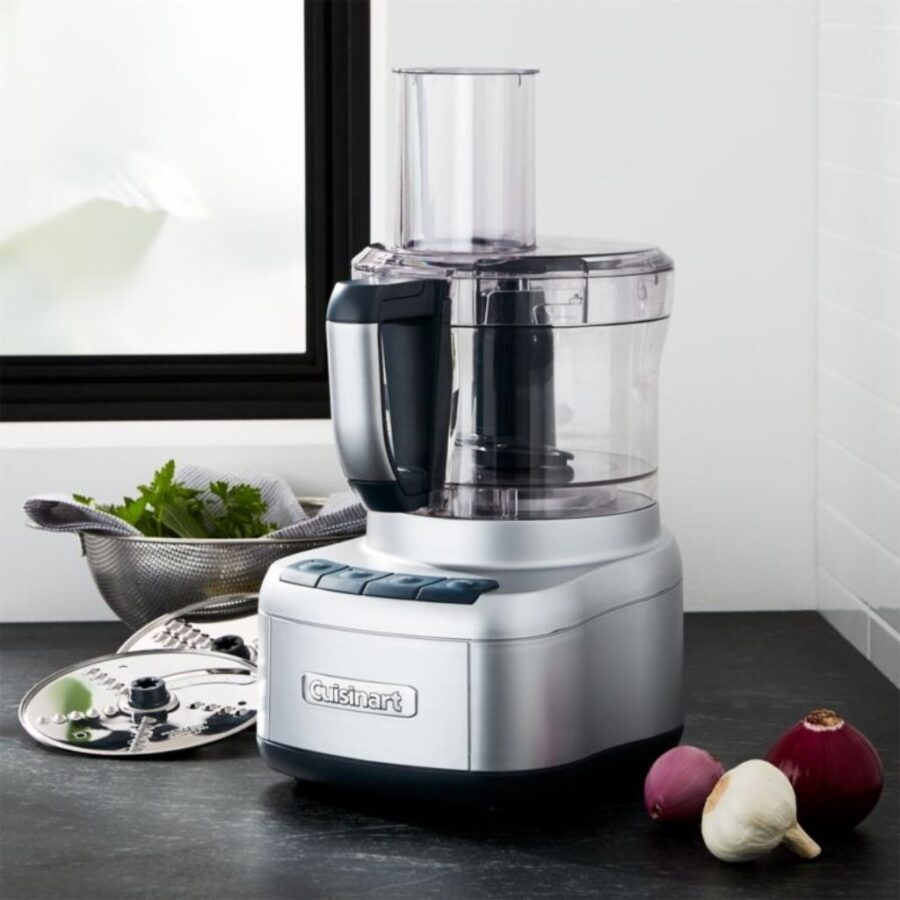 What Do Food Processors Do?
Puree foods
Chop foods
Shred foods
Mix dry ingredients
When Should You Use A Food Processor?
Food processors are typically best used for:
Chopping vegetables
Shredding meats
Pulverizing nuts
Grating cheese
Kneading bread (with the appropriate attachment)
Don't let the short list of things I mentioned here fool you. Food processors can be one of the most useful and multifunctional kitchen gadgets you have in your kitchen. Many of them come with a plethora of attachments you can purchase to make them even more useful.
Some Of The Most Highly Rated Food Processors
Blenders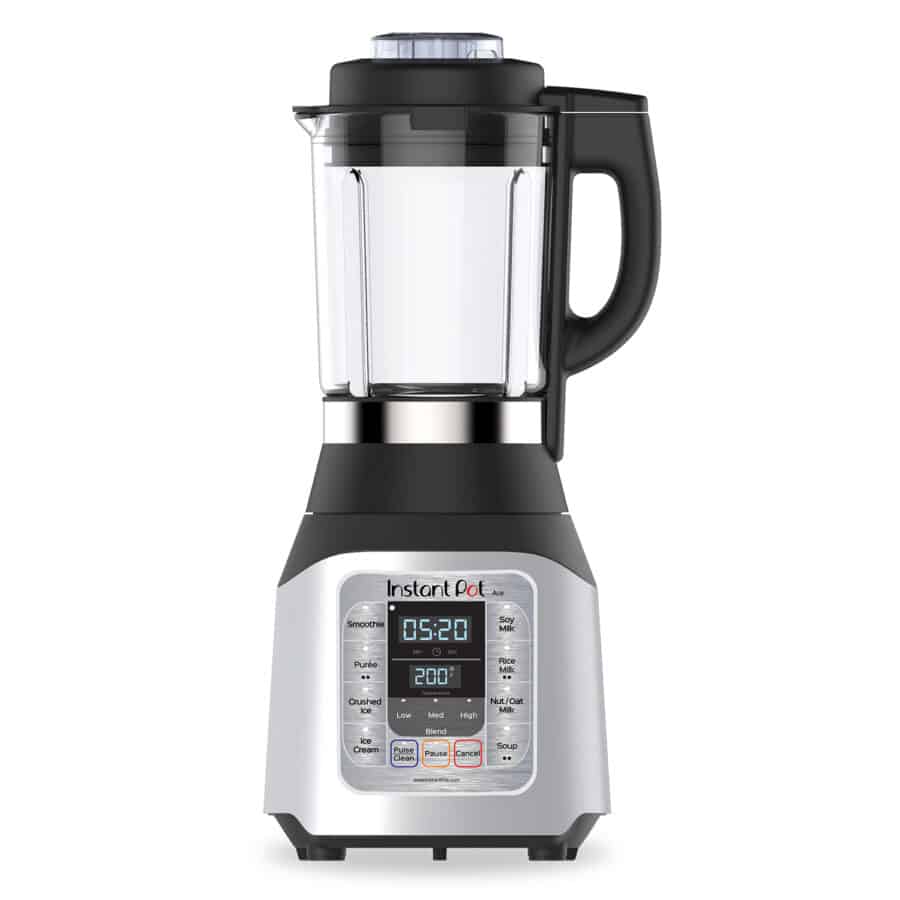 What Do Blenders Do?
Crush ice
Puree vegetables
Make smoothies
Whip air into a drink or smoothie
When Should I Use A Blender?
Because of their strong motor, a blender will be your go-to gadget when you're wanting things pureed. They're also great for making smoothies and icy drinks (think margaritas).
Because of their narrow, funnel shape, blenders create a small centrifugal force that not only purees things well but also whips air into ingredients, making them light and frothy.
Blender Functions
Functions on blenders are not all the same but most blenders have different speed settings. They can vary from 1 to up to 20 speed functions, but just a few will get the job done.
While most blenders have a simple numbered dial or touchpad to select the blending speed, some offer different speed functions. Some of them are:
Smoothie
Salsa
Milkshake
Pulse
Clean
Here are a few of my favorite mid range blenders currently on the market:
Different types of blenders
To further complicate things, blenders came in a variety of shapes and sizes.
Countertop Blenders
Personal Blenders
Immersion Blenders
Heated blenders
1. Countertop Blenders
Stand blenders are full-sized blenders that have a large base with a tall glass or plastic pitcher that you blend food or drinks inside. They are generally used to blend or mix larger quantities at one time.
Countertop blenders have a larger footprint than the other two types of blenders. They tend to be heavy (anywhere between 5 and 20 pounds) and tall (most around 15 inches tall).
They don't take up much room on your countertop, but many will not fit under your kitchen gadgets and they can be quite heavy to store away after each use.
The countertop blender comes in an assortment of capacities. Most countertop blenders have a capacity ranging anywhere from 4 to 9 cups. What you really want to look for, is a blender that fits well underneath your cabinets. This way, you can keep it plugged in.
Highest Rated Countertop Blenders
Think a countertop blender is the right choice for you? Pick up my favorite: Vitamix blender, or the budget choice that's fantastic, the Instant Pot Ace blender.
2. Personal Blenders
Compact/Personal blenders are the mid-range option for blenders when it comes to footprint and price. They're great for storing away when not in use, making enough for a single serving and practical for travel.
Highest Rated Compact Blenders/Personal Blenders
Personal blenders are quite small and perfect for small spaces, travel, and dorms. They are compact, don't take up much room, and are very light weight. They are simple to clean and easy to store.
Personal blenders typically come with cups ranging from 8 to 24 ounces. Depending on which brand and model of personal blender you choose, some come with a variety of cups for a more customizable blending experience.
Personal blenders are just not as powerful as countertop blenders. For this reason, I would not recommend that you have this as your only blender.
They're great for smoothies on the run or small batches of chutney etc, but these are not what you will want to use for that big batch of margaritas for example.
Think a personal blender is the right choice for you? Grab my favorite: Ninja personal blender.
3. Immersion Blender
Immersion blenders have the smallest footprint and are the most versatile when it comes to blending capacity. They're easy to store and great for making pureed soups and sauces.
Highest Rated Immersion Blenders
Immersion blenders have the smallest footprint out of all of the blender types. They have blending shafts that can range from 7 to 10 inches long with handles that are varying lengths. They are small in diameter and designed to be stored in a drawer or a cabinet when not in use.
Believe it or not, the capacity of an immersion blender can be the largest of all. Since the immersion blender goes into the container you prepared the food or drink in, it takes on the capacity of that container.
It is however limited to things that have a significant amount of liquid to start with. It's really hard to start with four bananas and ¼ cup of ice and use an immersion blender for it. You really need a proper countertop blender for it.
If you're looking for the best immersion blender, you really can't go wrong with the Cuisinart immersion blender, or the Kitchenaid immersion blender. Those are my absolute favorites.
4. Heated Blenders
Increasingly, brands have started to make blenders that make soup or other hot liquids. Some of them contain a heating element at the bottom. Others, like the Vitamix heat via friction. I find the ones with a heating element make far superior soups because they actually get hot enough to cook the ingredients.
The Instant Pot Ace blender, the Ninja heated blender, and to some extent the Vitamix, are capable of making hot soups.
The Vitamix works via friction, while the other two have heating elements that allow you to customize temperatures.
Food Processor Vs Blender: Which Should You Buy?
This decision should be based on how you intend to use this kitchen gadget. Here are a few tips to help you decide which one you should purchase:
Buy A Food Processor If:
You want something that comes with multiple attachments
Is multifunctional
Fits under your kitchen cabinets
Can be as affordable or expensive as your budget allows
Buy A Blender If:
You want something that can blend large amounts of drinks or puree large amounts of liquids at once
You have room to spare in your kitchen
Buy A Compact Blender/Personal Blender If:
Have a small kitchen
Only make portions for one person at a time
Are on a budget
Buy An Immersion Blender If:
You are limited on kitchen space
Want something with customizable capacity
Like to put appliances away after each use
More Kitchen Gadget Reviews
So, food processor vs blender: which is right for you? If you found this article on how to choose between the two helpful, make sure you share it on Facebook and Pinterest so your friends can figure out which one is right for them too.
Originally Published October 16, 2020