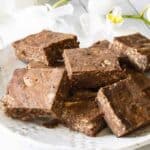 Keto Chocolate Cheesecake Brownies
Total Time:
1
hour
5
minutes
Calories:
274
kcal
|
Carbohydrates:
3
g
|
Protein:
5
g
|
Fat:
27
g
|
Fiber:
1
g
|
Sugar:
1
g
For the Cheesecake Batter
Grease an 8 x 8-inch square pan and set aside.


For the Chocolate Batter: In a microwave-safe bowl, melt butter and chocolate for about 1 minute. Remove and stir well.


In a bowl, add eggs, sweetener, and vanilla and blend until light and frothy.


Pour the melted butter and chocolate into the bowl in a slow stream and beat again until it is well-incorporated.


Pour the mixture into the pan.


For the Cheesecake Batter: beat together cream cheese, egg, Truvia and vanilla extract. Pour the cheesecake batter on top of the brownie batter. Use a spatula to swirl the two batters together.


Cover the pan with foil. Bake at 350F for 45-50 minutes until a knife inserted in the center emerges clean.