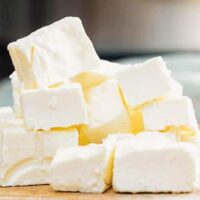 Print Recipe
Instant Pot Paneer Indian Soft Cheese
Instant Pot Paneer Indian Soft Cheese Recipe Type : Main Cuisine: Indian Author: Urvashi Prep time: 10 mins Cook time: 10 mins Total time: 20 mins Serves: 6 oz
Pour half and half and vinegar into the Instant pot and cook at low pressure for 4 minutes. Allow the pressure to release naturally for 10 minutes. Release remaining pressure.

When you open the pot, the milk will have separated into curds and a watery whey. Stir this well.

Pour the mixture through cheesecloth (saving the whey for other uses).

Gather up the cheesecloth and put a heavy weight on it to let the whey drain and for the paneer to form a cohesive block or ball.

I used this handy dandy tofu maker to form a nice square block and weighted it down with a can of beans to help the whey drain. This will take about 1-2 hours.
DO NOT USE UHT MILK. DO NOT USE MILK WITH CARRAGEENAN ADDED. Yes I know I'm yelling, but I cannot emphasize this enough. Your milk will just not separate as it should. At all.
Please do not use skim or 2% milk. Use either whole milk, half and half, or cream. I use half and half and it is a good in-between from regular doodh (milk) paneer and malai (cream) paneer.
If you open up the Instant pot and your paneer hasn't separated, your milk had some kind of personal issues. In this case, try putting the pot on Sauté and cooking it some more. You may need to add some more vinegar in this case.
If your paneer is crumbly, it's a sign you didn't press it either long enough, or with a heavy enough weight. If in doubt, place 2-3 cans on top of it so it compresses down beautifully.
If your pressure cooker does not have a low-pressure setting, cook on high pressure for 2 minutes.
This paneer is great with the leftover butter chicken sauce.
I don't trust the nutrtitional info becuase I don't really know how to calculate calories for the whey that goes down thedrain, or ito your bread or whatever.
Here's that link once again to the Tofu Maker that I used to make Paneer instead.
Calories:
207
kcal
|
Carbohydrates:
7
g
|
Protein:
5
g
|
Fat:
18
g
|
Saturated Fat:
11
g
|
Cholesterol:
58
mg
|
Sodium:
65
mg
|
Potassium:
205
mg
|
Sugar:
1
g
|
Vitamin A:
558
IU
|
Vitamin C:
1
mg
|
Calcium:
166
mg
|
Iron:
1
mg