This is a recipe for Suriname Pom, which is a classic, festive dish. Of course, I don't know any of this from personal experience, since I've not yet been lucky enough to go to Suriname. But I'm a firm believer in asking experts for their opinion. So I asked Chef Mireille from the Schizo Chef to shed some light on this and share her best Suriname Pom recipe with us.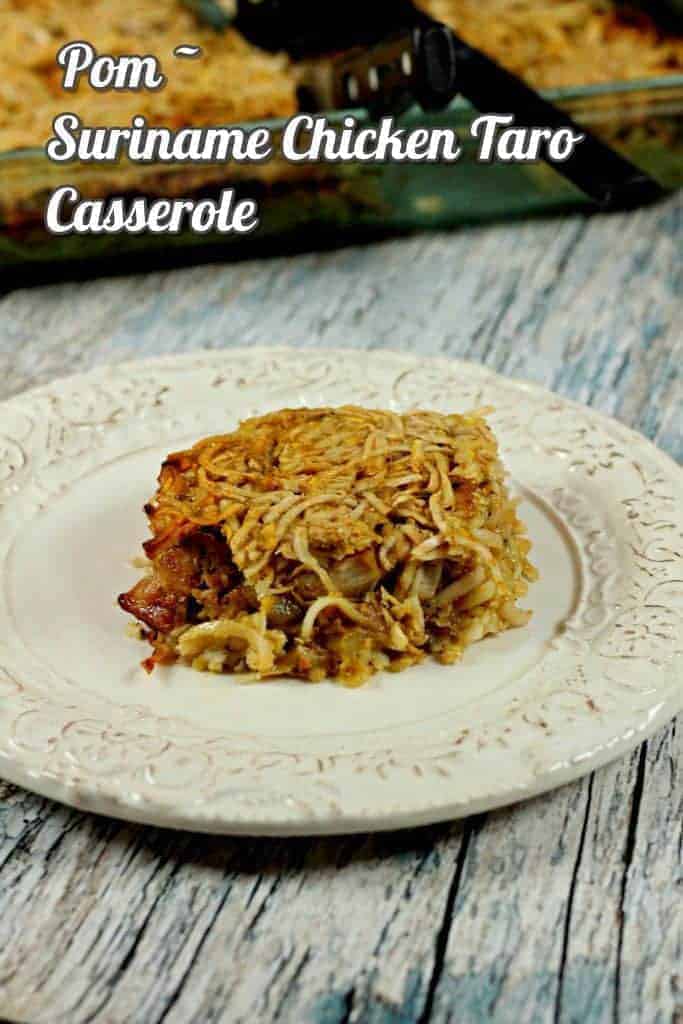 Suriname Pom
I'll let her share her thoughts below, but do check out her site when you get a chance, and leave her a nice hello here.
She was also nice enough to create a video for us which will help you see how simple it is to create this dish.
My name is Chef Mireille and I blog at The Schizo Chef. I was so honored to be asked to present a guest post for Two Sleevers. I come from a very diverse family and this is a family recipe from the country of Suriname.
Suriname, my grandfather's birthplace, is one of the most multi-cultural countries in the world.  The majority cultures represented are African, Indian and Indonesian, with minority populations of Chinese, Lebanese/Syrian (who came during the Spice Trade era) and the native South Americans, locally called AmerIndians. Additionally, there are the leftover descendants of the European colonizers.  Although Suriname is technically located in South America, like Guyana, they are culturally and economically linked to the Caribbean.
While most people I meet are surprised at all the different cultures that encompass my family, people like me are common in Suriname.  There is no one racial identity as Surinamese. With Indian, African and European blood all in my veins, this is the makeup of an average person in Suriname.  The rest of the cultures are also included in my family via marriages.  This is why I know as much about Indonesian & Indian food as I do about Afro-Caribbean food.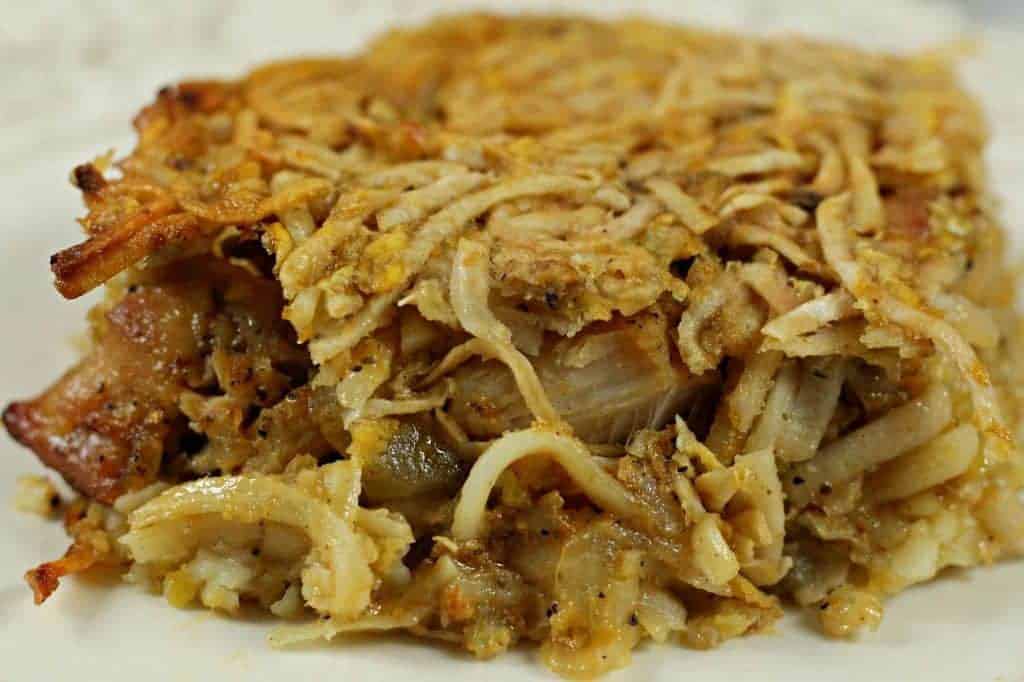 For this reason, most of our cuisine is inherently fusion cuisine, where people took foods that were familiar to them in their home countries and adapted them to what was available in their new country.
Pom is one of the most popular dishes in all societies of the country, usually reserved for Sunday dinner or special occasions.  I've yet to visit Suriname.  It is definitely on the top of my Bucket List, as I have dozens of relatives there I have yet to meet.  However, even though I have not visited the country, I have tasted Pom many times when visiting my Suriname relatives who now live in Holland and my Mom has made it many times.  This is an adaptation of my great aunt's recipe received via my Mom.
This one pot meal is made from chicken and what we call tayer in Suriname. Tayer has many names around the world including eddoe, colocassia, tannia and taro root. No matter what name you call it, this is an easy casserole for any night of the week.
★ DID YOU MAKE THIS RECIPE? DON'T FORGET TO GIVE IT A STAR RATING BELOW! JUST CLICK ON THE STARS TO RATE.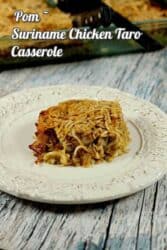 Suriname Pom
This is a recipe for Suriname Pom, which is a classic, festive dish. This one pot meal is made from chicken & taro root. An easy casserole for a weeknight!
Cook Time
1
hour
10
minutes
Total Time
1
hour
20
minutes
Ingredients
3

tablespoons

oil

5

boneless & skinless chicken thighs

cut into bite size pieces (about 20 oz.)

2

teaspoons

nutmeg

divided

1/2

teaspoon

black pepper

2

sour oranges

1/2

teaspoon

salt

plus extra to taste

1

stalk celery

thinly sliced

1

onion

chopped

1

tablespoon

tomato paste

3

cups

chicken broth or water

if using water, add a chicken bouillon cube

1

teaspoon

sugar

2

pounds

tayer/tannia/eddoe

grated

1

ripe yellow plantain

grated

1

lime

2

tablespoons

butter
Instructions
Season chicken with 3/4 teaspoon of the nutmeg, black pepper, juice from 1 of the oranges and salt, to taste.  Marinate for 30 minutes.

Preheat oven to 350 F.

In a large bowl, combine the grated tayer and plantain.  Add remaining nutmeg, sugar, juice of the other orange, juice of the lime and 1/2 teaspoon salt. Mix and set aside.

Heat oil.  Add chicken pieces and brown.

Add celery and onion. Cook for a few minutes, just until the vegetables are softened.

Add tomato paste and chicken broth as well as bouillon cube, if using.  Bring to a boil.  Reduce to a simmer and cook for 20 minutes.

Add about 5 tablespoons of the broth from the cooked chicken to the tayer/plantain mixture and mix well.

In a buttered casserole dish, place half of the tayer mix and press down.  Add the chicken on top.  Spread the rest of the tayer mix on top.

Bake for 1 hour.

Brush butter on top. Rest for 5 minutes.

Slice and serve.
Nutrition Facts
Suriname Pom
Amount Per Serving
Calories 344
Calories from Fat 99
% Daily Value*
Total Fat 11g 17%
Cholesterol 74mg 25%
Sodium 589mg 25%
Potassium 1146mg 33%
Total Carbohydrates 44g 15%
Protein 16g 32%
* Percent Daily Values are based on a 2000 calorie diet.