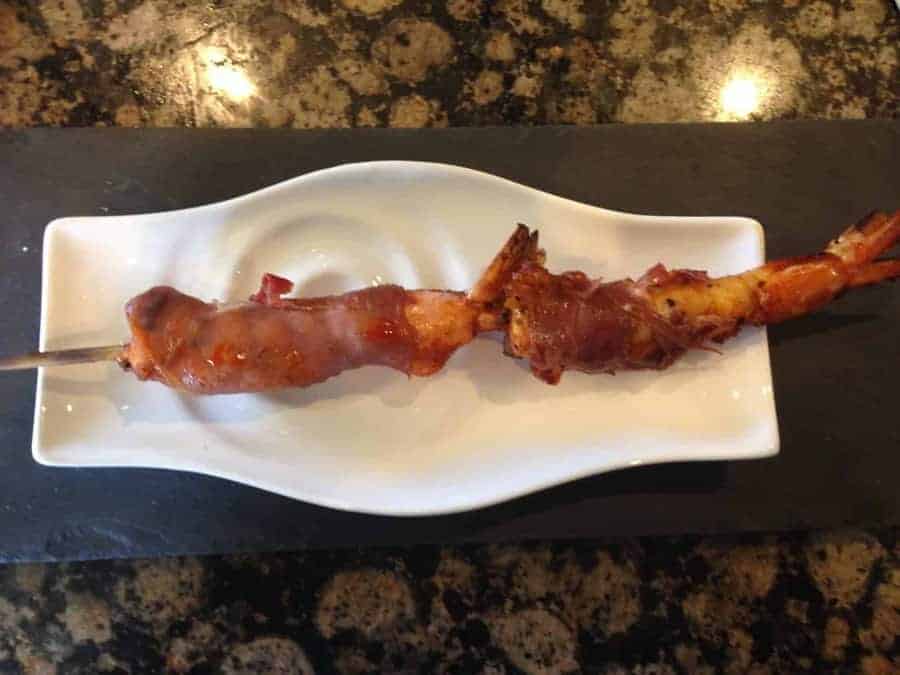 Smoky, luscious, bacon-crisp without the fat, and easy. Who could ask for anything more? This is a bit messy to make so be careful not to touch your eyes with your paprika-laden hands. So worth it though.
Serves 4 sleevers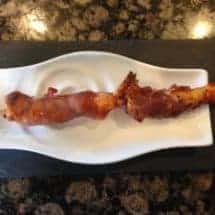 Spanish Proscuitto-Wrapped Shrimp
Cuisine:
American, Seafood
Instructions
In a bowl, mix together the olive oil, paprika, and black pepper. Mix in the shrimp carefully and let this mixture rest for 30 mins.

Meanwhile, soak the skewers in water. Do not skip this step unless you want your oven to catch on fire.

Thread the shrimp on the skewers. Start with the fat end and stretch the shrimp, poking your skewer out through it's tail. Place on foil covered baking sheet.

Once all the shrimp are threaded, take the proscuitto di cittero and prepare to get a little frustrated. The slices are very thin and they tend to lump together. Think saran wrap, clinging to itself. What I found was that it was a lot easier to peel the paper off the proscuitto than to peel the proscuitto off the paper. So hold the paper up and peel it off carefully.

Use half a slice to wrap the shrimp. Unless you are about to enter your shrimp in a beauty contest (or are OCD), don't worry about how even it looks, it's still going to taste fantastic.

Turn oven to Hi Broil. Place shelf about 6 inches away from the heat source. Put in your shrimp and broil for 6-8 minutes but watch it very carefully. When the proscuitto is all crisp and the shrimp are opaque, you are done.

Serve with plenty of napkins.
Nutrition facts per serving
117kcal | Fat: 9g | Saturated fat: 2g | Cholesterol: 71mg | Sodium: 292mg | Potassium: 66mg | Protein: 7g | Vitamin A: 330% | Vitamin C: 1% | Calcium: 35% | Iron: 0.7%
I am not a registered dietician or nutritionist. Nutritional information is provided a courtesy, and can vary depending on the exact ingredients you use.