This dish is a flavorful low carb shrimp recipe that uses shrimp with cotija cheese and tomatillos to get a fast meal on the table with a lovely southwest flavor! It's easy to make and it's perfect for those nights when you need a quick meal but don't want to skimp out on flavor!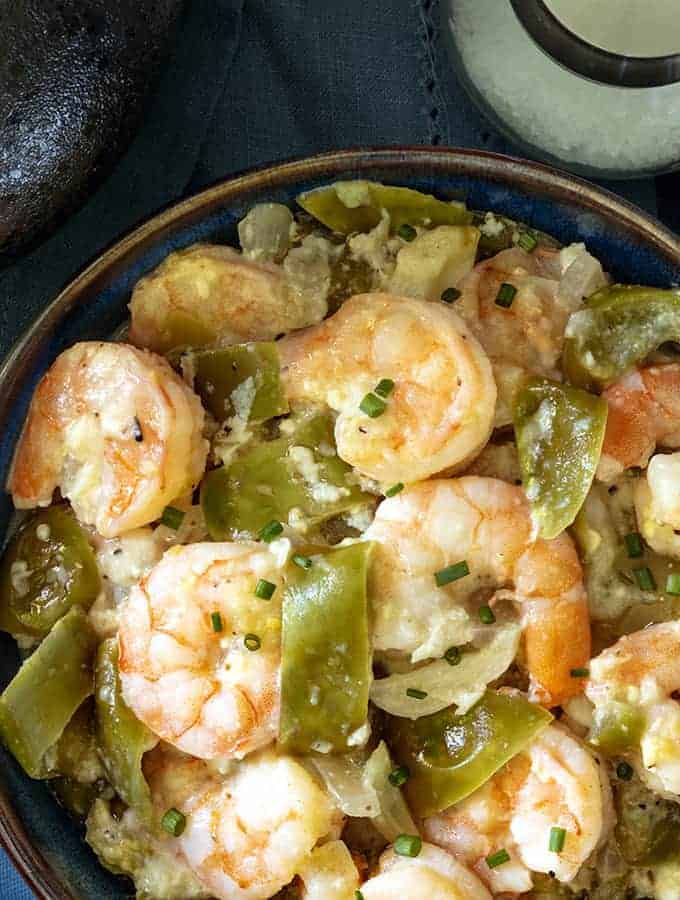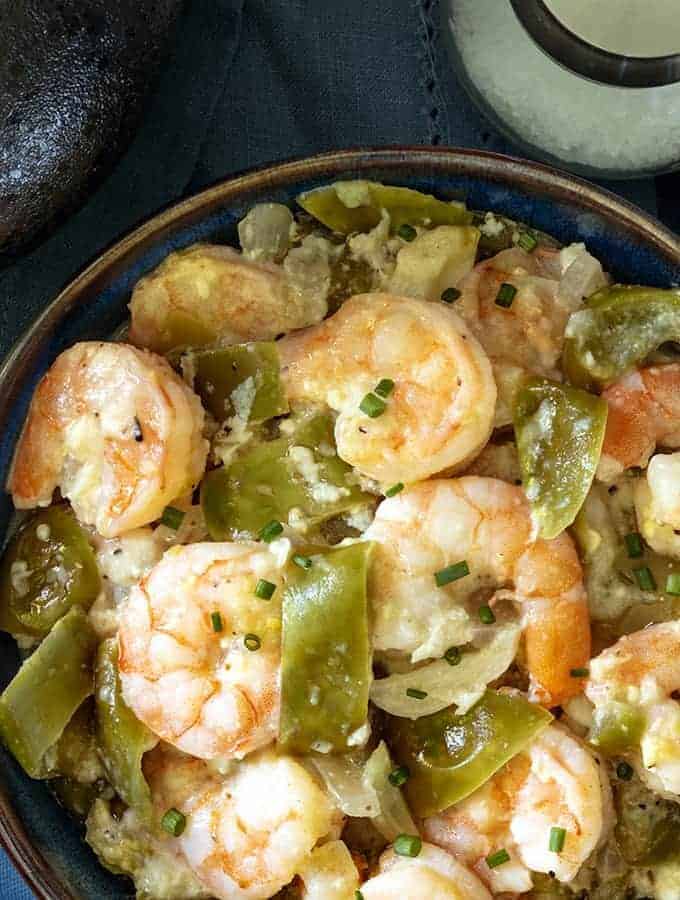 Shrimp with Cotija and Tomatillos |Low-Carb Dish
This easy shrimp recipe is so versatile and kid friendly. It is full of fresh vegetables and shrimp! You could serve this as is, you could serve tortilla chips, or flour tortillas on the side, and make soft tacos out of this. This dish cooks in under 30 minutes, so it is the perfect busy summertime week night meal. Your kids will love assembling their own tacos.
WHAT IS COTIJA CHEESE?
Cotija cheese is a Mexican dry grating cheese made with cow's milk and is named after the Mexican city of Cotija, Michoacán. It's like Feta's softer, milder cousin. It's fairly salty and crumbly. It doesn't melt per se, so you'll get chunks of salty, yummy cheese in each bite if you do this right.
There's also an aged version of this, called, not surprisingly, Cotija Anejo, which is aged for a minimum of a hundred days. This is not used for eating by itself; rather it's added to cooked things like this shrimp and cotija, or maybe on tacos.
WHAT CAN I SUBSTITUTE FOR COTIJA CHEESE?
I often substitute Feta cheese instead of Cotija, and sometimes, I add a little shredded parmesan in addition for a little bite. Feta tends to be a little saltier than Cotija. I've linked below an Instant Pot shrimp with Feta recipe. Cotija cheese is a dry grating cheese that is similar to Parmesan. If you can't find Cotija cheese, and are used to Parmesan, use that instead.
If you live in Texas or California, you can typically find Cotija Cheese in your regular grocery store. Otherwise, you might want to go out to a Mexican grocery store. Just watch out for all the absolutely gorgeous bakeries, where I just want to fall face first into all of the delicious carbs!
What Does Shrimp With Cotija Cheese and Tomatillos Taste Like?
The flavor profile comes from the fresh vegetables and spices, making these the perfect Mexican Shrimp Tacos. The onions and garlic cook together with the tart and fruity tomatillos and spicy jalapenos. The cumin adds a smokiness to the dish. When you add the shrimp into the pot, they quickly soak up all the SouthWest flavors to meld together and heat your mouth without too much spice. If you don't like spice, leave out the jalapenos.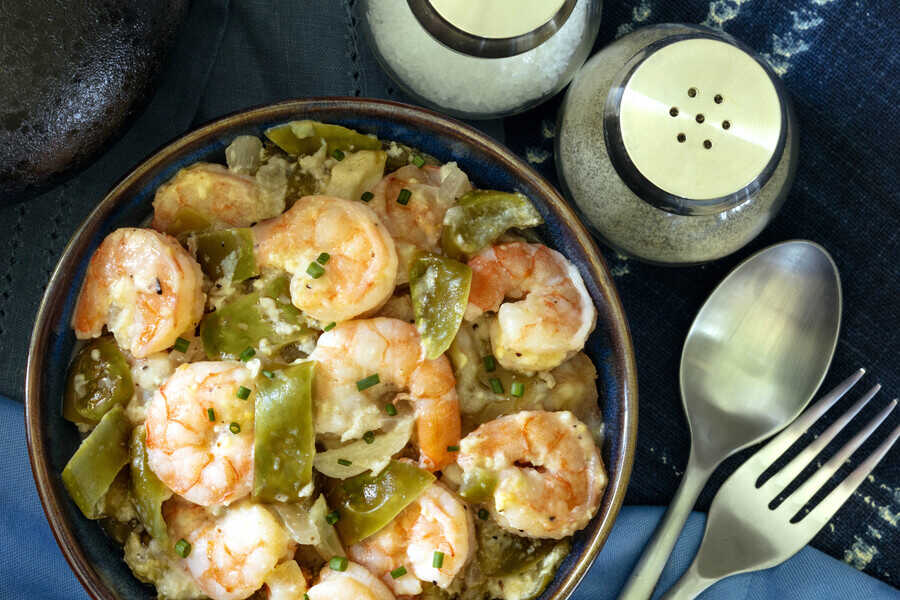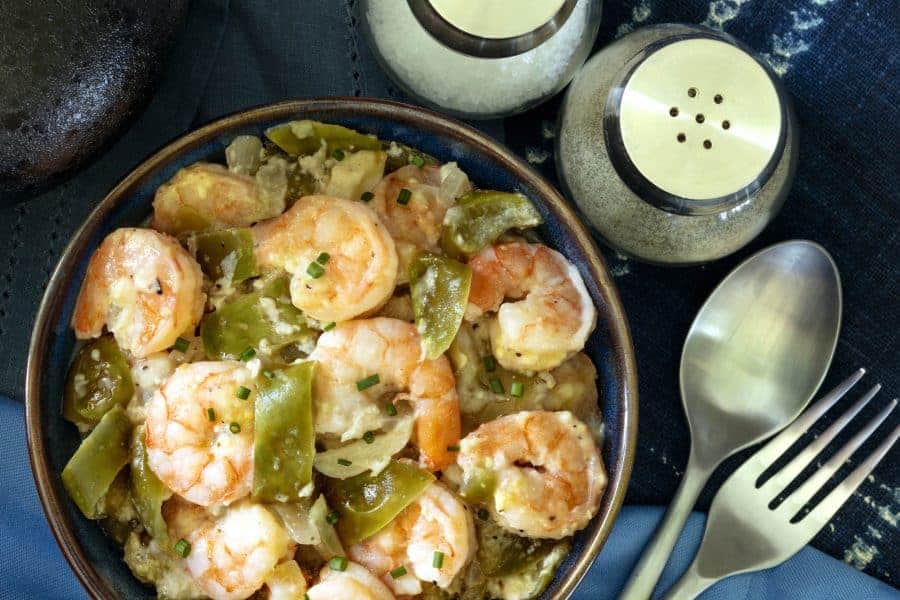 Frozen Shrimp for Cotija and Tomatillos
I use frozen shrimp because usually it comes shelled and deveined. Typically, the first thing I do is set the shrimp out to defrost in a bowl of warm (not hot water, since we don't want them to cook on the outside!) Then, I gather all my ingredients together, and heat the pan. By the time I've done all this, the shrimp are defrosted and ready to cook. Because, #RuthlessEfficiency.
Tomatillos for Shrimp and Cotija
When you prepare tomatillos, the outside husk needs to be taken off. The little tomatillo inside is very sticky, and a good wash in warm water usually takes care of this. If you can find canned tomatillos, you can use those, but I haven't tested this recipe using them. If you can't find or are unsure of tomatillos, try to use the most raw tomatoes you can get. IT won't be exactly the same dish, but it will be better than not making it! In that case, use 1-2 tablespoons of lime juice at the end to add sourness.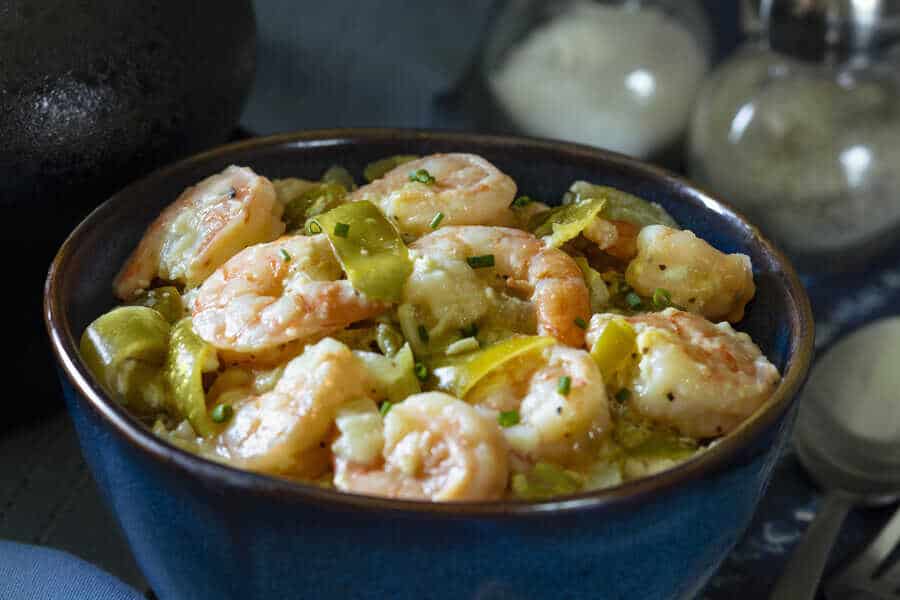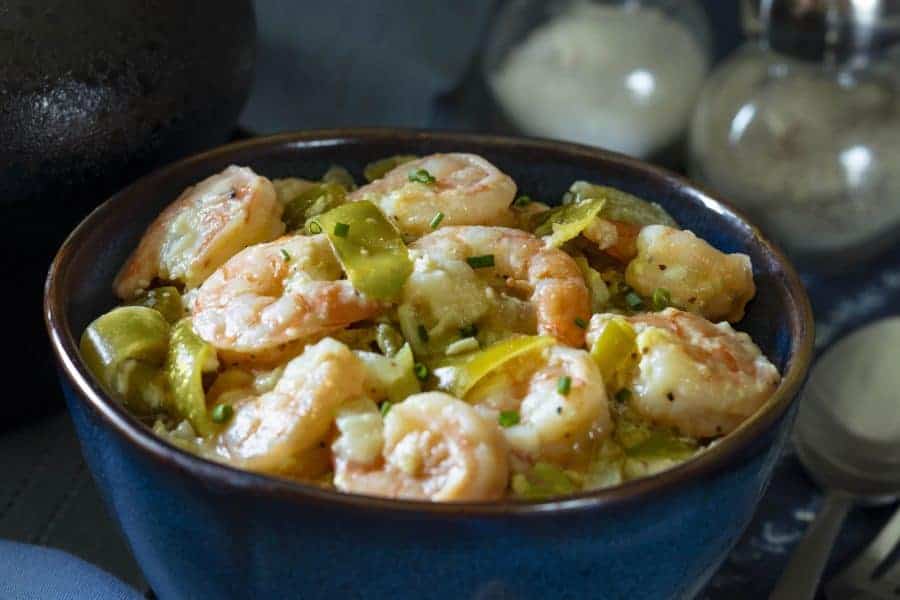 Need More Ideas?
Tips:
In this recipe, the carbs and sugar come from the onions and tomatillos. You could cut down on the tomatillos if you wanted to reduce the carbs a bit, but the high protein and fat and sheer taste are likely to fill you up quite quickly anyway.
★ Did you make this recipe? Don't forget to give it a star rating below! Just click on the stars in the recipe card to rate.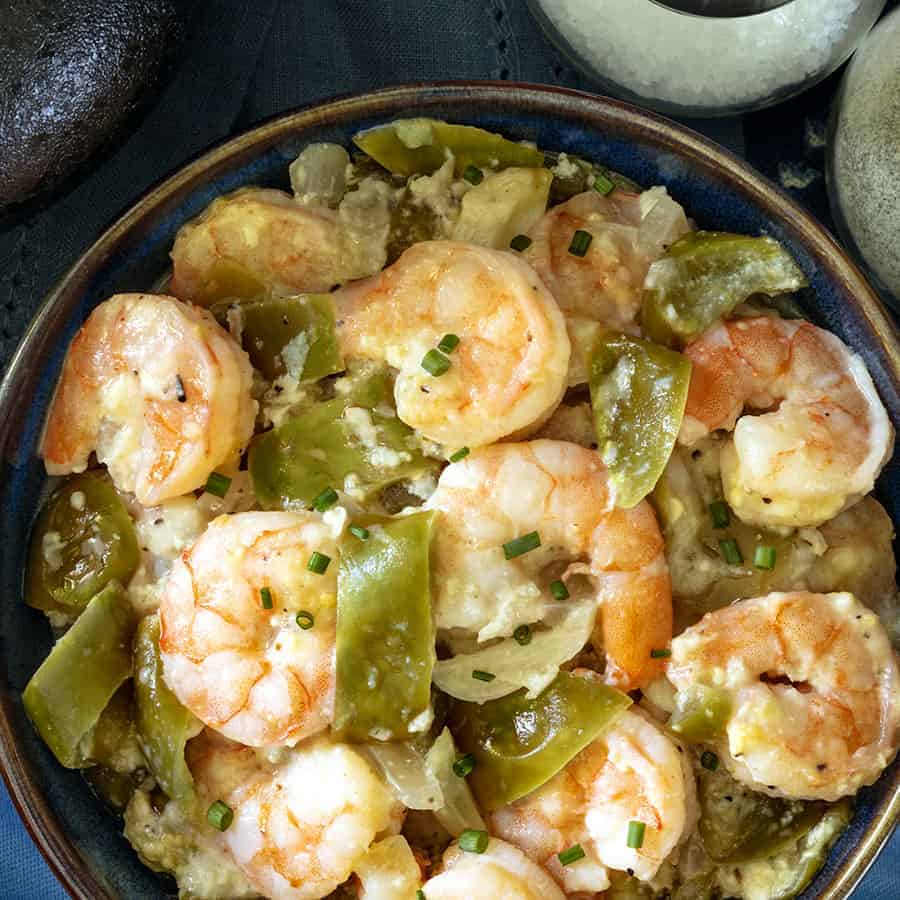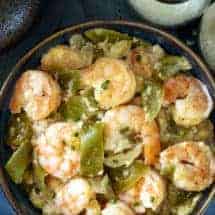 Shrimp with Cotija and Tomatillos
This low carb Shrimp with Cotija and Tomatillos recipe is a flavorful and quick dish that's full of southwest flavor and is easy to make!
Cuisine:
Mexican, Seafood
Keyword:
Cotija Recipes, Easy Dinners, Gluten Free Recipes, High Protein Recipes, Low Carb Seafood Recipes, Low Carb Shrimp with Cotija and Tomatillos, Mexican Shrimp, Seafood Recipes, Shrimp Recipes, Shrimp with Cotija and Tomatillos, Tomatillos Recipes, TwoSleevers
Dietary Consideration:
Dairy-Free, Gluten-Free, High Protein, Low Carb, Low Sugar
Ease of Cooking:
Pour and Cook, Under 30 Mins
Instructions
Heat oil in a 12-inch sauté pan. Add the onions, and jalapeños, cook for 3-5 minutes on medium high until the onions turn translucent.

Add the garlic and stir. Add the tomatillos, water, salt, pepper, and cumin. Cover the pan with a lid. Cook for 8-10 minutes, until the tomatillos are cooked through, but still hold their shape.

Add the cheese and shrimp and cook until the shrimp cook through, about 5-6 minutes

Right before serving, mix in the cilantro, sprinkle with lime juice, and freshly ground black pepper.
Recipe Notes
Tips:
Use Feta or Parmesan to substitute for Cotija. 
Make sure to peel away the husk from the tomatillo and wash it in warm water to get the stickiness off. 
Can use fresh or frozen shrimp, I like frozen because its already peeled and deveined.
Top with fresh cilantro or parsley for a fresh herby bite. Either one will accompany the recipe perfectly. 
Make this easy shrimp recipe and tag me on IG! I want to see your creation! #TrustUrvashi. 
Nutrition facts per serving
277kcal | Fat: 14g | Saturated fat: 8g | Carbohydrates: 16g | Fiber: 3g | Sugar: 8g | Protein: 22g
I am not a registered dietician or nutritionist. Nutritional information is provided a courtesy, and can vary depending on the exact ingredients you use.