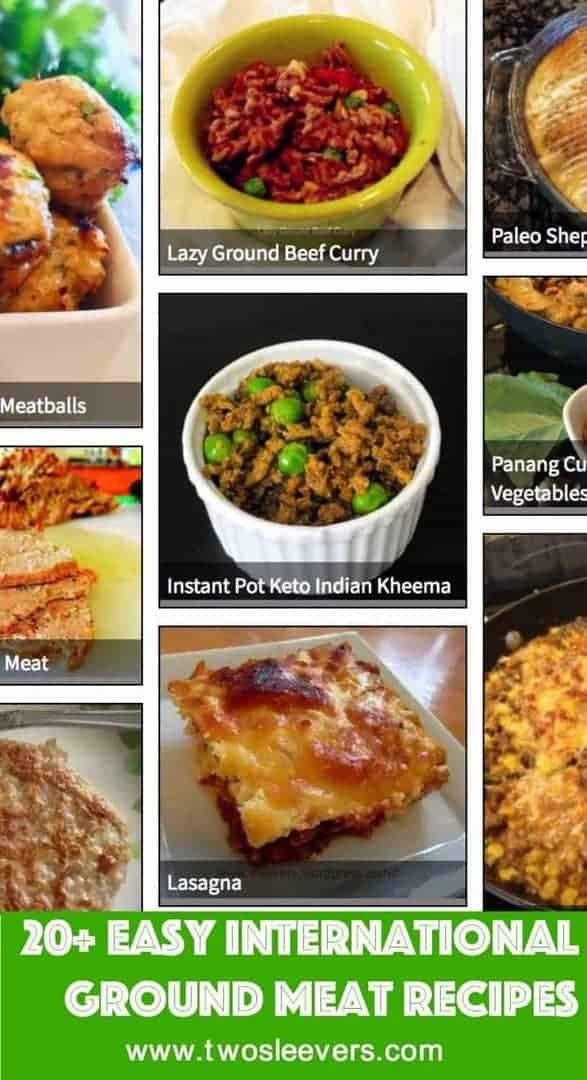 This is a recipe roundup of all my easy ground meat recipes to date. Are you tired of making tacos and hamburgers and then running out of ideas on what to do with ground meat? Do you want easy ground beef recipes or recipes for ground chicken, ground pork recipes or ground lamb recipes?
Well, here are a few easy ground meat recipes. Many of them are low carb or keto, and all these ground meat recipes are easy.
They also cover the gamut in terms of cuisines: Indian, Thai, Greek, Lebanese, Chinese, etc. recipes all make a showing in this list of 20+ Best International Ground Meat Recipes.
Click on any recipe picture (in the grid below, not the picture up on top), and it will take you to the recipe. You can also Pinterest this for later, using the Pinterest button on the left hand side of this website.
The advantage of doing that is that this post will keep getting updated as I add other easy ground meat recipes to the blog. Anytime you come back to visit from that Pin, you'll see all the latest ones.
Enjoy and let me know if there are others you'd like me to create for you!
[wpupg-grid id="mexican-recipe-roundup-copy"]