I'll admit it. I'm a lazy cook. I demand great flavor with minimal work. My husband is the fancy cook in the house, not me. But that's why I love cooking curries in the Instant Pot or crockpot. I throw everything in together, don't bother to brown a thing, and yet it seems to turn out to be quite tasty. So here's my lazy ground beef curry recipe.
3. Pressure Cooking: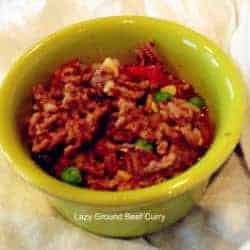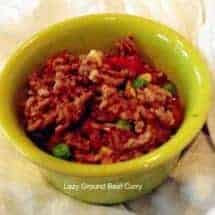 Pressure Cooker Lazy Ground Beef Curry
Very little effort for a great pressure cooker ground beef curry that cooks within minutes. Keto, low carb, high fat dish from your Instant Pot.
Dietary Consideration:
High Fat, High Protein, Keto, Low Carb
Cooking Style:
Instant Pot/Pressure Cooker
Ease of Cooking:
Under 30 Mins
Recipe Type:
Beef, Pressure Cooker
Ingredients
Optional but delicious Ingredients*
Instructions
Pressure Cooking:
Brown the meat, and when it's all broken up and not one big clump, dump everything else in there. The meat will cook more so you don't need to worry about it being fully cooked at this stage.

Put in everything else except the peas.

Pressure cook on high for 10 minutes.

Turn off and let pressure release naturally for 10 minutes.

Open and add half a cup of peas if you'd like.
For the Slow Cooker:
You could and probably should brown the meat in a pan before you put it in. But if you don't feel like it, at least break it up so it's not one big chunk of meat.

Put in everything else except the peas.

Cook on low for 8 hours.

Add 1/2 cup of peas toward the last hour of cooking
Recipe Notes
*If you plan to cook a lot of Indian food, by all means go get these ingredients. But really, it will be quite good without them as well.
Nutrition facts per serving
341kcal | Fat: 23g | Saturated fat: 8g | Cholesterol: 80mg | Sodium: 1247mg | Potassium: 580mg | Carbohydrates: 10g | Fiber: 3g | Sugar: 3g | Protein: 21g | Vitamin A: 755% | Vitamin C: 18% | Calcium: 63% | Iron: 3.3%
I am not a registered dietician or nutritionist. Nutritional information is provided a courtesy, and can vary depending on the exact ingredients you use.