Here's an easy, low carb, high protein Instant Pot Indian Chicken Curry that cooks in under 15 minutes in your Instant Pot. So there's this slow cooker chicken curry that's my favorite way to make and eat chicken curry.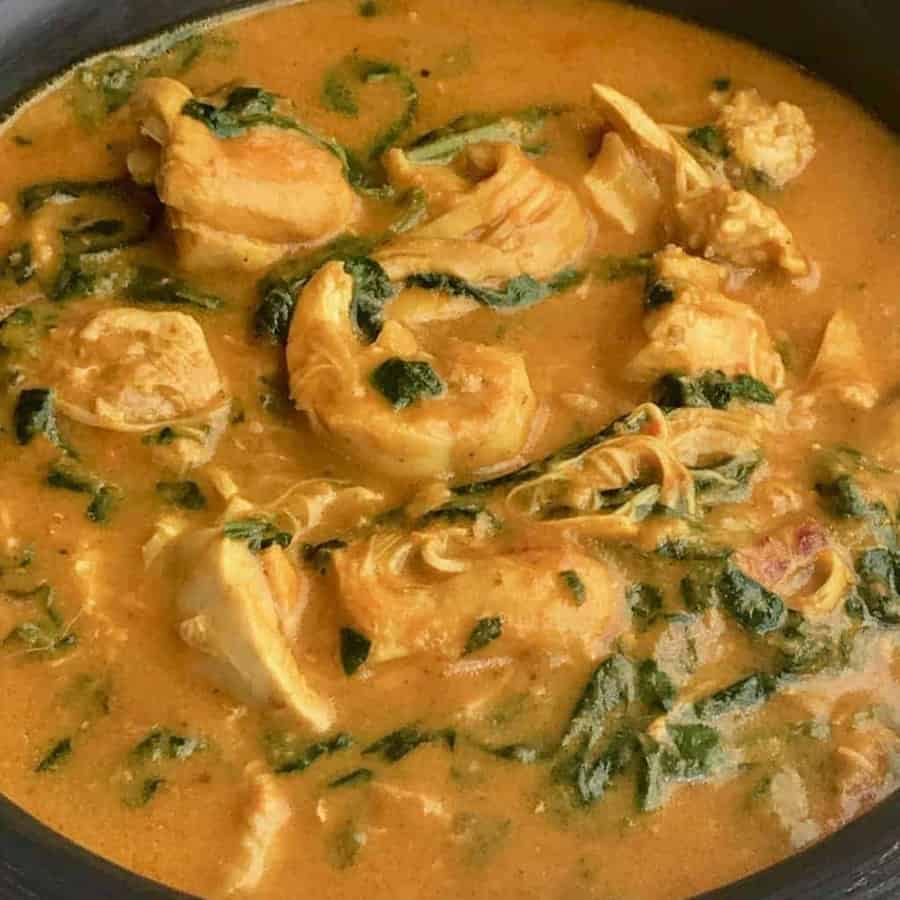 But It takes a little planning ahead and I'm not always good at planning dinner 4-8 hours ahead. My other issue with the slow cooker is that it often overcooks chicken or requires you to monitor at 3-4 hours.
But every time I've tried to make this in the Instant Pot, the yogurt separates and curdles and you get a greasy layer and clumps. Not very appetizing.
I know I can add the yogurt later, but I can taste the difference between yogurt added later, vs. things cooked in yogurt, which now has spices and flavor infused into it. So I wanted to come up with a way to make this work in the Instant Pot.
I've been looking at the soup button, and reading up on it. It said it doesn't allow things to come to a hard boil. Okay, but would that help with not curdling yogurt?
So ensued a very fun and very geeky discussion on the FB IP forum. Between thinking out loud on that thread, getting feedback from others on it, and contemplating further, I figured the only way to know for sure, was to try it.
Turns out, it takes more than just the soup button. Typically when we cook with yogurt in India it's not unusual for us to put in a little chick pea flour into the yogurt, or add a little flour.
I read up on this and realized that there are probably four key things to make this work:
Beat/whip the yogurt well to ensure it doesn't separate
Use full fat yogurt to lessen chances of separation
Use at least 1 tablespoon of corn starch to 1 cup of yogurt (although I used more in this recipe as it was my first try)
Use the Soup button on your Instant pot which heats slowly at first, allowing the cornstarch to thicken the yogurt
Perhaps only 1 or 2 of these points made the real difference but I don't know which one. So for now, do all four things if you want results like mine. I'll experiment some other day with variations.
? Did you make this recipe? Don't forget to give it a star rating below! Just click on the stars in the recipe card to rate.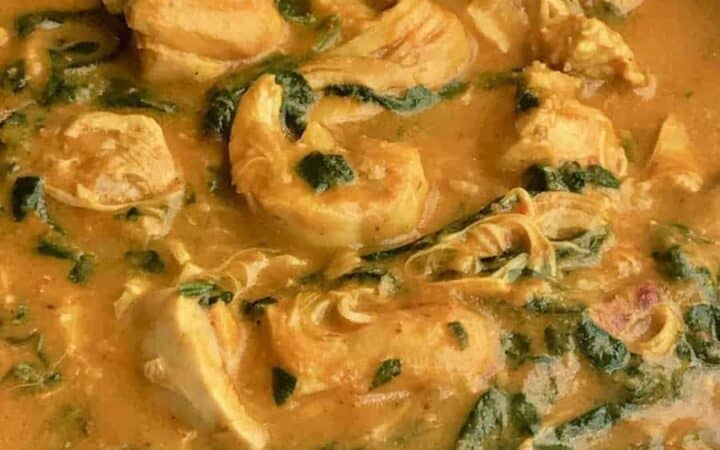 Click on highlighted ingredients or Equipment to see exactly what I use to make this recipe
Ingredients
Blend Together
1

(

1

) Onion,

peeled & quartered

1

tablespoon

(

1

tablespoon

)

Garlic

,

minced

1

tablespoon

(

1

tablespoon

) minced ginger,

minced

2

(

2

)

Tomatoes

,

quartered

½

cup

(

100

g

)

Greek Yogurt

2

tablespoons

(

2

tablespoons

)

corn starch

1

teaspoon

(

1

teaspoon

) Salt

½

teaspoon

(

0.5

teaspoon

) Cayenne

2

teaspoon

(

2

teaspoon

) Turmeric

1

teaspoon

(

1

teaspoon

) Garam Masala

1/2

c

(

62.5

g

)

Water
Instructions
In a food processor or blender, blend together everything except the chicken and the spinach and I teaspoon of garam masala.

Place chicken in large pieces in the Instant Pot, and pour over the yummy-smelling sauce you just made.

Set your Instant Pot to SOUP for 8 minutes, and allow it release pressure naturally, about 10 minutes.

Open up and remove the chicken. Meanwhile, turn the pot on to Sauté on MEDIUM.

Chop up the spinach and add it to the sauce. Chop the chicken into smaller pieces, and add back in. Allow the sauce to simmer and thicken with the lid off, and the spinach to cook down.

Add 1 teaspoon garam masala at this point to add fragrance and flavor to the dish.

Serve with rice, cauliflower rice, naan, or with mashed potatoes for an unusual combination.
Please note that a few readers who used 8 quart Instant Pots had the BURN message with a single batch of this, but not a double batch. The same readers were able to make this without the BURN message.
If you have an 8 quart, either double this recipe, or use 1/2 to 1/4 cup of water to add to the chicken and vegetables.
Get support & connect with our community on Facebook!
Nutrition
Calories:
143
kcal
|
Carbohydrates:
4
g
|
Protein:
22
g
|
Fat:
5
g
Tried this recipe?
Follow @twosleevers and Pin it!