Perfect, crustless pumpkin pudding pie makes a lovely low carb pumpkin pie in your Instant Pot or Pressure cooker. This is an easy dump and go dessert.
So it will be the holidays soon, and of course, that means it's time to start thinking about pumpkin desserts! Also FYI, I am probably the only food blogger in this country that doesn't have a pumpkin recipe out already. But I have been too busy making other savory dishes this past week, all of which I will post soon.
I wanted something that tasted like pumpkin pie but I honestly can't be bothered to create a crust. I could probably have come up with some way to do it, but I find the crust interferes with good, pure, pumpkin flavor for me.
So then what it makes is a little bit pudding and a little bit pie, hence the name, Low carb Pumpkin Pie Pudding.
I made this in my Instant pot but of course, you can also bake this in your oven. Cooking it in a pressure cooker with a water bath does lend it a beautiful, smooth texture that's hard to beat.
TIPS TO ENSURING A SUCCESSFUL LOW CARB PUMPKIN PIE PUDDING
This is an easy dump and go recipe. Just mix everything in a bowl, cook, chill and serve.
The hardest thing about this is to ensure that you have greased that pan extremely well. You won't want to use a springform or push pan because when I tried that, the pudding starts to leak badly and you'll lose a lot of it. I think you're better off greasing a baking pan well, letting it cool a bit, and then emptying it out onto a plate.
Definitely, cover this with a lid or aluminum foil as you do not want moisture/steam going into your dessert. When you remove the lid, be careful you don't dump that water back into the pudding.
You really need to chill this dessert, especially if you use Erythritol, which is less likely to produce that cooling effect (or you're less likely to notice it) in a chilled dessert.
EQUIPMENT YOU MAY NEED TO MAKE THIS INSTANT POT PRESSURE COOKER LOW CARB PUMPKIN PIE PUDDING: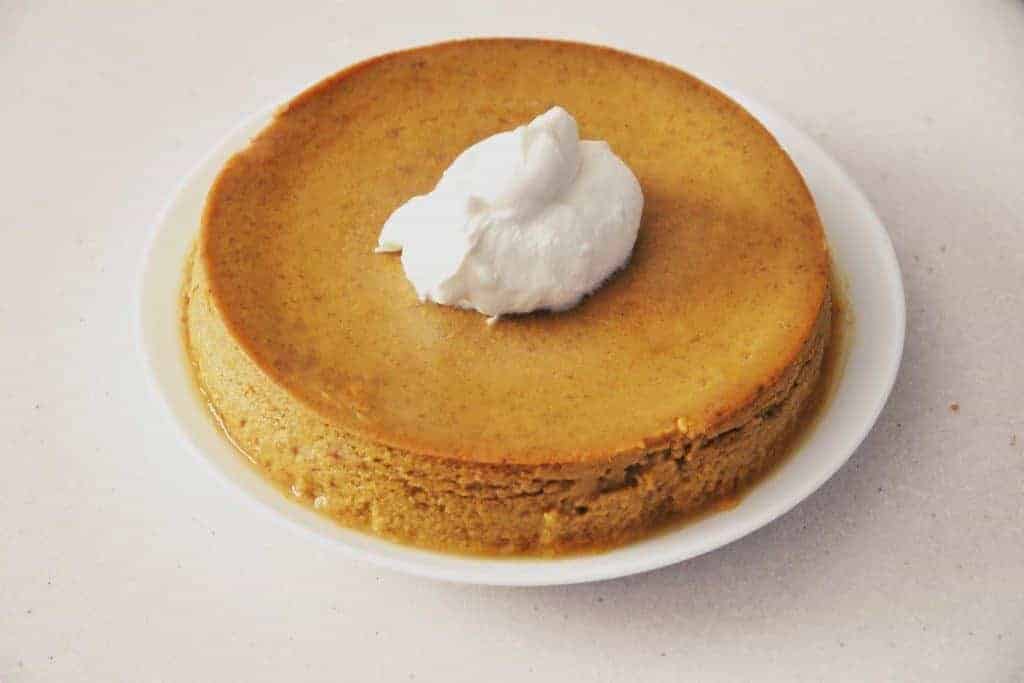 ★ Did you make this recipe? Don't forget to give it a star rating below! Just click on the stars in the recipe card to rate.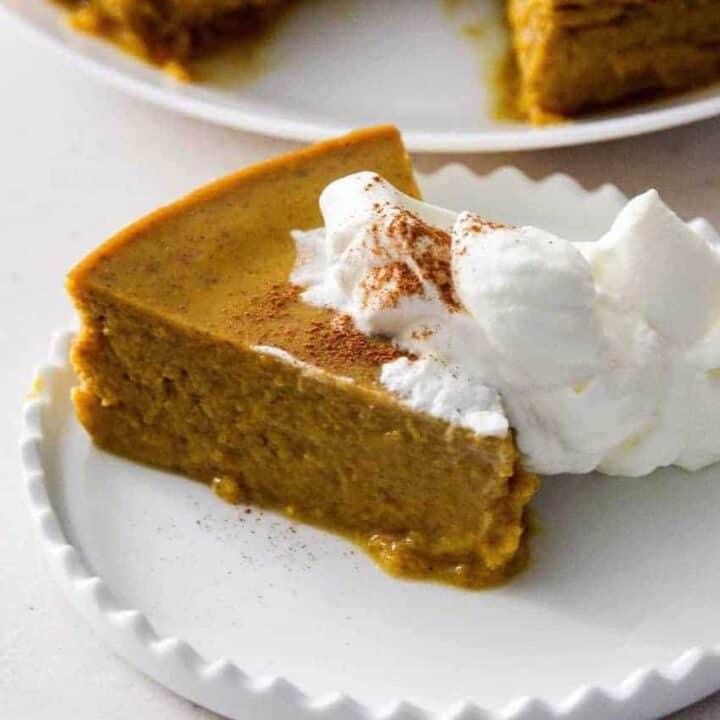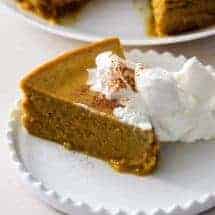 Low Carb Pumpkin Pie Pudding
Perfect, crustless pumpkin pudding pie makes a lovely low carb pumpkin dessert in your Instant Pot or Pressure cooker. This is an easy dump and go dessert.
Dietary Consideration:
Dairy-Free, Gluten-Free, High Fiber, Keto, Low Carb, Low Sugar, Vegetarian
Cooking Style:
Instant Pot/Pressure Cooker
Ease of Cooking:
Less than 5 ingredients, Pour and Cook
Recipe Type:
Desserts, Full Liquids/Soft Foods, Pressure Cooker
Instructions
Whisk together the 2 eggs and add all remaining ingredients in the order listed.

Pour the mixture into the pan.

In the inner liner of your

instant pot

or pressure cooker, place 1.5 cups of water.

Place a

steamer rack

on top of it and place the pan with the pumpkin mixture on the rack.

Cook for 20 minutes at high pressure, and allow it to release pressure naturally for 10 minutes. Release all remaining pressure.

Remove lid carefully, not allowing any of the water on the lid to fall back into the pudding.

Chill for 6-8 hours and serve with additional whipped cream. I use this little device for the easiest whipped cream ever.
Recipe Notes
See tips for a successful Keto Low Carb Pumpkin Pie pudding in the article above. 
I tried using 2 springform pans, but they both leaked. So I used a baking pan, let the pudding cool a bit, flipped it on one plate, and then back again on another plate so it was right side up.
As long as you grease the pan well, the pudding will come right out. Just be sure to thump the bottom of the pan when you're trying to get it out. 
Nutrition facts per serving
184kcal | Fat: 16g | Saturated fat: 9g | Carbohydrates: 8g | Fiber: 2g | Sugar: 2g | Protein: 3g
I am not a registered dietician or nutritionist. Nutritional information is provided a courtesy, and can vary depending on the exact ingredients you use.

Don't forget to check out my Keto Desserts Cookbook!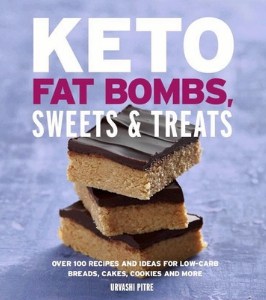 Featuring recipes for many classic, high-carb favorites that have been reworked to be "fat bombs," which help keep your macros in balance, as well as prevent you from craving all the things you usually can't eat when you're trying to lose weight. Many of the more than 100 recipes require no more than 10 to 15 minutes of prep time, and they taste as delicious and indulgent as they sound—how about Chocolate Peanut Butter Pops, Mocha Cheesecake, or Almond Butter Bombs?