If you've been curious about the new Instant Pot blender you and I have something in common. I love my Instant Pot, as I'm sure you all are well aware, and when I heard they had this coming out, I knew I wanted to get one to try it out.
This is an absolutely unbiased review, as I bought my own blender with my own money so I can say whatever I want to about it, which I tend to do a lot. So, if you've been curious, or want to know if you need this new Instant Pot Blender in your life, then you can watch the video below, or keep reading for the written version of the review. Note that the video review is MUCH More thorough than what I'm listing here so if you're seriously considering it, do check it out as well.
PLEASE USE MY LINK
These reviews are expensive and time-consuming to do, plus all that equipment-buying adds up. Please consider using--and sharing my affiliate link for this Instant Pot blender here.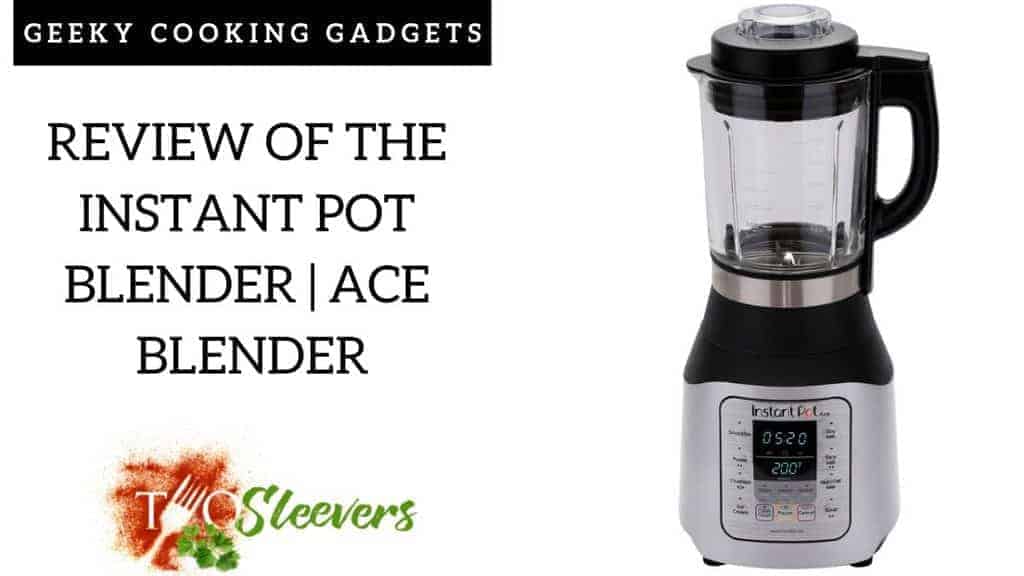 Instant Pot Ace Blender | An Unbiased Review
Features
First, let's talk about some of the features of the Instant Pot Ace Blender. There is a Smoothie function, which works as you would expect. There's a Soup function, which not only will cook the soup for you via the heating element that's located under the pitcher, but also has a setting to puree it as well. There's a Soy milk, Nut/Oat milk and Rice milk function (of which we will discuss in more depth shortly). There's an Ice Cream function, which will work by combining cream and frozen berries and turning it into "nice cream" like I'm sure you've seen mentioned before.
It also has a Clean function, which is good considering you can't just stick any part of this in water because of the heating element. The cleaning function works by putting water in the container, and adding some dish soap and pressing the cleaning button and letting it do its thing.
Rice Milk and Nut Milk
There are instructions in the little pamphlet that comes with the Instant Pot Ace Blender for making the various kinds of milk listed in the functions of the blender. I tried both the rice milk and nut milk function (I made almond milk) and am pleased with my results. It comes with a measuring cup that you can use for these milks.
That cup bothers me a little bit. What's with a 5 oz cup? Why? I don't know. But there you are. A little 5 oz cup.
For almond milk, the instructions say to add half of the provided measuring cup of almonds with 48 ounces of water. I only used 24 ounces of water to make it easier to store in the fridge, then I can thin as needed.
It turned out thicker than store-bought because I halved the water, and the flavor was very good. I will advise that you use the straining nut bag to get the pieces of almonds out, as it makes a huge difference in the texture.
For the rice milk I ended up making a Horchata, which you can find my recipe for HERE, and I was really pleased with the turnout. I've never made my own rice milk before, and this did seem more thick to me than store bought, but that wasn't necessarily a bad thing. If you normally make your own rice and nut milks, this device would be incredibly handy to have around. All I had to do was add the ingredients and press the button.
This is also a perfect Soy milk maker, and if you look on other websites, Soy Milk makers are actually quite expensive.
Soup
This is the function I think most people are very excited about. The idea that a blender can cook for you is appealing to a lot of people.
The soup function is great for soups you don't want to babysit. You just add the ingredients and let it come to temperature and then cook. It will even puree for you if you want it to.
I will note that you should wait to add any kind of milk, cheese, or cream until after it is finished cooking. I find that it is more likely to burn if you add dairy products.
Keep in mind that if you want to cook a soup for 20 mins, you will also need to add to that time the amount of time it takes for the Instant Pot Ace Blender to heat up. It won't start cooking until it comes to temperature. I found that for 2-3 mugs of soup, it took about 10 minutes to get to temperature.
An important thing to remember is that the pitcher and lid to the pitcher will be hot while it's making soup. I know that seems like a stupid thing to say, because it's cooking and of course it will be hot, but our brains don't think about our blender being hot. So until you get used to it, work on actively remembering that it's hot so you don't burn yourself.
Instant Pot Ace Blender Pros and Cons
So after playing with this for a while, there are a lot of pros. A lot of people want to compare this to a Vitamix, and really that's not fair. The Instant Pot Ace Blender costs about one fourth what a Vitamix does. That being said, if you compare it to the other blenders in the same price range on the market, the Instant Pot Ace Blender blows them away.
It makes a beautifully smooth soup. You can cook and puree soup with a single device so you don't have to dirty your immersion blender.
It makes the soup MUCH hotter than other blenders that claim to do the same thing with friction. I mean, this is some good, hot, soup.
It is a lot less noisy than the other blenders out there. Especially during the soup function this really matters. It doesn't blare at you the whole time. It uses the hot plate to heat it, and you only really hear the motor kick in for the last two minutes and even that, it kicks in on and off, not continuously.
It's made of very sturdy materials so it doesn't look or feel cheap. And the features that come with it are incredibly helpful and replace several different gadgets in your kitchen in a single device.
If you're looking for a really well-rounded blender that will last a long time and provide you with a lot of functions for only $100, this is a great deal.
Some of these are just a personal preference for me, but this is an unbiased review, so I'm giving you my unbiased opinion.
You can't adjust the temperature and it takes a long time to heat up. It's not a big deal if you're just making soup, but if you wanted to make something else in it, like a custard, you pretty much can't do that. For custard, you need it to cook to 185 degrees and I thought this would be perfect, but you can't adjust the temperature.
While the fact that it's sturdy and heavy is in the pro list, it's also on the con list for me. I have Rheumatoid Arthritis, so if I'm having a flare-up I know I wouldn't be able to lift the pitcher. I weighed it, and it weighs 6 lbs.
I tried to make a turmeric milk when I made almond milk. It overflowed and it was disastrous. My husband had to take the entire blender apart to clean it. And this despite the fact that I had NOT overfilled it. I think liquids other than broth or water deserve close watching to avoid this.
Should I buy one?
If you already have a Vitamix, or another very high powered blender, you likely will not need the Instant Pot Ace Blender. However, if you don't own a good blender, and are looking to get one, I'd recommend the Instant Pot Ace Blender for sure. It's a solid piece of equipment for the price, and I know Instant Pot is a good company that stands behind their products.
I also find that I am making a LOT more soup out of leftover veggies that might otherwise go bad or get tossed, now that I have an easy way to make it. So our veggie consumption has definitely gone up.
This was surprising to me since I didn't really see what the big deal was with the soup. I use it for nothing but soup most of the time, and just based on that, I consider it $100 well spent.
PLEASE USE MY LINK
These reviews are expensive and time-consuming to do, plus all that equipment-buying adds up. Please consider using--and sharing my affiliate link for this Instant Pot blender here.
Looking For Recipes To Make In Your Instant Pot Ace Blender? Check These Out!
Get all the great benefits of turmeric in a delicious Spiced Turmeric Latte! It can be served hot or iced and is made easily in an Instant Pot Blender!
This Chicken Tortilla Soup is extremely delicious and addicting. It's super easy to dump and cook, and the Instant Pot Blender makes it simple!
Make a deliciously warming Indian Dal Soup with minimal effort in an Instant Pot Blender! Not to mention it's gluten-free and vegan-friendly!