This past week has been extremely hectic. Not only did I have two-20 hour days back to back at work, I've been traveling, not eating regularly, and generally stressed.
So of course I've been craving carbs. It never fails. Lack of sleep = Awaken the carb monster!
Today I decided to do something about it before it caught me in a weak moment. I was playing around on Pinterest and found this recipe. (By the way, if you want to follow me on pinterest, here I am: http://www.pinterest.com/statgamer/)
The recipe I found called for egg whites and old-fashioned oats. I love oats but I haven't had any in at least a year, but I think I'm ready to try them slowly now. I also happened to have containers of frozen Muscle Egg. This is a flavored, liquid egg white that I can't seem to use up fast enough, so I've had them frozen. My husband is getting tired of moving these containers around in the freezer and I know it's only a matter of time before they get tossed out and I'm too cheap to want to throw them away. They were expensive!
Between the carb cravings, the desire to eat some oats, and the need to use up the liquid egg whites, the stars had aligned for this cake.
I have to admit, it was a bit dense and didn't have a cake-like crumb. I wonder if it would help to put some baking powder or something with which to raise it? I may have to try that again. Bottom Line: I don't think you'd believe you were eating the lightest of pastries, but it did satisfy my craving and it did "thunk" so a little piece is all I needed. I think I'll cover one piece with peanut butter and try it that way too.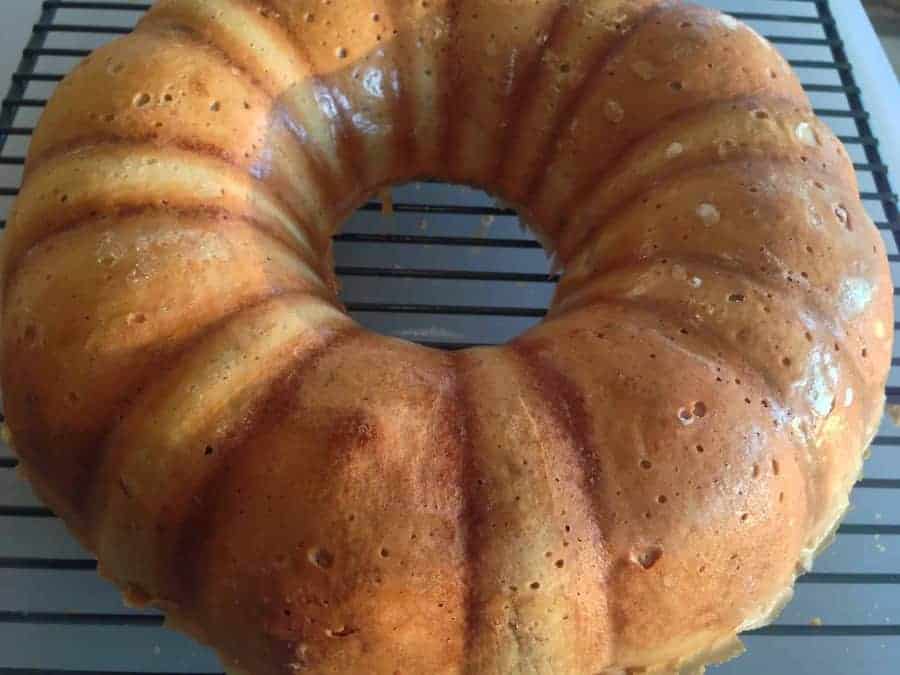 High Protein Low Sugar "Cake"
Dietary Consideration:
High Protein, Low Sugar
Ingredients
3

cups

liquid egg whites

2

cups

old fashioned oats

(NOT instant. These have a slower burn and are less likely to give you an insulin spike than are over-processed instant oats)

2

scoops

protein powder

(I used Syntrax Vanilla Torte)

1

tablespoon

golden flaxseed meal or psyllium fiber

1.5

tablespoons

pumpkin pie spice or apple pie spice

2

packets

Stevia

( I used Stevia in the raw)
Instructions
Put into a blender or food processor and mix well.

Pour into a well-greased and floured bundt pan. My husband did this with his usual attention to detail (which I sorely lack) and I must say, this made all the difference. The cake popped out clean and without sticking. I would have sprayed with Pam and we would have had an ugly, misshapen, sticky mess. So grease and flour that sucker.

Bake at 350 degrees for 30-40 minutes until a toothpick comes out clean. I did have trouble with a few moist spots while the rest of the cake was well baked. But those spots seemed to have cooked up with the residual heat.
Recipe Notes
*I've mentioned brand names in this post not so as to endorse them, but to give you an idea of what worked for me.
Nutrition facts per serving
88kcal | Fat: 1g | Sodium: 112mg | Potassium: 58mg | Carbohydrates: 10g | Fiber: 1g | Protein: 8g | Vitamin A: 9.8% | Vitamin C: 0.2% | Calcium: 1.4% | Iron: 9.1%
I am not a registered dietician or nutritionist. Nutritional information is provided a courtesy, and can vary depending on the exact ingredients you use.