So I sent my husband to get quinoa and he came back with a bag of chia. You know, chia, quinoa, they all sound the same. Seen one superfood, seen them all, right?
So now I have a bag of chia to play with! yay me! High in fiber, fun to eat, and high in antioxidants. I could work with that.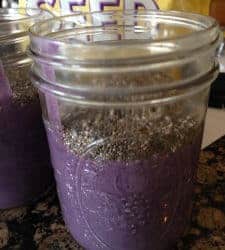 Chia Blackberry Pudding
High Fiber, High Protein Chia Blackberry
Dietary Consideration:
High Fiber, High Protein
Ingredients
1

pint

blackberries

(I'm sure any kind of fruit would work)

1 1/2

cups

soy milk

(can use almond, rice, regular milk, whatever you like)

2

scoops

vanilla protein powder

(I used Syntrax vanilla bean torte)

2-4

drops

almond extract

4

tablespoons

chia seeds
Instructions
Put all ingredients except chia seeds into a blender and blend well until the protein powder is mixed in and the blackberries are well broken down. I used a vitamix to get the seeds to pulverize.

Pour into 2 mason jars or containers of choice and add 4 tablespoons of chia seeds to each. Shake to blend.

Put into the refrigerator and leave overnight so the chia seeds get well hydrated and puffy.

Enjoy!
Nutrition facts per serving (1g)
150kcal | Fat: 5g | Cholesterol: 1mg | Sodium: 49mg | Potassium: 353mg | Carbohydrates: 19g | Fiber: 10g | Sugar: 8g | Protein: 6g | Vitamin A: 8.8% | Vitamin C: 30.1% | Calcium: 22.5% | Iron: 11.5%
I am not a registered dietician or nutritionist. Nutritional information is provided a courtesy, and can vary depending on the exact ingredients you use.