Gluten-free Ricotta Lemon Poppyseed Muffins are light, moist and just perfectly tasty.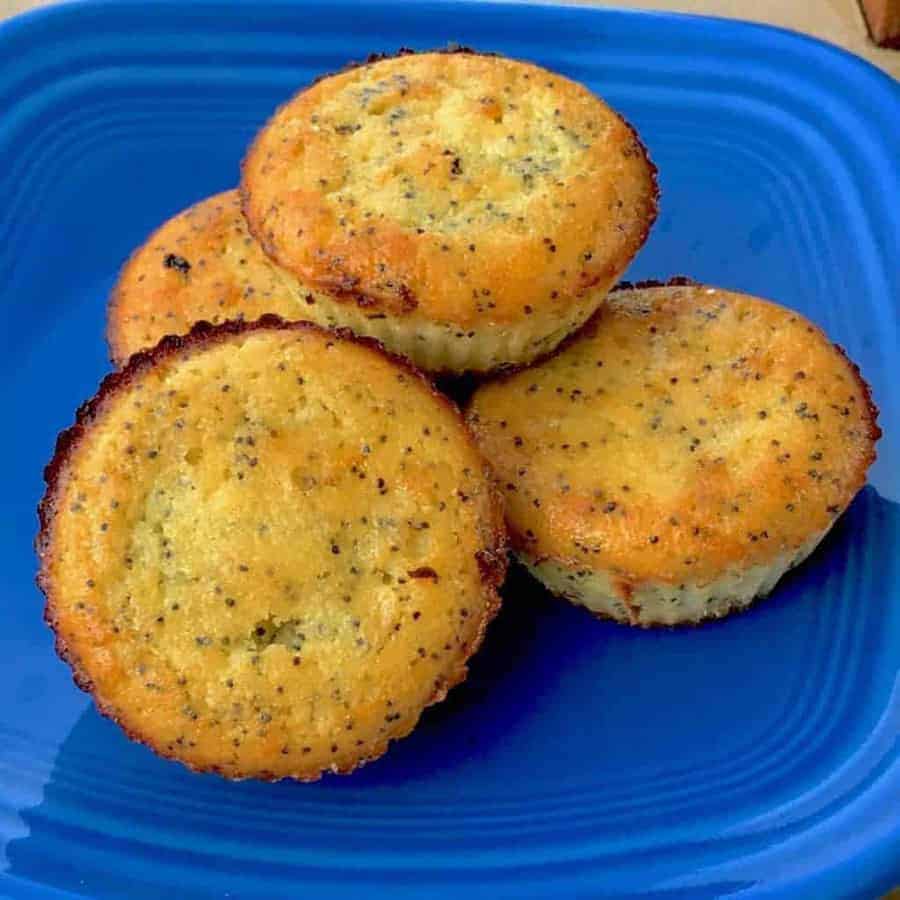 When I made the delicious Keto Almond Carrot Cake, it was so good that we ate it a little too quickly.
So Roger asked me to please not make any for a while, since he's trying to cut calories right now. I'm a very good person. I didn't make any more of it.
I just made Keto Lemon Poppy Seed muffins instead. But it's not my fault! I blame my friend Lyndsay for sending me poppy seeds and True Lemon and also putting the idea in my head to start with.
I am not sure how much the True Lemon added to this, or whether I'd just try lemon juice next time, but what I do know is that the Ricotta makes it quite creamy and delicious.
I was surprised by their lightness and the crumb they yielded, which isn't always easy with gluten-free baking.
I used silicone cupcake liners so they'd pop out easily but I suspect they might have anyway.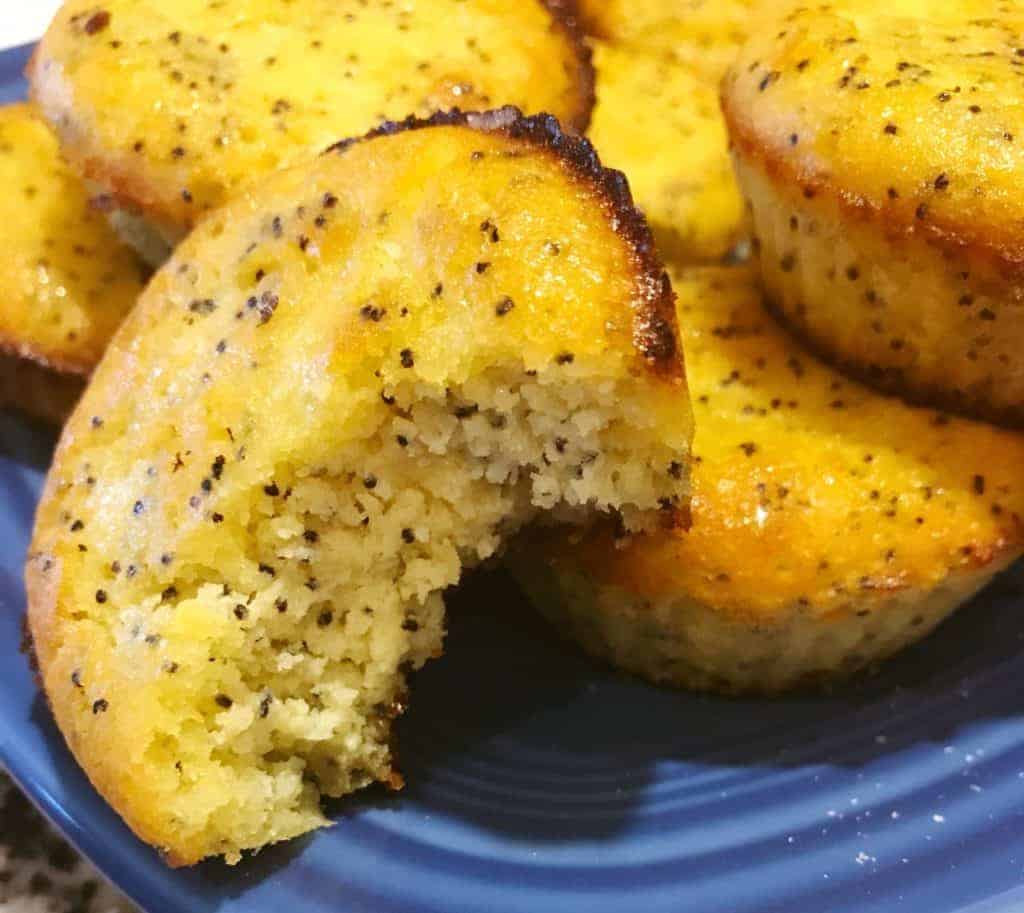 The recipe steps for this Gluten-Free Keto Ricotta Lemon Poppyseed muffins are:
Put everything together in a bowl and beat until fluffy
Pour into a muffin pan and bake at 350F for 35-40 minutes until done
Equipment & Ingredients You May Need to Make Gluten-free Keto Ricotta Lemon Poppyseed Muffins
★ Did you make this recipe? Don't forget to give it a star rating below! Just click on the stars in the recipe card to rate.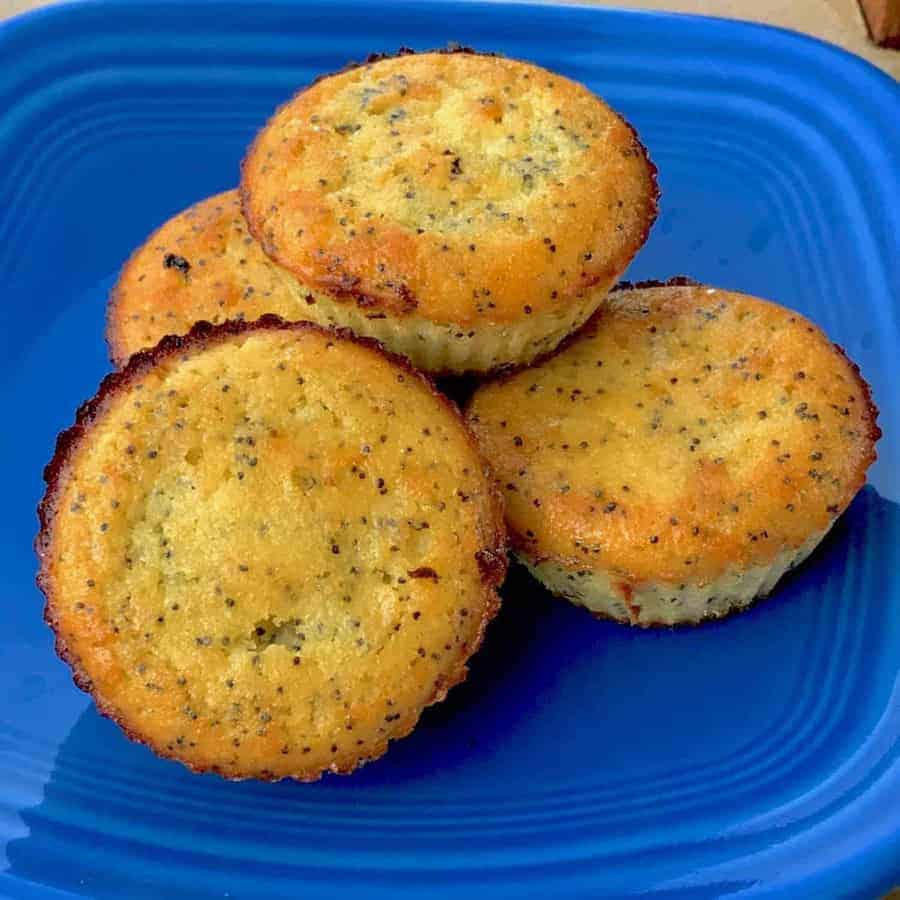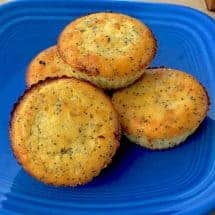 Gluten-free Keto Lemon Poppyseed Muffins
Gluten-free Ricotta Lemon Poppyseed Muffins are light, moist and just perfectly tasty.
Course:
Breakfast, Dessert
Keyword:
gluten-free muffins, keto muffins, lemon ricotta muffins
Dietary Consideration:
Gluten-Free, Keto, Low Carb
Ease of Cooking:
Pour and Cook, Under 30 Mins
Recipe Type:
Cheese, Desserts, Eggs, Full Liquids/Soft Foods
Instructions
Mix together all ingredients and beat well until fluffy.

Line a muffin pan with silicone cupcake liners.

Pour the batter into a muffin pan, dividing equally into 12 servings.

Bake at 350F for 40 minutes or until a knife inserted into the center emerges clean.

Cool slightly before removing from liners.
Nutrition facts per serving
141kcal | Fat: 13g | Saturated fat: 6g | Cholesterol: 50mg | Sodium: 22mg | Potassium: 68mg | Carbohydrates: 2g | Fiber: 1g | Protein: 4g | Vitamin A: 3.1% | Calcium: 7.6% | Iron: 4.1%
I am not a registered dietician or nutritionist. Nutritional information is provided a courtesy, and can vary depending on the exact ingredients you use.

Don't forget to check out my Keto Desserts Cookbook!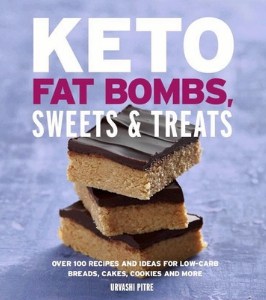 Featuring recipes for many classic, high-carb favorites that have been reworked to be "fat bombs," which help keep your macros in balance, as well as prevent you from craving all the things you usually can't eat when you're trying to lose weight. Many of the more than 100 recipes require no more than 10 to 15 minutes of prep time, and they taste as delicious and indulgent as they sound—how about Chocolate Peanut Butter Pops, Mocha Cheesecake, or Almond Butter Bombs?