As many of you know, I'm not a professional cook so there's a lot of trial and error going on for me. One of the hardest things since being sleeved, is knowing how much to cook and getting the proportions right. I struggle with this, and this Fish Masala Curry recipe is a classic example of it.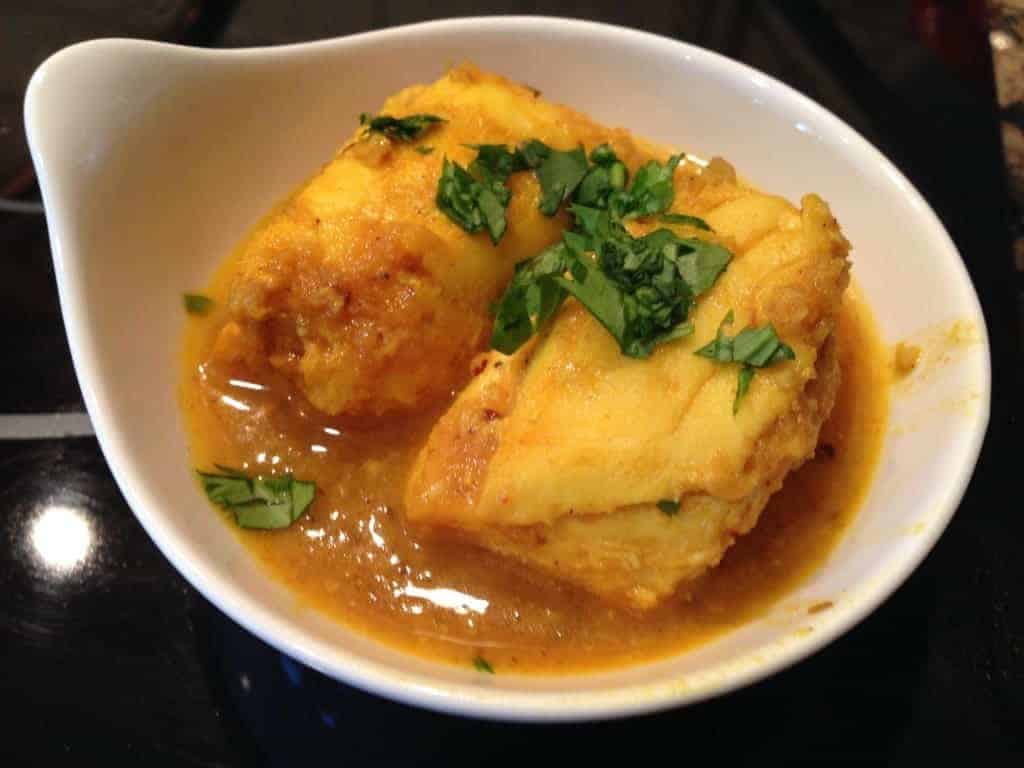 Fish Masala Curry
You'll note that I made twice as much of the "masala" as I should have. Since the masala is the most time-consuming part of this recipe, and since it keeps very well, I thought I'd leave the recipe as is and let you save half the masala as I did. Tomorrow, I will show you how to re-purpose that into something else.  So here it goes.
While the rest of your family might enjoy this over rice, we gave ourselves two pieces of fish and a little sauce. Then we shredded the fish and ate it semi-moist. It was moist, but not soupy and therefore not a slider.
REALLY BOOST THE TASTE OF THIS DISH BY USING MY CLASSIC PUNJABI GARAM MASALA RECIPE INSTEAD OF STORE BOUGHT GARAM MASALA!
★ DID YOU MAKE THIS RECIPE? DON'T FORGET TO GIVE IT A STAR RATING BELOW! JUST CLICK ON THE STARS IN THE RECIPE CARD TO RATE.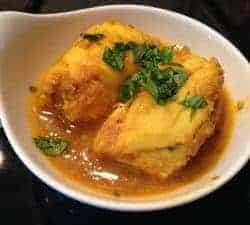 Fish Masala Curry
Fish Masala Curry is a delightful Indian seafood dish that you're sure to love! And best of all it's low carb, high in protein and paleo!
Ingredients
1

pound

fish

(I used a combination of halibut, shrimp, and scallops because that's what I had)

1

onion

3

cloves

garlic

2

inch

minced ginger

1

tomato

1/4

cup

unsweetened coconut shreds

3

teaspoon

oil

2

teaspoons

turmeric

1/8

teaspoons

mustard seeds

1/8

teaspoons

cumin seeds

1/8

teaspoons

cayenne pepper

1

teaspoon

garam masala

1

cup

water

4

tablespoon

cilantro

chopped

salt

to taste
Instructions
Marinate the fish with 1 teaspoon oil, 1 teaspoon turmeric and 1/4 teaspoons salt.

Meanwhile, pulse the onion, garlic and ginger in a food processor or chop finely. Do not liquefy.

Heat 2 teaspoons oil in a pan. When it starts to shimmer, put in the mustard and cumin seeds and let them sputter. This sounds like popcorn popping.

Add in the onion/garlic/ginger mix and cook over medium heat. This is a labor of love so do not rush it. It may take 10 minute and that's just the way it goes.

Add in the chopped tomatoes, all of the rest of the spices and the coconut and mix well.

Add in half a cup of water and let it cook slowly, until all the water has evaporated.

Realize that you have no idea how to make small quantities. Take out half the masala and save it in a tupperware container.

Into the remaining masala, add in half a cup of water, and the fish that has been marinating.

Cover and let it come to a boil. When it boils, take it off the heat and let it sit for 10 minutes so that the fish cooks gently. This keeps it from over-cooking.

Garnish with cilantro and enjoy!
Nutrition Facts
Fish Masala Curry
Amount Per Serving
Calories 199
Calories from Fat 72
% Daily Value*
Total Fat 8g 12%
Cholesterol 56mg 19%
Sodium 68mg 3%
Potassium 533mg 15%
Total Carbohydrates 7g 2%
Protein 24g 48%
* Percent Daily Values are based on a 2000 calorie diet.