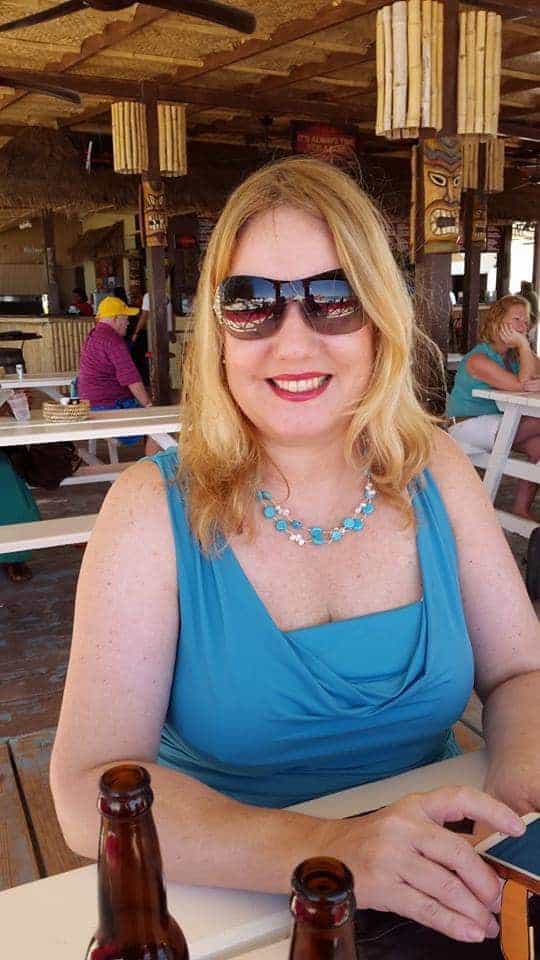 It's time for another Faces Behind the Food interview today! Meet Angela Coleby of Divalicious Recipes.
I am in a few groups on Pinterest where we share recipes and we all get to pin each other's recipes. This is really good for all of us, as not only does our work get shared, but we also know we're pinning quality recipes from other people. Tried and tested recipes that work.
After a while I noticed that I was pinning almost everything that Divalicious posted. It helps that she creates low carb recipes which is where I focus, but her food also looked so delicious and so creative, that I was very intrigued.
I was delighted when she agreed to be a part of the Twosleevers Faces Behind the Food series. The point of this series is to introduce you to new and different food bloggers who work hard to bring creative recipes to the world.
I'll let Angela say a little bit about herself, and then we'll get on with the interview!
Hi, I'm Angela from DivaliciousRecipes.com and make low-carb & gluten-free recipes. They are heavy on the vegetarian side too as I don't eat meat or fish.
The husband aka "The Chief Taster" does, so the odd occasional non-vegetarian recipe sneaks through. If he is good and has tidied his room.
I have lived in a few countries and currently in Aruba but will be moving to the British Virgin Islands soon. When you live somewhere heavily dependent on imported produce in a region of high carb vegetables, low carb cooking is a challenge.
My loud swears about the cost of cauliflower are normally heard all over the island. Luckily the cheap rum, sandy beaches and sunsets sooth my pain.
URVASHI: What ingredient can you not live without?
ANGELA: Eggs. We get through at least 60 a week. One year in Barbados, the island ran out of eggs at Christmas. Peak baking time! There was almost a mini riot.
URVASHI: What is your greatest kitchen extravagance?
ANGELA: This is going to sound silly but a heart shaped baking tin just to make a Valentines Day cake. Equipment here is expensive as it's imported with huge import taxes, and Amazon don't ship here. So, I have to make do with what I can buy and rarely buy anything I can't or won't use again. My kitchen equipment is about 1/10th of what I had in the UK…*sobs quietly to self*
URVASHI: What recipe would you put into a time capsule? And why?
ANGELA: My simple cheese biscuits.  It's one of my early recipes when I first turned to the dark arts of low carb & gluten-free, and is still a favourite in the house. Other recipes have developed from it down the years. It's so easy, even the husband could attempt it.
URVASHI: Who do you cook for?
 ANGELA: Royalty and politicians. Ha ha…seriously, myself and my husband. I like being creative with food and never want to get in a routine of the same plates of food.
URVASHI: Which living chef do you most admire?
ANGELA: Monica Galetti. I love her attitude and she creates some great food.
URVASHI: Which do you love more when you blog? Photos or words?
ANGELA: Words. I like to write in my own style and share our domestic life. It's sweet when I get emails from followers enjoying our shenanigans and my sense of humour.
URVASHI: If you were to die and come back in a certain era, what would it be?
ANGELA: The 1920's. I would be a "Flapper Girl" without a doubt.
URVASHI:  Who cleans up your dishes?
ANGELA: At the moment me, as we are living without a dishwasher. (Never again! I would forgo the hairdryer for a dishwasher!) The husband sometimes helps but I usually do most of my cooking when he is at work. He would have to be in one hell of trouble for me to sit back and leave it for him when he walks through the door!
URVASHI: What do you value most in bloggers?
ANGELA: Honesty and not taking themselves too seriously. I like bloggers to be real and admit when things go wrong too.
URVASHI: What music do you listen to when you cook?
ANGELA: Funk and soul with some jazz. BBC Radio 4 for the plays and comedy shows too.
URVASHI: What is your motto?
ANGELA: Be happy, kind to others and animals. Don't take any crap from no-one.
URVASHI: What is one of your "hidden gem" recipes? One you know people will love if they try it?
ANGELA: My warm cauliflower salad recipe.  I love this dish so much.
URVASHI: Where can readers follow you?
ANGELA: