As an Amazon Associate, I earn from qualifying purchases. We may also earn money from the companies mentioned in this post.
Okay, ask and you shall receive. An Easy Cheesecake recipe that requires so little effort you'll wonder why you haven't tried this before!
Easy Cheesecake | Super Simple and Low Carb
Okay, these are not pretty. In fact, they're downright ugly. But I'm telling you, less with the whining and more with the eating of these cheesecakes, because they're delicious. Just don't eat too many, because they've got a few calories in them. But they're good for an occasional treat.
Now if you enjoyed this Easy Cheesecake recipe you're sure to enjoy my Keto Ricotta Lemon Cheesecake. It's low carb as well, so you cane enjoy it guilt free.
And if you're a cheesecake and chocolate fan, you'll definitely want to check out my Keto Chocolate Cheesecake Brownies recipe! It combines two of the best desserts of all time into one low carb masterpiece.
I think I'm going to try adding protein powder to this Easy Cheesecake recipe the next time. Although, since they cook for 20 minutes I wonder if it will get denatured. If anyone has tried that, do let me know.
The main problem with the appearance is that crater in the middle and the fact that they don't come out of the paper cup very cleanly. You can either hide the crater with a bit of whipped cream and fruit or sugar-free jam, or you could tell your family to be grateful they have cheesecake. I vote for the latter.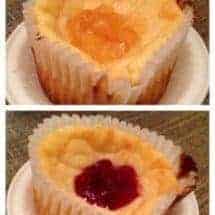 Easy Cheesecake
This Easy Cheesecake recipe is so simple you'll want to make them all the time! Not to mention they're delightfully low carb.
Dietary Consideration:
Low Carb
Recipe Type:
Desserts, Fat Bombs
Instructions
Preheat oven to 350 degrees and line a muffin pan with paper cups.

Zap cream cheese in microwave for 30 seconds to soften.

Add all ingredients into bowl of food processor and process until smooth. Scrape sides as needed.

Pour the batter and bake for 20 minutes until center is set.

Let these cool on the counter and then in the fridge. Trust me, I know you'll want to eat one right away, but they taste much creamier if you leave them in the fridge for a bit.

I think if you really wanted a "crust" you could try a Nilla wafer in the bottom of the paper cup but of course, it would add to the carb count.
Nutrition facts per serving
173kcal | Fat: 16g | Saturated fat: 8g | Cholesterol: 101mg | Sodium: 149mg | Potassium: 85mg | Carbohydrates: 2g | Sugar: 1g | Protein: 4g | Vitamin A: 12.9% | Vitamin C: 0.6% | Calcium: 5.6% | Iron: 2.2%
I am not a registered dietician or nutritionist. Nutritional information is provided a courtesy, and can vary depending on the exact ingredients you use.