So check this out. Low carb flour tortilla. Put some butter in a skillet and drop one tortilla in. Put shredded cheese on it. Put another low carb torilla on top and put cheese on TOP of this one! Yes, butter, tortilla, cheese, tortilla cheese.After a few minutes carefully flip it over, and put a little more butter in the bottom of the skillet. Now the top layer of cheese will cook and crisp up nicely. So now put some more cheese on top of the the tortilla facing you (the outside of the second tortilla). Wait for it to crisp up and dive in! With all that butter and cheese and the low carb tortila, it's good for those of us who are following a ketogenic diet.
If you want to increase the protein content, chop up some of your leftover Kalua Pork and have at it!
It's about 306 calories but if you're not being a total pig you could only eat half. Good news is it's only about 8-9 gms of carbs for the whole serving, 17 gms fat and 13 gms protein.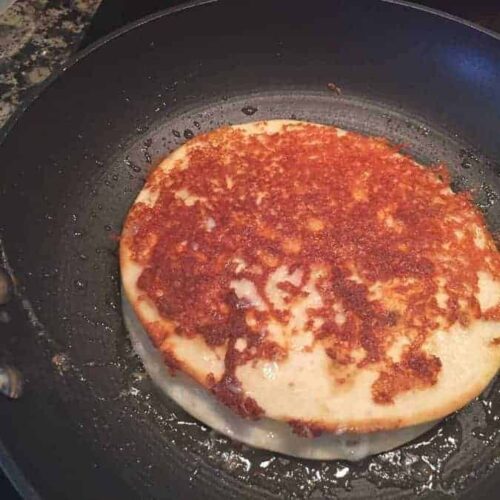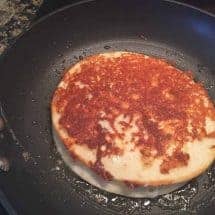 Double-Cheese Quesadilla
Course:
Main Course, Side Dish
Cuisine:
American, Mexican
Dietary Consideration:
High Fat, High Protein, Keto, Low Carb
Ease of Cooking:
Less than 5 ingredients, Under 30 Mins
Ingredients
2

low carb tortillas

(I used Mission Fajita size ones, 80 calories a piece)

1

pat

Butter

1/4

cup

cheese

(I used queso quesadilla from Kroger)
Instructions
Melt half the butter in a nonstick pan and lay a tortilla down.

Put some cheese on top.

Cover with the other tortilla and put some cheese on top on this.

Once the cheese in the middle starts to melt a bit, carefully flip it over and add the rest of the butter.

Put the last of the cheese on top of the tortilla you just flipped over.

Wait until the bottom is crisp and cook the last side.

Cut into four pieces, and enjoy!
Nutrition facts per serving (1g)
155kcal | Fat: 13g | Saturated fat: 8g | Cholesterol: 40mg | Sodium: 224mg | Carbohydrates: 1g | Protein: 7g | Vitamin A: 410% | Calcium: 204% | Iron: 0.2%
I am not a registered dietician or nutritionist. Nutritional information is provided a courtesy, and can vary depending on the exact ingredients you use.