I love Bourbon Chicken. It's sweet, it's savory, and it's high in protein. However, it's also high in carbs thanks to the sugar content. Being on a keto diet, this is obviously problematic. So I decided to mess around with a low carb Crockpot Bourbon Chicken Recipe and it turned out great!
Crockpot Bourbon Chicken Recipe
I've seen versions of this Crockpot Bourbon Chicken Recipe with lots of sugar and apple juice (sugar again), and wanted to try to make it with less sugar. It turned out quite well! And aside from it being delicious, it's incredibly easy to make!
With some help from your trusty crockpot, this Crockpot Bourbon Chicken Recipe is as simple and convenient as it gets! You simply dump everything but the chicken into your crockpot, whisk it all together and then add the chicken. Set your crockpot on low for 8 hours and go about your day or set it on high for 4 hours if you're starting dinner later and you'll have a delicious meal with minimal effort! And being low carb it's all the amazing bourbon chicken flavor you want without all of the sugary carbs!
ENJOY THIS CROCKPOT RECIPE AND LOOKING FOR MORE? CHECK OUT MY CROCKPOT THAI CHICKEN!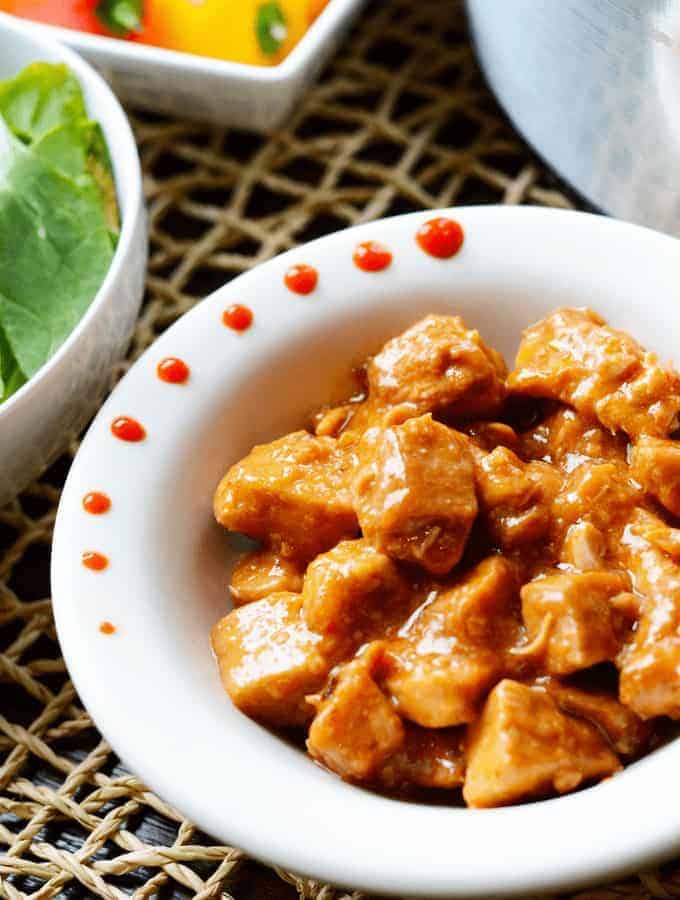 ★ DID YOU MAKE THIS RECIPE? DON'T FORGET TO GIVE IT A STAR RATING BELOW! JUST CLICK ON THE STARS IN THE RECIPE CARD TO RATE.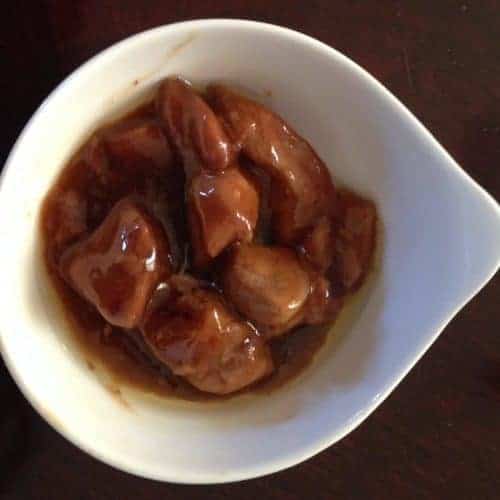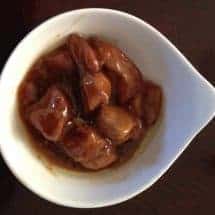 Slow Cooker Bourbon Chicken
Looking for all the deliciousness of Bourbon Chicken without all the carbs and hassle? Check out my Low Carb Crockpot Bourbon Chicken Recipe!
Dietary Consideration:
High Fat, High Protein
Cooking Style:
Instant Pot/Pressure Cooker, Slow Cooker
Ease of Cooking:
Pour and Cook
Recipe Type:
Pressure Cooker
Instructions
Whisk all ingredients into crockpot and add chicken. Cook on low for 8 hours or high for 4.
Nutrition facts per serving
428kcal | Fat: 30g | Saturated fat: 7g | Cholesterol: 148mg | Sodium: 711mg | Potassium: 353mg | Carbohydrates: 13g | Sugar: 9g | Protein: 25g | Vitamin A: 190% | Vitamin C: 3.2% | Calcium: 22% | Iron: 1.4%
I am not a registered dietician or nutritionist. Nutritional information is provided a courtesy, and can vary depending on the exact ingredients you use.