This is our unbiased review of a Chef's Choice 615A Review.
I'm going to do this Chef's Choice 615A Review with cheese, ham, beef roast, capicola, a large loaf of bread, and a small loaf of bread.
Before jumping in, I'm going to go over a few features. To begin, the meat slicer has a switch that automatically turns the spinning of the blade on and off. Then, there's a dial on the side that determines the thickness of the item you're slicing.
This Chef's Choice 615A only comes with one serrated blade. There's one other blade you can buy separately that has a smooth edge that's supposed to be used for thin cuts which I purchased as well.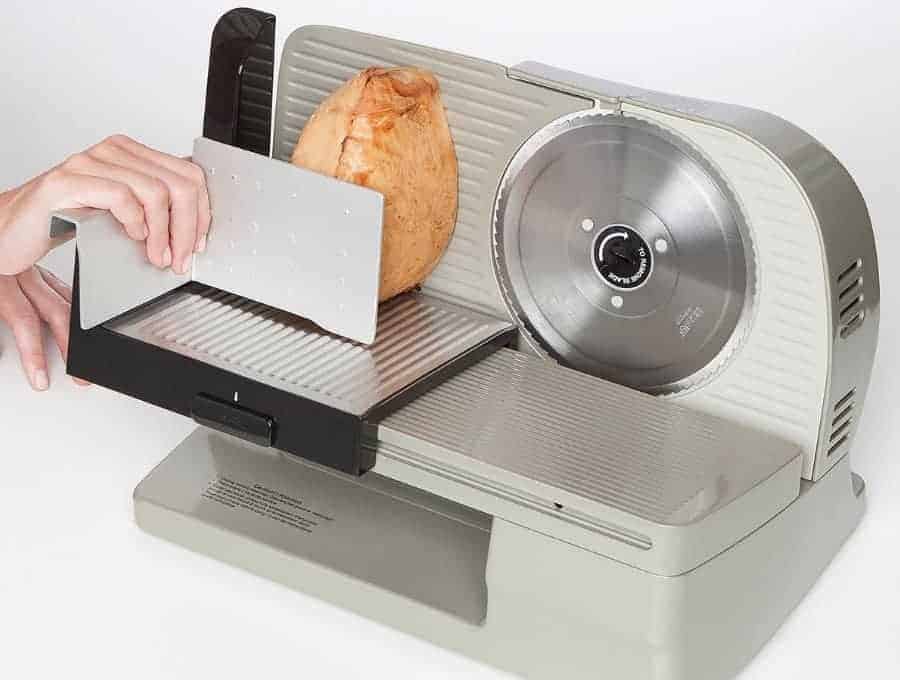 To start this Chef's Choice meat slice Review, I used a thicker cut with the setting of 10. I started with the larger, rounder loaf of bread.
To cut the bread, place the flat portion of the bread on the sliding portion of the meat slicer. There should be a spiked metal piece you can then place against the outside of the bread that better holds it in place and protects your hands from the blade.
However, the one that came with the meat slicer was too small to use with the larger loaf of bread.
I find it helpful to use a cut-resistant glove that protects your hands from cuts.
Once you either have your glove or the protective piece in place, turn on the switch that puts the blade in motion and start sliding the contraption with the bread on it, back and forth.
You don't have to do it super slow but, you don't want to go too fast either, especially starting out. Get used to the machine first and the feel for it.
WATCH THE VIDEO TO SEE THIS CHEF'S CHOICE 615A SLICER IN ACTION IN THE VIDEO BELOW!
Chef's Choice 615A Review PROS:
Here's what it did well.
It did a nice smooth cut on the bread. You can set the thickness to fairly thick to very thin, and the slices were easy to cut, had a smooth edge, and were done cleanly.
Smooth, easy slices on both soft cheese like Havarti, as well as firmer cheese like Cheddar.
As long as you cut across the grain, you get a great, even, thin slice of meat. This would work beautifully for a hot pot party at home.
If you push the meat nice and slow, you will get great, even slices with this meat slicer.
Chef's Choice 615A Review CONS:
Here's where I think it could stand a little improvement
If you have a large piece of bread or meat, you can't really use the guards that are in place in the Chef's Choice 615A. You will see in the video that I used a cut-resistant glove in those instances. It's still doable, but it's something to be aware of.
We tried slicing capicola with a smooth edge. I attempted cutting it with the serrated blade earlier and it cut it pretty thin but, not quite as thin as I would prefer with this type of meat. So, we tried it with the smooth blade since it's specifically meant to cut thinner slices. I set it on a thickness level of two and slid it through the blade as I did all the other items. It went through quite smoothly and turned out pretty thin but, still wasn't as thin as the store would be. I turned it down to one and it was a little better but still not as thin as I would have expected on the lowest setting. Denser meats seem to slice thinly, but thinner ones like the capicola may take a little practice.
You have to buy the smooth blade separately, as it only comes with the serrated blade. It's not a deal breaker, but something to be aware of.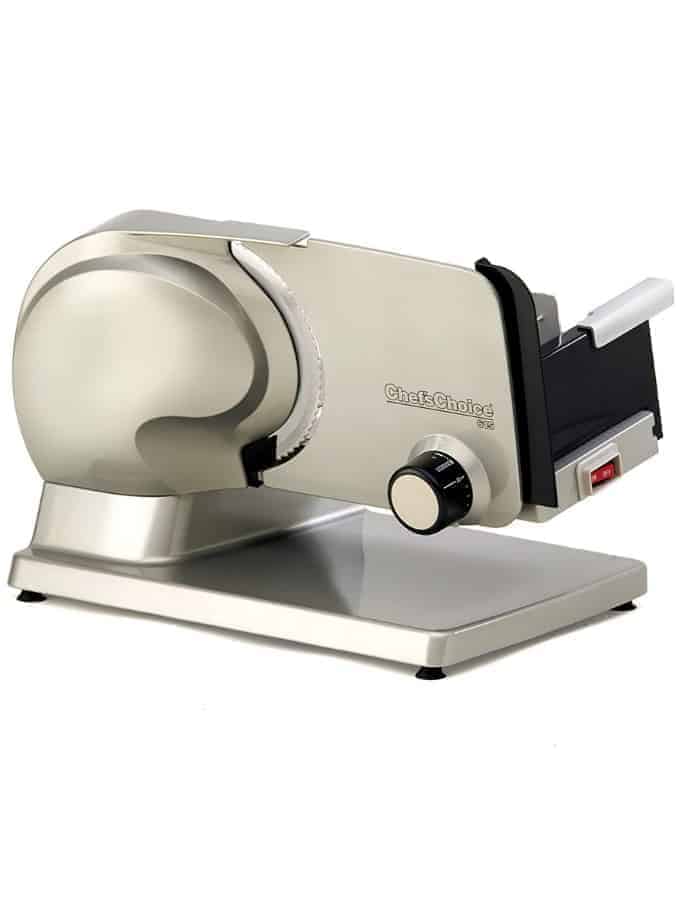 At some point, you might want to remove the blade. In order to do this:
Slide the "meat rest" as far back as possible and you'll see a black nut on the front of the blade that says, "To remove blade."
You need a screwdriver--or a kitchen knife! The nut wasn't all that tight so it's fairly easy to remove.
Remove the nut and slip the blade off. If you look at where the blade was sitting and at the back of the blade itself, you'll see white grease which is what protects the blade from eating itself.
Choose whatever blade you want to put on and match the side with the white gears facing inward and the side without the gears, facing outward.
Slip the nut back on, tightening it back to the same level of torque or tightness as it was before, and you're ready to cut again.
I switched from the serrated blade to the smooth blade.
The conclusion of our Chef's Choice 615a Review
Overall, this is an excellent meat slicer. It will slice what you want it to slice. You may have noticed I was pushing the meat through a little slow, this allows for a nice, clean cut rather than mangling it, especially on the softer meats and cheese.
I really enjoy using it and plan on adding it to the shelf of 18 Instant Pots and other kitchen gadgets we love using often.
Have any questions I didn't cover in this Chef's Choice 615A Review? Ask below!
NOTE that we did not get compensated for this review. We bought our own Chef's Choice Slicer 615a and did our own, unbiased review. I hope this was helpful to you. If it was, I hope you will consider using my affiliate links below for your purchase! Tag me on IG (twosleevers) when you make a hot pot using this slicer!
Chef's Choice Slicer 615a
Chef's Choice non-serrated blade