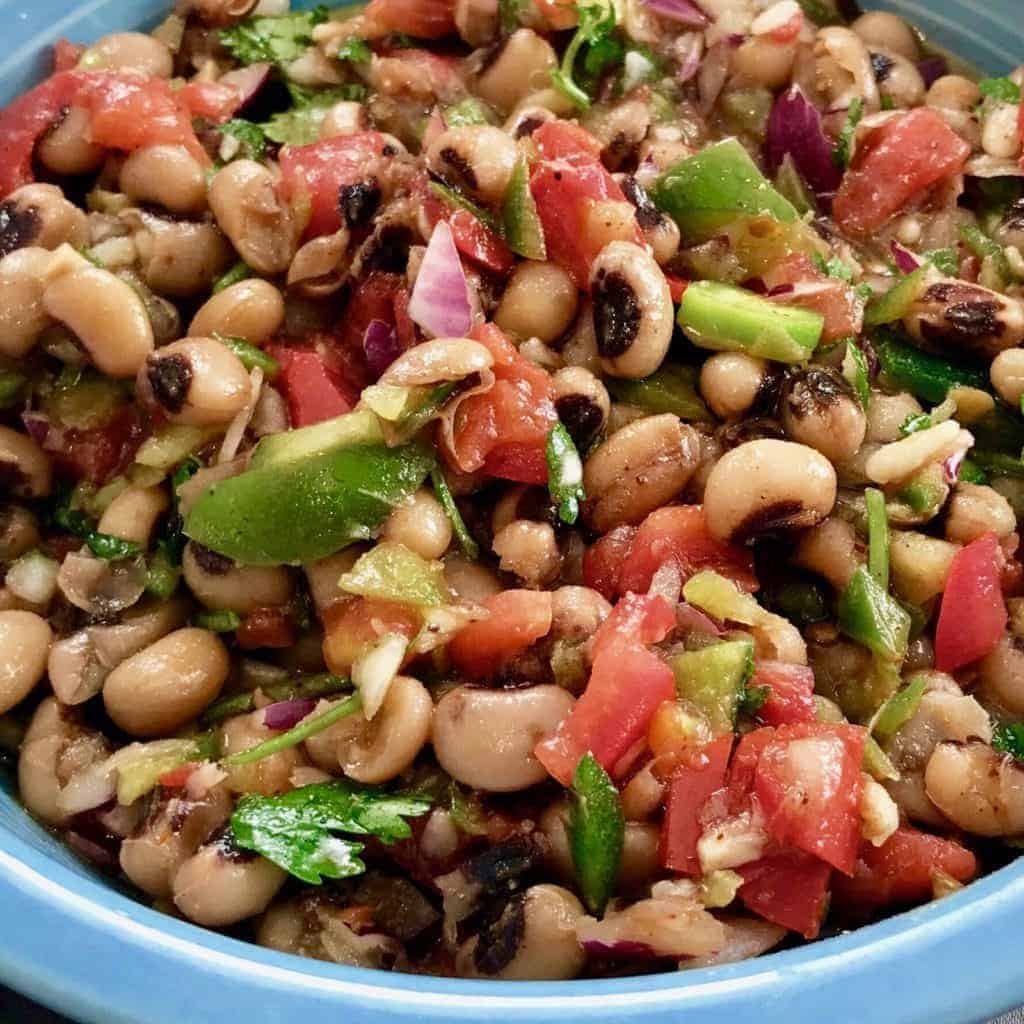 You've never heard of Texas Caviar? Clearly you don't live in Texas! It's a staple fresh salad, with the right combination of southern ingredients like black-eyed peas and Mexican ingredients like jalapeños and ground cumin, to make your taste buds sing.
You make black-eyed peas in your pressure cooker (10 mins at HP, with no soaking, yay!), and while the beans cook, you chop up your raw ingredients. I use a Kuhn Rikon Pull String chopper to make this easy for me (affiliate link, thanks for supporting my blogging habit) because of my RA-jacked up hands, but also becomes it dices very evenly and I like how it makes the salad look, as you see below.
The steps for this salad are very easy:
Cook un-soaked black-eyed peas, 10 mins HP, NPR
Cut up veggies
Make quick dressing
Mix everything together and let it marinate, serve at room temperature.
Pressure Cooker Vegan Texas Caviar
Ingredients
1 cup dried black eyed peas
2 cups water
Diced vegetables
1 cup diced onion
2 diced roma tomatoes
½ c chopped cilantro
1 Tbsp diced jalapeño peppers (adjust for spice level)
For Dressing
4 tbsp olive oil
3 tbsp cider vinegar (use combo of balsamic & cider for a sweeter taste)
1 tsp powdered cumin
2 Tbsp lemon juice
2 tsp salt
½ tsp ancho chile powder (optional)
Instructions
Cook black eyed peas in 2 cups of water for 10 mins at high pressure and let them release pressure naturally. Drain excess water when done.
Meanwhile, dice tomatoes, onions, jalapeños and cilantro into even shapes (I used this chopper)
Whisk together all the dressing ingredients.
Once the beans have cooled somewhat, add vegetables and pour in dressing, mix well and taste.
Adjust lemon juice, vinegar, and salt as needed for tangy taste. Resist the urge to over-salt at this juncture, as the salad will get saltier as it melds.
Allow salad to rest for 1 hour or so, before serving at room temperature.