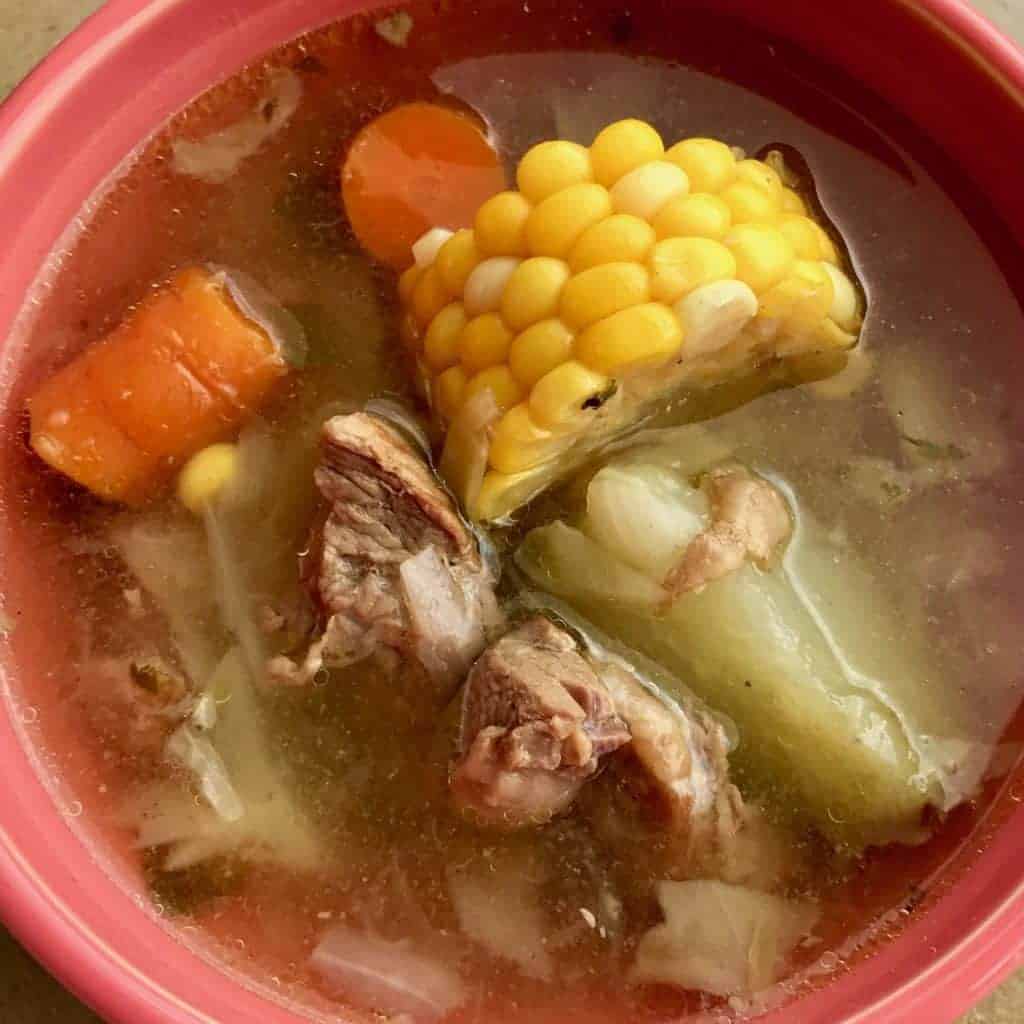 Sometimes the simplest ingredients combine to give you the most flavorful of dishes. As I was making this soup, with nothing to flavor it except a little salt and ground cumin, I was worried it would be quite tasteless. It was not tasteless. It had the savory taste of comfort and flavor, and all this with so little effort. The onions and cilantro add flavor to the broth, and the vegetables add their own lovely flavors to the soup. Truly a comforting, hearty soup with a light, flavorful broth.
This recipe takes two cooking cycles. First you cook the meat with just onions, cilantro, salt, cumin and a few slices of jalapeños. Then, when that is done, you add in the vegetables and cook them all once again. Traditionally the soup is made with bone-in beef shank but I couldn't find that easily, and I figured if I couldn't, others too would have trouble. So I decided to try it with beef stew meat. I think the pressure cooker does a great job of extracting all the possible flavor out of meats and none of us 5 tasters felt the lack of bones in the soup. But if you can find it, feel free to use bone-in beef and adjust cooking time accordingly.
The hardest part of this recipe for me, was cutting the corn cobs into 1-2 inch pieces. I'm not sure if I just lack hand-strength or if it is truly difficult for everyone. Either way, I got it done but I might use the larger, frozen corn ears next time to save myself some trouble. Although I must say, these are the perfect nibbling size.
The recipe steps are:
Cook beef with some aromatics for 20 minutes and quickly release pressure
Add vegetables ad additional water, and cook for 5 minutes at high pressure and quickly release pressure.
Pressure Cooker Mexican Caldo De Res
Ingredients
For the first cooking cycle
1 lb beef stew meat
5 cups water
1 cup chopped onion
2 Tbs minced garlic
½ cup chopped cilantro
2 tsp ground cumin
2 tsp salt
Vegetables to add for second cooking cycle
8 cups of mixed vegetables including:
¼ cabbage cut into wedges
8 red potatoes cut in half
1 ear of corn cut into 1-2 inch rounds
1 carrot sliced
1 chayote squash cut into 2-3 inch pieces* (see note)
Instructions
Put all ingredients listed under first cooking cycle into the pressure cooker, set on high pressure for 20 minutes, and when done, release pressure quickly.
Add in all vegetables for second cooking cycle, and cook at high pressure for 5 minutes. Release pressure quickly.
Taste and add additional salt or water as needed.
Notes
*If you can't find chayote, substitute zucchini, but do not pressure cook the zucchini with the other vegetables. Add it once the other vegetables are cooked, and let it cook in the hot steam of the soup.
I used 1 lb. of beef because I wanted mostly vegetables. This will work great with twice the meat, if you want a more meaty, heartier soup.