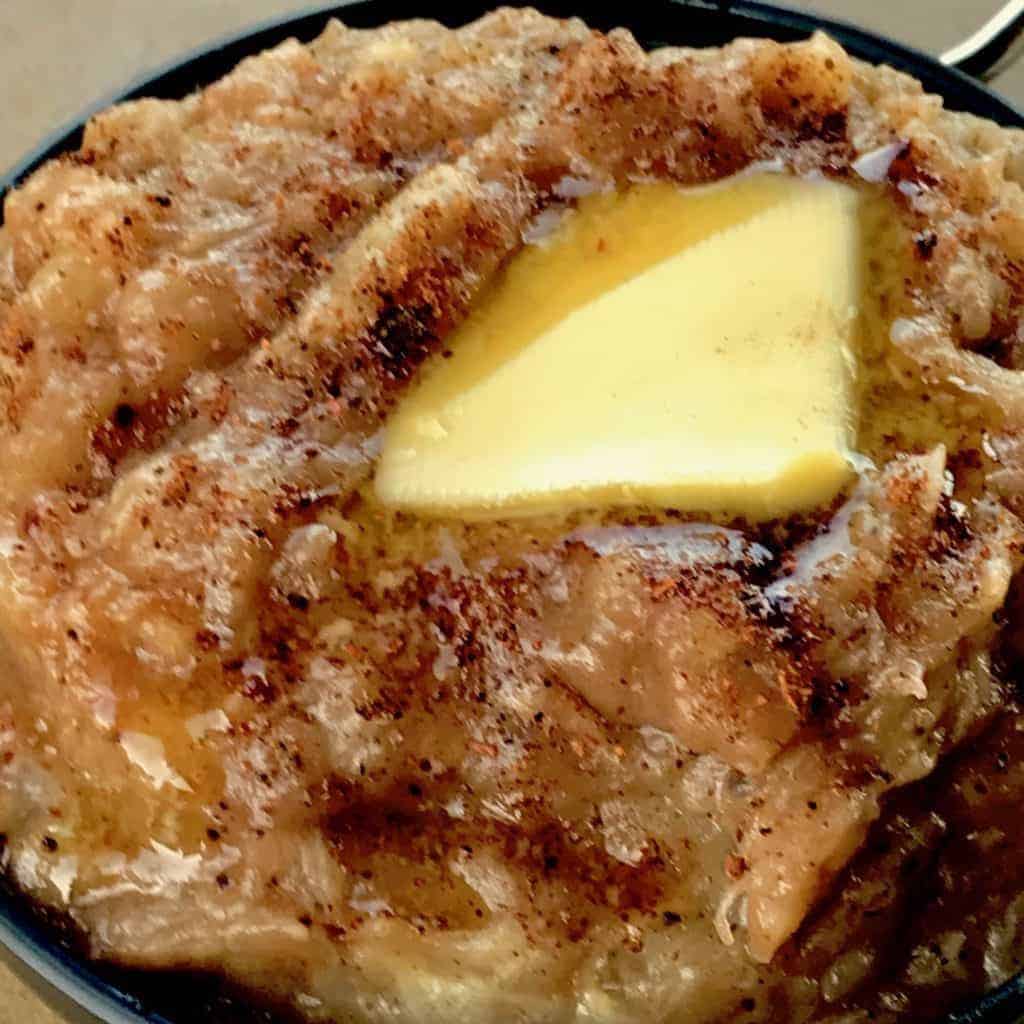 I know, weird title but that's literally what it was. Kinda like apple sauce, except made with bananas. I wanted to make baked plantains but I couldn't find plantains, and then it was too hot to bake. So I thought I'd throw everything into the pressure cooker and see what happens.
What happened was something that tasted very yummy with a dollop of ice-cream. Roger used no-sugar added ice cream, but feel free to use your favorite kind of ice cream to go with this, or eat it plain as I did. I could only have a taste as I still need to stay super-low carb this week, but what I tasted of it was very good. It tastes like applesauce but with a hint of banana. The texture is thicker than apple sauce as well, and with the butter and spices in it, it was a very rich and tasty dessert. It does taste like baked, mashed plantains, but since bananas are sweeter and less starchy than plantains, it was softer-textured. Can I include this in the Mexican cooking book because it's sorta like Baked Plantains? I think I will 🙂
Since it takes less than 2 minutes at pressure, you could start this right before you sit down to dinner, and have it be ready when dinner was done. This way you can serve the hot desert with some whipped cream or cold ice cream, with very little effort.

Pressure Cooker Caramelized Banana Sauce
Ingredients
4 tsp butter
4 tsp sugar
2 bananas cut in half, then sliced lengthwise
1-2 tsp apple pie spice or pumpkin pie spice
½ cup water
Instructions
Heat your pressure cooker on Sauté, and once it is hot, add the butter and sugar, mixing well. Allow it to caramelize and for the sugar to melt most of the way.
Add in the bananas, cut side down, and let them coat into the sauce, flipping to ensure the bananas are covered in the sauce.
Add ¼ c water to deglaze, being sure to scrape up anything that might be stuck in the bottom.
Pour in the other ¼ cup of water, seal the pressure cooker, and cook on low pressure for two minutes, releasing pressure quickly when done.
Open up the pressure cooker and gently mash the bananas to get a uniform purée.
Add additional butter, sugar, or spice as needed.