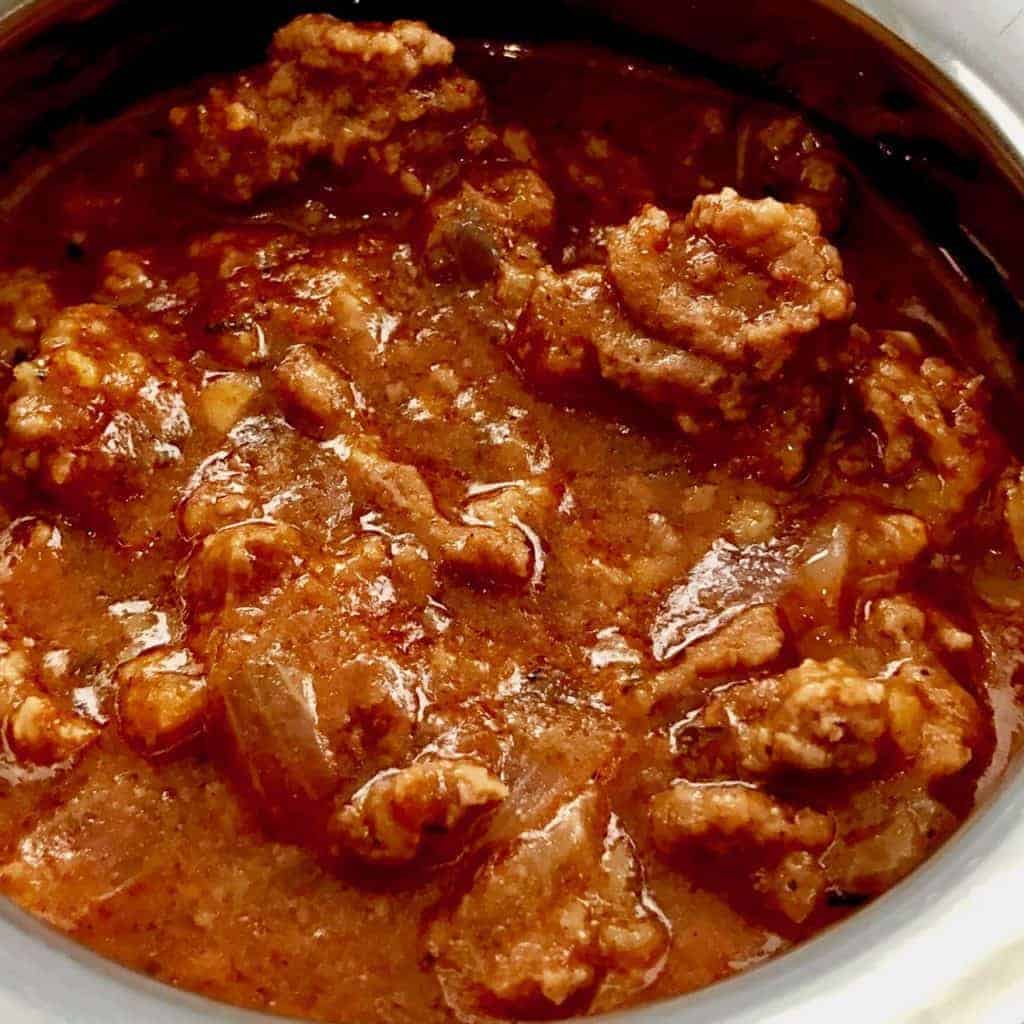 Why 3-2-2-1? Firstly because it's super quick. Secondly because that's how I remember the proportions of spices. Three tsp chili powder, 2 tsp ground cumin, 2 tsp salt, and 1 tsp oregano. This takes the place of any packaged chili spice mixes and does it so well, I don't buy pre-packaged mixes anymore. If you do want to use a packaged mix, I have a old recipe here for it, and it works well, but here's a good one that's from scratch.
So I've been over-thinking this chili. There are so many complicated recipes out there with lovely ingredients like cocoa, Mexican chocolate, espresso, strong coffee, Rotel, etc. that I was somewhat paralyzed before starting to do this recipe properly. Then I told myself to stop worrying about all the exotic ingredients, make a basic but tasty chili recipe. So I set aside all the recipes, and just cooked by feel as I typically do, and it worked out great. So here we go.
The corn tortillas are to help thicken the final product because as you guys know, the pressure cooker produces a lot of water in a recipe, and I hate using corn starch to thicken things because I don't think it adds flavor. I'd rather thicken with something that adds flavor and the tortillas do that well. So this is a good, basic Tex Mex chile, and to make it more keto, top with cheese and sour cream.

Pressure Cooker 3-2-2-1 Texas Chili
Ingredients
1 tbsp oil
1 cup chopped onion
1 tbsp minced garlic
1 lb. ground beef
1 cup canned fire-roasted tomatoes
1 tbsp chopped canned chipotle pepper
2 corn tortillas
½ c water
Spice Mix
1 Tbsp chile powder (not cayenne, Mexican chile powder)
2 tsp ground cumin
2 tsp salt
1 tsp dried oregano
Instructions
Heat pressure cooker on sauté, and when it's hot add the oil, and then add chopped onions and minced garlic. Stir for 30-seconds and then add ground beef. Break up the ground beef and allow it to browns slightly,
Meanwhile blend together the canned tomatoes and the corn tortillas until relatively smooth.
Mix the various spices in a small bowl and once the ground beef is somewhat brown (but not fully cooked), add the powdered spices and allow the spices to bloom for 30 seconds.
Add in the blended corn tortillas and tomatoes and use the ½ cup water to wash out the blender and pour that into the pot.
Seal quickly, cook at high pressure for 10 minutes, and allow it to release pressure naturally for 10 mins and then release remaining pressure.
Mix well, top with cheese if desired and serve.
Nutrition Information
Calories: 
395
Fat: 
24
Carbohydrates: 
12
Fiber: 
3
Protein: 
30