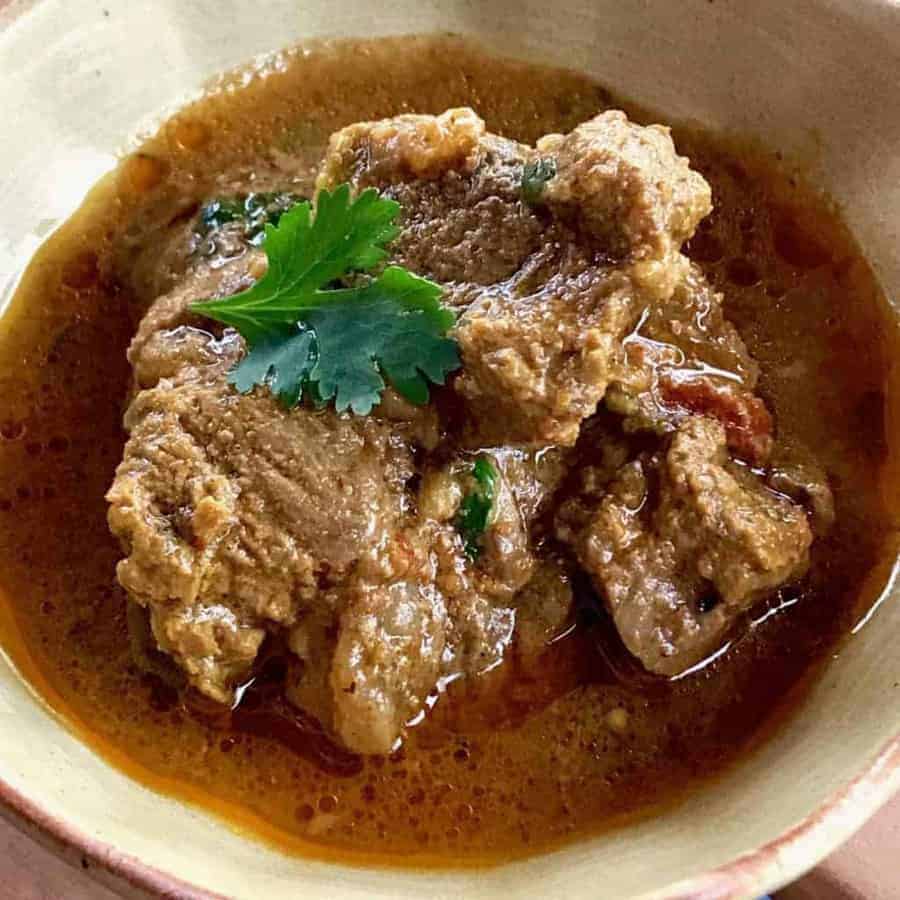 Okay so I have all this Onion Masala that I'm plotting recipes with. I woke up this morning with an idea on how to use it for the lamb I just bought. Okay full disclosure I bought the lamb to make lamb korma with, but then I realized I have no recollection of how lamb korma is supposed to taste. Oops. So although I futzed around with a sauce for it, I am going to have to buy some at a restaurant so I can see if mine even comes close.
Meanwhile, there's a pound of lovely leg of lamb cut into cubes so I figured I'd give this easy recipe a shot. Like most of my others, it's a dump and go recipe. Don't be intimidated by the list of ingredients. Once you mix it all together and throw it into the Instant Pot, you're done.
Oh and the apple pie spice is not a typo. Is that Indian, you ask me? Well, it has cinnamon, nutmeg and allspice in it, all of which are extensively used in Indian cooking. So I could give you a recipe that requires you to use a bit of nutmeg etc, but I figured most people are more likely to have apple pie spice lying around than nutmeg. If you, like me, have nutmeg, then just grate 1/8 teaspoons of it and enjoy.
If you don't have the onion masala made and really don't want to bother with fixing it, you could try adding in 1 cup diced onion, 2-3 garlic cloves minced, 1 teaspoon minced ginger, and increase your spices slightly.
I ate this for lunch today over an Indian basmati Pilau that I made in the Instant Pot, and I've included the recipe here and it was SO GOOD! I ate a bit and set the bowl down to finish typing up the recipe and when I reached for my bowl, it was empty. My husband tried to blame the dog, but he's a terrible liar, so I knew who really ate it.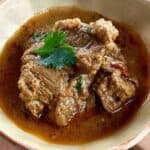 Instant Pot Indian Lamb Curry with Yogurt
Dietary Consideration:
Gluten-Free, High Fat, High Protein, Keto, Low Carb
Cooking Style:
Instant Pot/Pressure Cooker
Ease of Cooking:
Pour and Cook, Under 30 Mins
Ingredients
1

pound

leg of lamb cut into cubes

or beef or chicken and use Instant Pot charts to adjust cooking time accordingly

1/2

cup

onion masala

from recipe linked above

1/4

cup

greek yogurt

(if you're dairy free, add some lemon juice and 1/4 c water while cooking)

1

tablespoon

tomato paste

1/4

cup

cilantro

chopped

1

teaspoon

garam masala

1

teaspoon

salt

1/2

teaspoons

turmeric

1/2

teaspoons

ground cinnamon

1/2

teaspoons

apple pie spice

(not a typo see note in article)

1/4

teaspoons

cayenne pepper

1/4

cup

water

if you want some sauce for rice, otherwise omit
Instructions
This is so complicated I don't know where to begin

Mix everything together in a bowl

Put the mixture into your Instant Pot

Cook at 20 mins at high pressure for a soft lamb, or 15 mins if you want it slightly chewier (I went with 20 mins and it was perfectly soft but not yet shredding). Let it release pressure naturally.

Yeah, you're done. Eat.
Nutrition Facts
Instant Pot Indian Lamb Curry with Yogurt
Amount Per Serving
Calories 273
Calories from Fat 135
% Daily Value*
Total Fat 15g 23%
Total Carbohydrates 2g 1%
Protein 33g 66%
* Percent Daily Values are based on a 2000 calorie diet.