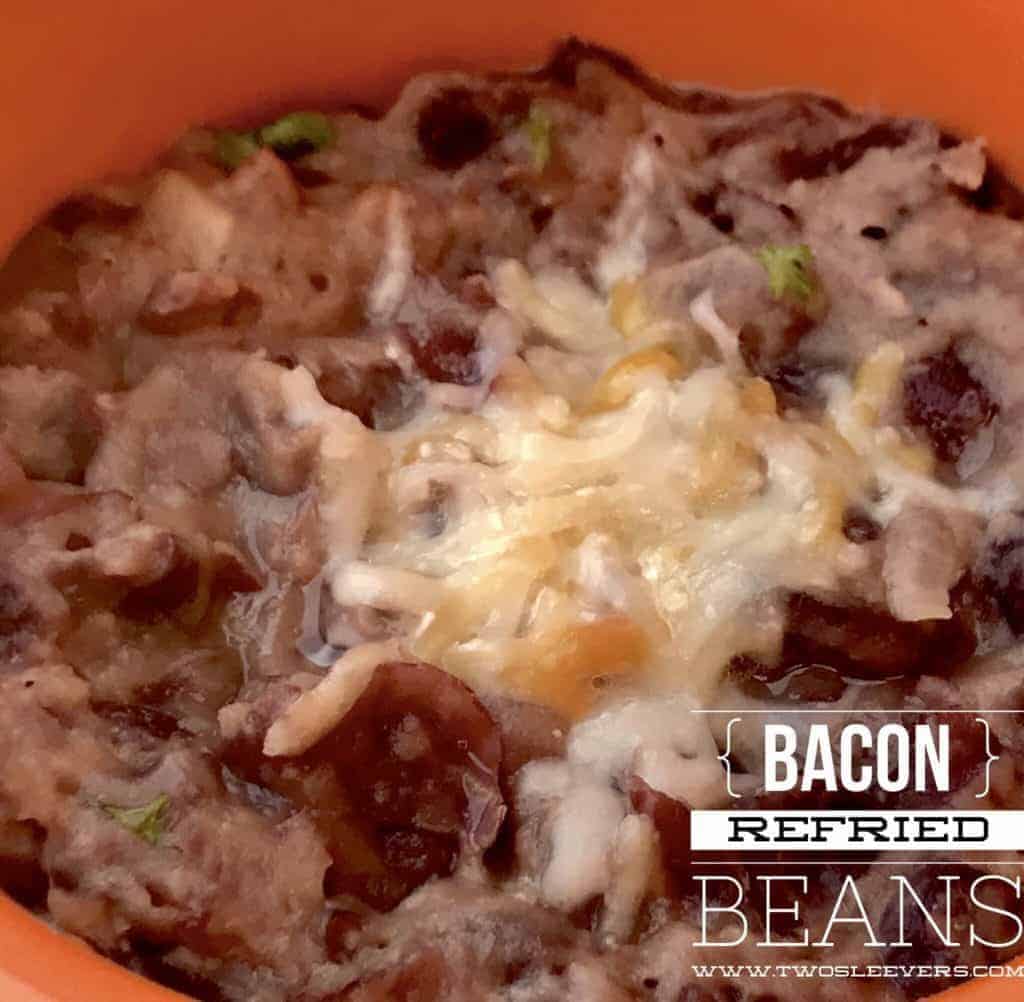 Mexican refried beans need lard. I don't have any. I don't want to buy any. What if I end up loving it and eating too much of it? What if I never use any of it? Then again, Lard is nothing but pork fat–and coincidentally, so is bacon. I always have bacon. I do love it. I do eat too much of it. So, here's what I thought I'd do.
Make pinto beans or red kidney beans in the pressure cooker, and then cook them up with bacon fat afterwards. That's what I ended up doing, and it tasted quite good. Besides, since you use just the bacon fat and not the bacon, you get to eat it, which to me is only fair if you're cooking, as your reward.
If you'd rather keep these vegetarian, use coconut oil or ghee instead of the bacon, and enjoy them that way.

Pressure Cooker Refried Beans
Ingredients
Soak Beans
½ c dry pinto beans
2 c hot water to soak beans
3 c of water to cook beans
For Refrying
6-8 slices of bacon
½ c chopped onion
3 cloves of garlic
¼ to ½ c water
1 tsp salt
1 tsp ground cumin
Instructions
Soak pinto beans in enough hot water to cover them for 1 hour
Drain, add beans into your pressure cooker, add 3 cups of water, and cook at high pressure for 20 minutes. Allow it to release pressure naturally to avoid spluttering
Once they're cooked, you can either mash them with the back of a spoon for a more rustic finish, or if you prefer a smoother finish, use an immersion blender on your beans to get a smooth paste. You may have to remove some of the cooking water so it's not too runny.
While the beans are cooking, Heat a frying pan and fry the bacon on a medium low heat to render all the bacon fat. Cook until the bacon is crisp and then remove bacon and reserve for another use (which means, eat it before anyone else sees it).
To the fat, add chopped onion and cook until until onion starts to brown at the edges.
Add chopped garlic and sauté for a minute.
Add mashed or puréed beans along with a little water, as well as the cumin and salt. Mix everything well, and let it cook. You may have to add water. Your goal is to get the beans heated through, and you will want to add enough water to ensure it is a slightly loose mixture. This will take about 4-5 minutes.
Serve with a spring of cilantro, and pass shredded cheese as you serve