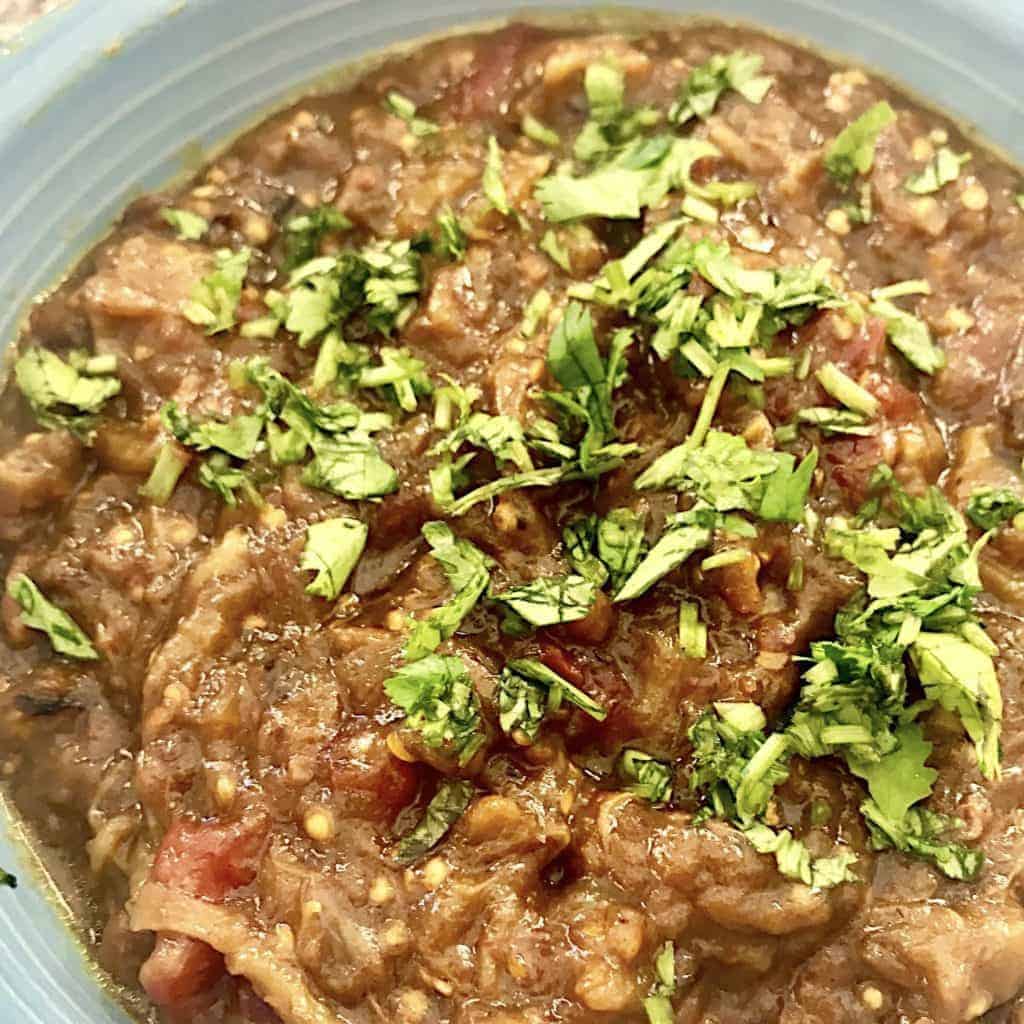 What insane person tries to make baingan bharta, a dish known for it's distinctive smokiness, the delicate charing that comes from broiling, in a Instant Pot? Me. That's who. I looked around for eggplant recipes on the Instant Pot and found this wonderful one for Baba Ghanoush which I was planning to make, but I've really wanted to do Baingan Bharta for a while.
Traditionally, you pierce a whole eggplant, you cover it in oil, and you broil it in an oven, flipping from side to side. This takes a good 30-45 minutes. Then you put the eggplant in a paper bag and let it steam, so the inside flesh cooks in that residual heat. Chalk up another 15-20 minutes of wait–which you could spend cleaning up the pan you just used to roast.
I like things simpler. So I used the principles of the Baba Ghanoush recipe but the ingredients of a Bharta. One of the immediate challenges was how to add enough water to the recipe without drowning it in water afterwards. Ordinarily, I'd add onions and tomatoes after the eggplant was done, because you sort of want the fresh taste. But I knew if I put it into the Instant Pot, I'd the veggies would release their liquid and flavor the eggplant. So I figured I'd try it that way.
Be forewarned this recipe will a) take more oil than you want since eggplant is an oil-sponge b) take 10-15 minutes charring the eggplant in the pot. But I wanted maximum char to replicate that smoky flavor. Here's a picture of how much char I think you want.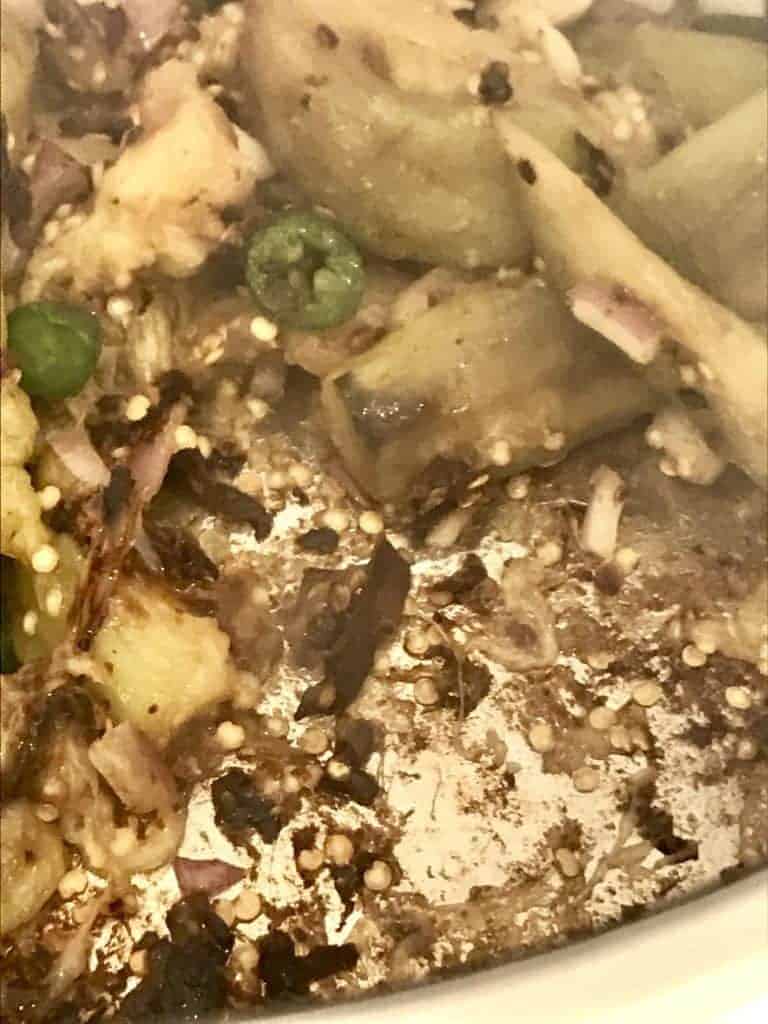 You want this to have very little water at the end, but be sure to scrape up any bits of char remaining once you open the pot, and go slow with that liquid smoke, tasting it and smelling it to make sure you've got enough. The end result was a wonderful slightly smoky mix that was done in less than half the time it would have taken me on the stove.
Enjoy it and do let me know how it goes for you if you try it.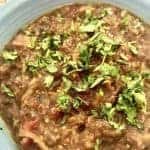 Instant Pot Indian Eggplant Baingan Bharta
Ingredients
1

medium eggplant

, peeled, cut in half, and then sliced lengthwise

1/3

cup

vegetable oil

3

cloves

garlic minced

1/2

onion diced

1/4

teaspoons

turmeric

1/8

teaspoons

cayenne

1/2

teaspoons

or more salt to taste

1/3

c

tomatoes diced

1/2

c

water

1/4

teaspoons

liquid smoke

2

tablespoons

chopped coriander/cilantro
Instructions
Heat the electric Instant Pot pot, and when it's hot, put in a few tablespoons of oil, and once it is hot, put in one layer of eggplant slices. This is the tough part now, do not mess with them until they are properly charred at the bottom. Without this char, you won't get the smoky taste you need. Once these slices char, they will shrink a bit and you can put in some more eggplant slices. At this point you may need to put in more oil. This thing sucks oil, so just embrace that. Use a spatula or spoon and scrape up the char from the bottom as needed. This took me about 10-15 minutes to get it all charred.

Once the eggplant is charred and somewhat soft, add in onions, garlic, turmeric, salt and let these spices roast in the oil for a bit as you mix everything together.

Add in the tomato and scrape up every last bit of the brown bits from the bottom.

Add in the water, and close the pot immediately before you lose any liquid through evaporation.

Cook at high pressure for 3 minutes, and release steam immediately.

Open the pot and turn on to sauté to get rid of some of the water if needed. It will thicken as it cools.

Add the liquid smoke and stir well, garnish with cilantro and serve with naan.

If you have kids that are not fond of eggplant or spicy food, I'd suggest mixing in a little greek yogurt or sour cream to soften the taste, and trying it that way.
Nutrition Facts
Instant Pot Indian Eggplant Baingan Bharta
Amount Per Serving
Calories 135
Calories from Fat 117
% Daily Value*
Total Fat 13g 20%
Total Carbohydrates 6g 2%
Protein 1g 2%
* Percent Daily Values are based on a 2000 calorie diet.