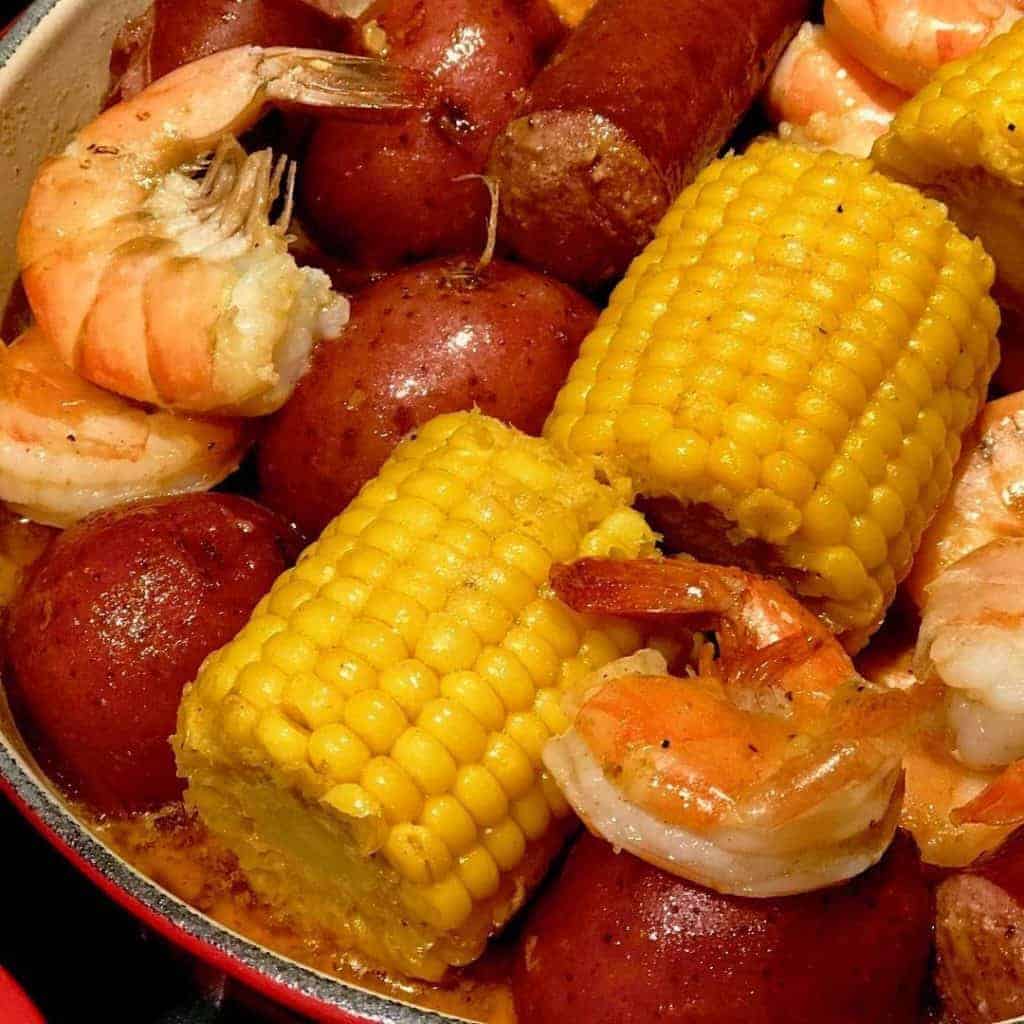 We love going out to places like the Boiling Crab that do crab, sausage, shrimp, corn and potatoes in a bag. But our problem is that not only is it an hour and a half drive, the portions are just too large for us even if three of us get one portion to split, and leftovers just don't taste that great with this. If you're a family of four, this can also get expensive to eat out, as each entrée runs about $20-$25.
I decided to try making it. In the past however, when I've made shrimp in the Instant Pot, I find it to be a little overcooked, and mealy. So this time, I was going to quick-cook it in residual heat from the broth. I bought a pound of sausage, 1 pounds. of easy-peel shrimp, 1 package of 6 frounceen half corn ears, 4 new red potatoes and it was about $16–and at our house, this will make two dinners for the four. YMMV. If you're not low-carbing, definitely serve some light, crusty bread with it to sop up all the sauce. I licked it off a spoon, as I tend to do, but it was calling out plaintively for a little piece of bread.
I actually frouncee half of the corn, sausage, and potatoes in a bag, and in a separate bag, I added the frounceen shrimp and put it all into one bag. Next time I make it, I'll put everything but the shrimp in the IP and then add the shrimp later.
So this is Instant Pot + pan, or Saucepan + Pan because you boil the sausage, corn and potatoes in the Instant Pot, but I made the sauce in a pan. There's no reason why you couldn't do both in the Instant Pot, but I needed dinner on the table fast, so I made the sauce in the pan while by Instant Pot came up to pressure.
So the steps are:
Boil corn, sausage and potatoes with flavoring in Instant Pot for 4 mins HP, QPR
Make sauce
Quick-quick Shrimp
Mix everything into sauce
Pig out.
Really easy.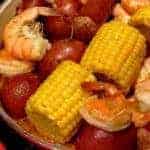 Instant Pot Cajun Shrimp & Sausage Boil
Ingredients
1/2

pounds

smoked sausage cut into four pieces

4

ears of corn

2

red new potatoes cut in half

1

tablespoon

Louisiana Shrimp & Crab Boil

Water to cover the above
To add to pot later
1/2

pounds

raw

, easy peel shrimp
For sauce
6

tablespoon

butter

1

tablespoon

minced garlic

<span class="mceItemHidden" data-mce-bogus="1"><span></span>1/8 teaspoons cajun seasoning</span>

1/4

teaspoons

Old Bay seasoning

3-5

shakes of hot sauce such as Louisiana Hot sauce or Tabasco

1/8

teaspoons

lemon pepper

1/2

lemon

, juiced
Instructions
Place the sausage, corn and potatoes in the pot and cover with water.

Set your electric Instant Pot to High pressure for 4 mins

Meanwhile in a pan over medium high heat, melt the better

Add minced garlic and sauté well while stirring, allowing the butter to boil and take on the garlic flavor.

<span class="mceItemHidden" data-mce-bogus="1"><span></span>Add all other spices and mix well, and taste it. Be sparing with these spices otherwise your sauce will get quite salty. Most of the flavor will come from the butter and garlic, anyway, and you can add the plain hot sauce for heat if you need. Leave this sauce to warm in the pan. By this time your Instant Pot should be done.</span>

<span></span>Once your Instant Pot is done, perform a Quick Pressure Release and open the lid carefully. Check to ensure the potatoes are cooked. Mine were very tender, but not mushy.

Throw in your shrimp and stir. As soon as the shrimp turn pink, take them out, and then take out the corn, potatoes, and sausage

<span class="mceItemHidden" data-mce-bogus="1"><span></span>Put everything bit by in into the sauce, stirring well to coat everything with the spiced butter goodness, starting with the shrimp so they have to cook just a little more.</span>

Serve immediately and be prepared for everyone to want to dip their food into the sauce left in the serving pot.

Adjust this as you need to feed children or adults who can't tolerate spice, by simply relying on butter, garlic, lemon juice, and lemon pepper to add flavor to the butter.