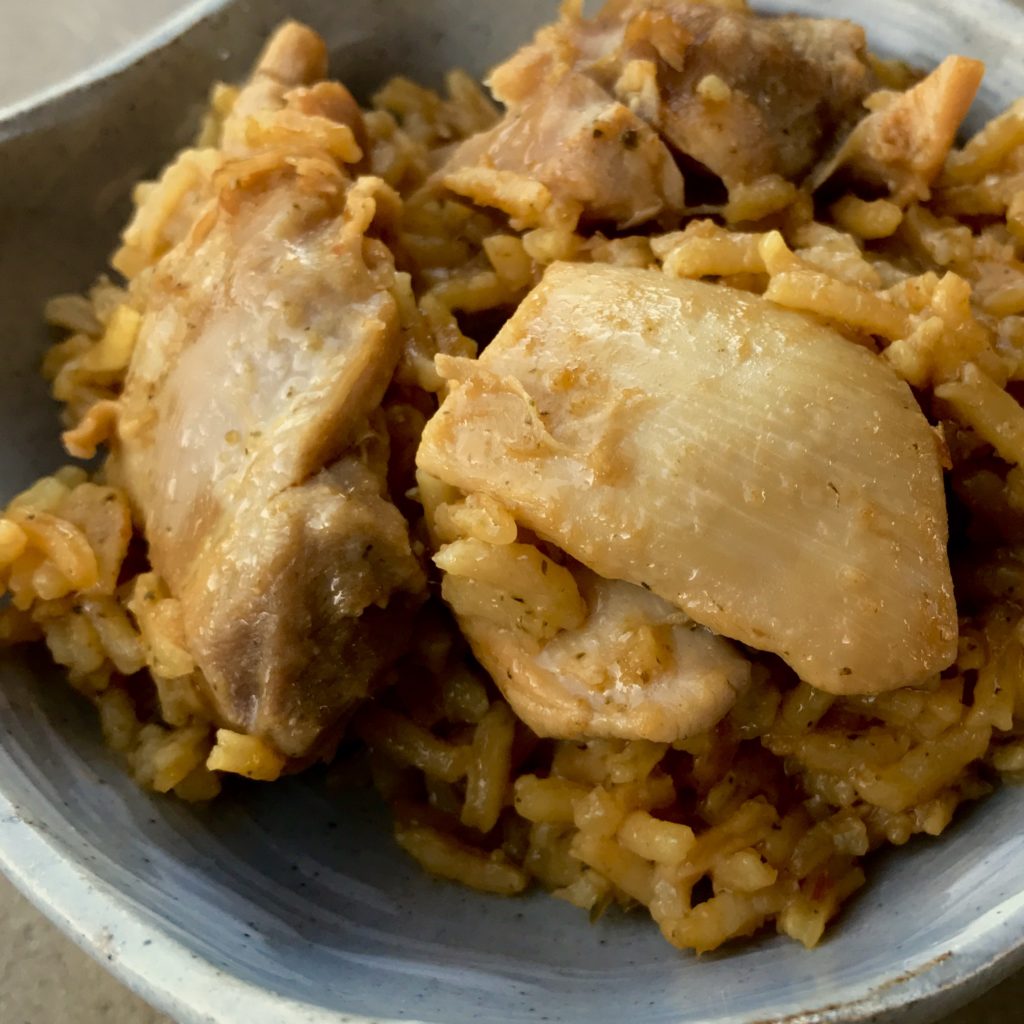 I burned this the first time I made it. HUGE mess in my pressure cooker and it took me forever to clean it out. Thankful for stainless steel inserts that stand up to a good scrubbing. The first time around I had too little water, and I used tomato paste which is tricky to use in a pressure cooker.
But it's difficult to give up on the lure of a comforting chicken and rice dish. My Indian version, the Chicken Biryani I created, is one of my favorite Indian dishes. I just don't love the hours it takes and the very many dirty dishes it creates. My streamlined version took care of that issue.
So for Mexican cooking week, I certainly had to have a chicken and rice dish, and of course it had to be Arroz Con Pollo. The second time I tried it, I made only the rice, to ensure I could get that right. I'm posting that separately as Mexican Rice here. The third time I tried it, I was ready to add chicken, and it worked out well.
So here are the steps for this recipe:
Blend the vegetables but do not rinse rice
Sauté rice, add veggies, then add vegetables, water, seasonings
Cook HP for 6 mins, NPR 10 minutes, release remaining pressure.
Pressure Cooker Arroz Con Pollo
Ingredients
Blend together
½ medium onion quartered
2 tomato, quartered
3 cloves of garlic
¼ cup cilantro leaves
½ jalapeño or more to taste
2 Tbsp oil
1 c basmati rice (not rinsed)
1 lb. chicken thighs, boneless and skinless, cut into bite size chunks
1 tsp Salt to taste
2 tsp powdered cumin
1 pack Goya sazon with achiote & cilantro (can omit if you don't have)
1.25 c water
Instructions
In a blender, blend together onions, tomato, garlic, cilantro, and jalapeño.
Meanwhile turn your pressure cooker to Sauté and when it's hot, add in 1 tbs of oil. Add in the rice and sauté until the rice is translucent about 3-4 minutes.
Add the chicken and the cumin, Goya Sazon and salt, and cook for a minute or two to let the spices bloom.
Add in the blended vegetables and the water, seal the pressure cooker, set to Manual HP for 6 minutes. Allow it to release pressure naturally for 10 minutes, and then release any remaining pressure.
Serve with a tomatillo salsa for a little piquant flavor.