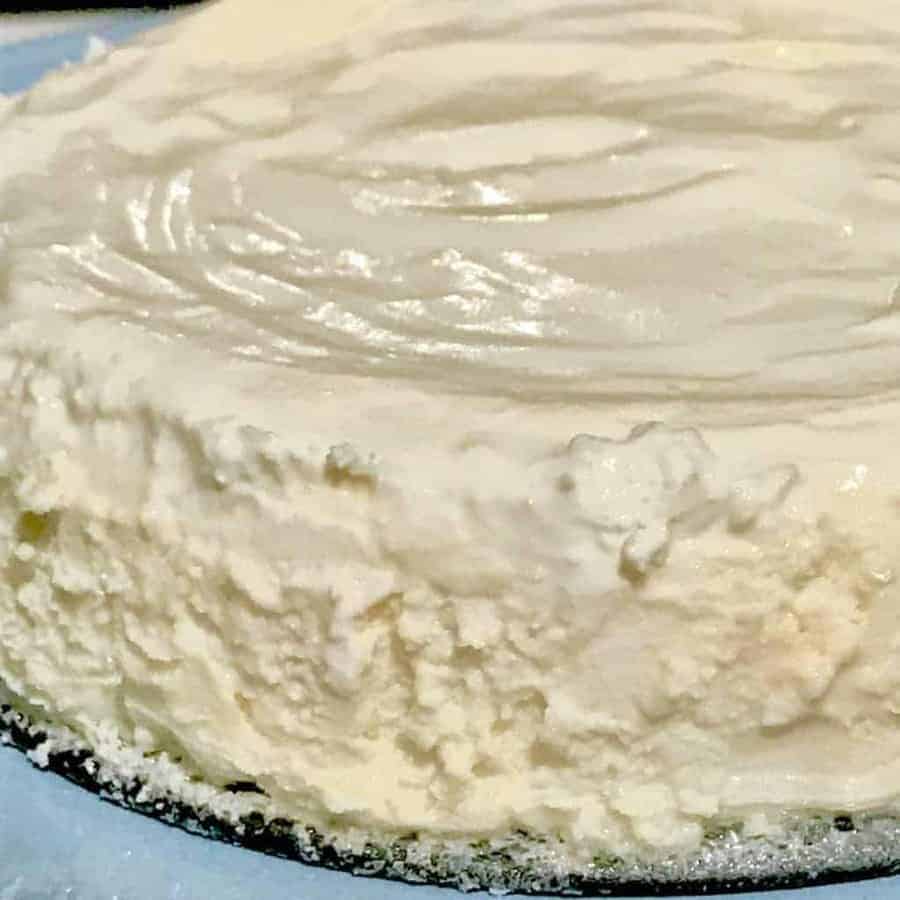 I don't even like cheesecake that much. But this cheesecake? I would totally eat it. Here's the problem with traditional cheesecake recipes for me. They're dense. They're full of sugar. They require you to fuss with a crust which is also either caloric or full of carbs. I can't. I just can't be bothered. There are some gorgeous cheesecakes being shared with the Instant Pot community and the most widely used recipe–with good reason as far as I can tell–is this one from This Old Gal. However, it has sugar and it has a lot of steps to follow.
I don't do too well with multiple step recipes. I have an old Mini Cheesecake recipe here and we loved it. But they had these little dips in them that I didn't love. Cheesecakes also turn out different in the Instant Pot from what I could tell. So I read up a little, asked questions a lot, and thanks to Laurie in the IP community, decided to try out Swerve instead of Splenda in my cheesecake. I'm not having much luck with the texture of things that I've baked with Splenda lately.
I also realized that the dips in my old mini cheesecakes were probably a result of over-beating after the eggs were added, so I changed up the recipe to accommodate that. I still make it all in my blender, but I added the eggs in last.
I also took on TOG's idea of putting a delectable-looking sour cream and sugar layer on top (Swerve in my case) and that was absolutely delightful. So here is the modified, equally simple, but actually more delicious recipe.
Note that this is a small cheesecake with smaller slices. It's so rich, you'd be hard pressed to eat more than a slice I think, but it is a half recipe compared to the other recipes out there. Not a bad way to get started. If you make this with double the recipe, please let me know how that worked for you, so other readers may learn from you as well.
So here are the simple steps.
Blend all ingredients
Pressure cook for 20 minutes and add topping
Chill.
Yup. That's it.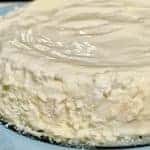 No Fuss, No Crust, No Added Sugar Instant Pot Cheesecake
Ingredients
2

teaspoons

fresh lemon or lime juice for tartness

2

teaspoons

vanilla extract

(I used almond, so delicious!)

1/4

c

sour cream or greek yogurt

1/2

cup

Swerve baking blend

8

ounce

room temperature cream cheese

2

eggs
For topping
1/4

c

sour cream

2

teaspoons

Swerve
Instructions
Bring all ingredients to room temperature

Turn your electric Instant Pot to sauté, pour in two cups of water, and place a trivet in the bottom. Ideally you want a trivet with handles you can lift out, such as the one that came with your pot.

In your food processor or blender, add all ingredients except eggs and topping ingredients in the order listed. If you're using a blender, you want the more liquidy ingredients at the bottom so the blades can work easier. I used a Vitamix and had to use my tamper (variable speed 6), but it worked well.

Gently but thoroughly blend all ingredients, scraping down as needed.

Add both eggs together and at this point, blend only as long as you need to, in order to get them well-incorporated, about 20-30 seconds. Your mixture will be pourably liquid by now.

Take a 6 inch springform pan and line the sides with parchment paper. Honestly, I don't know if this was needed or not as the cake pulled away from the sides just fine, but may as well.

Pour the mixture into the pan. Cover the pan with foil and place into the pot with the almost boiling water (I only did the pre-heat to save time, you can skip).

Close the lid, set on high pressure for 20 minutes, let it release pressure naturally.

Mix up the sour cream and swerve for the topping

Take out the cheesecake and spread the topping all over it.

Put it in the fridge and leave it alone. Seriously. Leave it alone and let it chill. It won't taste right hot.

When ready to serve, pull out parchment paper, unbuckle the sides of your springform pan, and serve on top of the pan bottom.