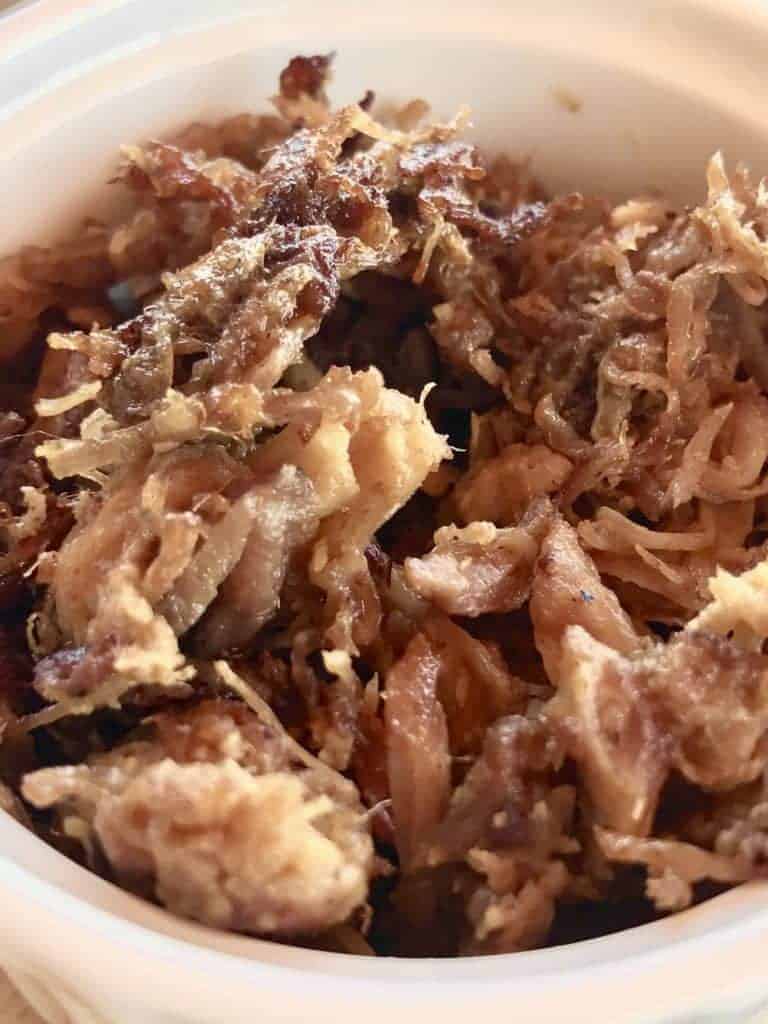 There are a lot of pressure cooker carnitas recipes around but this one is mine, based off this excellent one that my friend Prudence made and recommended. But since I a) can't follow a recipe to save my life, b) didn't need 6 lb. of meat and c) had a variety of chile powders I need to use up, and d) didn't have orange juice and don't keep fruit juice in the house due to high sugar content, I made a few modifications. So here was my modified recipe.
If you, unlike me, do not collect chile powders for funsies, I'm sure you could use just regular red chile powder and it will taste great. If you'd like to use orange juice or broth for the liquid I'm sure you could, I was just in a hurry (I was putting this together while on a work-related call, so I wasn't wanting to spend too much time on it. Herein my friends, lies the difference between those who blog for a living, vs. people like me who cook to feed the family, while trying to make a living. Short cuts abound, in my world.
I also cut the meat up into large bite-size chunks because I wanted it to cook relatively quickly, and since it was going to be shredded anyway, I didn't think it would matter.
Let me tell you something. DO NOT SKIP the browning step. I know it sounds like a pain, but it's the difference between delicious boiled meat, vs. carnitas. If they're not crispy, they're not carnitas. Look at the difference between the boiled pork and the finished product. That's all due to the crisping.
Don't be intimidated by this recipe, its basically line the pot with veggies that release water, season the pork, cook the pork, crisp the pork. That's all.

Pressure Cooker High Protein Pork Carnitas
Three kinds of chile powders added a nice, smoky taste to this dish. You could just use regular chile powder and get a perfectly lovely dish as well.
Ingredients
Vegetables
1 sliced onion
4 cloves sliced garlic
Mix together
I lb pork butt, cut into cubes, visible fat removed
Juice of 1 lemon
¼ tsp ancho chile powder
¼ tsp chipotle chile powder
¼ tsp smoked spanish paprika
½ tsp dried oregano
½ tsp roasted cumin powder
1-2 tsp salt
1 tsp pepper
Add to Pressure Cooker
For Frying
Instructions
Place sliced vegetables in the bottom of the pot to help them release water when the meat is cooking
In a bowl, mix together the pork with all the spices and the lemon juice
Place pork on top of the onions and garlic
Put ½ cup of water into your bowl and rinse it out to get the last of the spices, and pour this water onto the pork
Set your pressure cooker to Meat setting, or high pressure for 35 minutes
When it's done use natural release
Remove the pork, take it out of the water which may be somewhat salty
Leave the pot on saute and reduce the remaining water/sauce in there while you finish the next steps
Put the coconut oil in a hot cast iron pan. If you wanted, you could also fish out the pork fat that is cooked, and set that to render. I did both and it was yummy.
Lay the shredded meat in a flat layer and let it brown undisturbed
When it's partially brown, stir it and keep cooking until it's crispy in parts.
Once it's well crisped, put in a little of the concentrated broth. Your skillet should be hot enough that most of it just dissolves, leaving behind the flavor. I used almost all of my broth, small portiojns at a time to flavor the meat.
Serve with guacamole, salsa, sour cream or low carb tortillas, or eat plain.
Nutrition Information
Calories: 
262
Fat: 
23
Carbohydrates: 
1
Protein: 
23