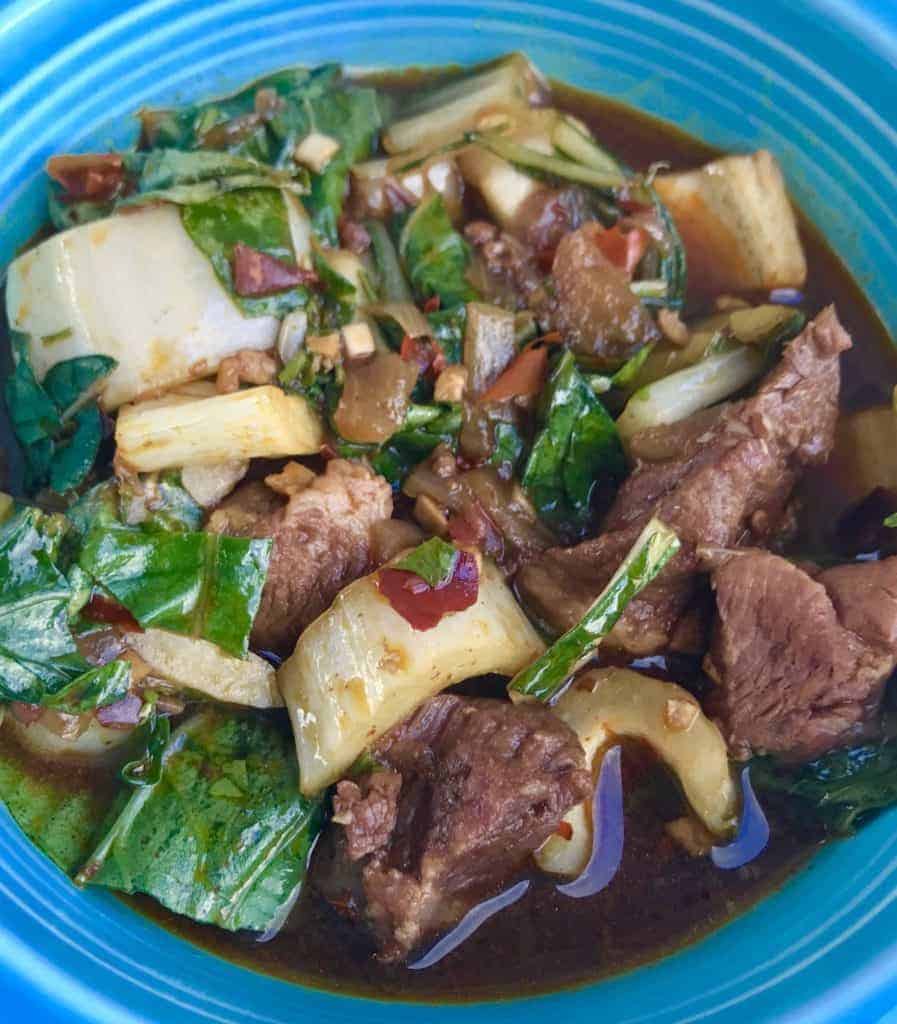 I love Sichuan food, but living where I do, I have to drive for 45 mins each way to get decent Szechuan cuisine so I'm trying to learn a few dishes here and there. Traditionally this dish has pork that is slow cooked, and once it is cooked, you add noodles into the rich flavorful broth. But of course, there's no way to do that and stay low-carb. So I made the meat and the broth and then added bok choy to add substance to it. I also cooked this in a Instant Pot because I really didn't have two hours to spend on making this right.
Turned out pretty well, we think. It is definitely spicy but also flavorful. It also requires you to have doban jiang which you may not have lying around. If I had to guess–and it's only guessing TBH–you could substitute with black bean paste and added cayenne pepper to approximate the taste. I bought it on Amazon and have included a picture below. It's a very distinctively-odored (is that a real phrase?) paste in that red bag.. If you don't have sichuan peppercorns and don't want to get any, just use extra black pepper. I used so little in this soup, they didn't impart their regular tingle.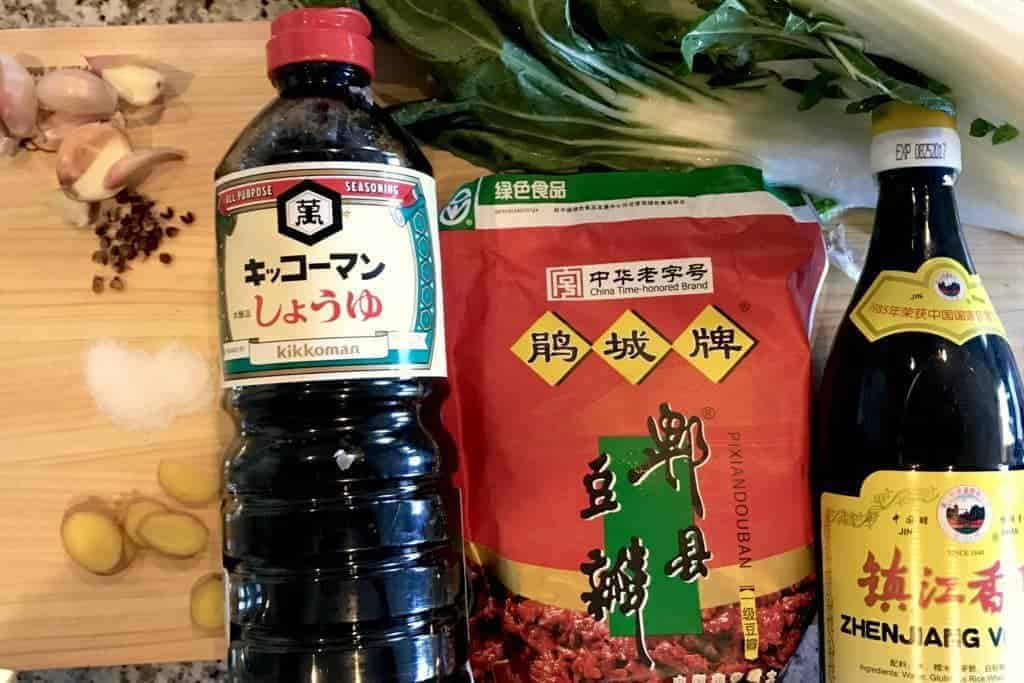 Made a very nice change to our routine, because it really doesn't taste like what I make everyday. I'd love to hear from you if you make this, or if you have a different way of making this soup.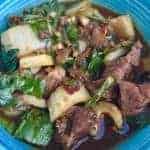 Low Carb Schezuan Pork Soup
Ingredients
For the sauce
2

tablespoon

soy sauce

2

tablespoon

black vinegar

1-2

teaspoons

sugar

2

teaspoons

Szechuan peppers roughly crushed

1-2

teaspoons

Salt to taste
To cook together
6

cloves

garlic

, minced

3

inch

piece of ginger

, minced

1/2

small onion sliced

2

tablespoon

peanut or other cooking oil

1

pounds

pork shoulder/pork butt cut into bite size pieces

2

tablespoon

doban jiang paste

(Chinese fermented broad bean paste)

3

c

water
To finish
3-4

c

chopped Bok Choy

1/4

c

cilantro
Instructions
In a bowl, mix together the soy sauce, vinegar, sugar, salt, and Szechuan peppers

Heat oil in Instant Pot and when hot, add ginger and garlic and fry for a couple of minutes

Add the pork cubes and let them brown on one side.

Add onion slices and mix all together with the pork

Add bean paste and sauté until it's broken down and has glazed over the meat

Add the sauce you mixed together and stir until incorporated

Pour in water and set the cooker to high pressure for 20 minutes

When it's done, let it sit for 10 mins natural release, and then release remaining steam. You still want the soup hot because you will now put in your bok Choy and cilantro. Close the lid and let it rest for 10 mins. The bok Choy will cook in residual heat and the cilantro will add flavor but won't be completely smushed.

Serve and enjoy!
Nutrition Facts
Low Carb Schezuan Pork Soup
Amount Per Serving
Calories 244
Calories from Fat 162
% Daily Value*
Total Fat 18g 28%
Total Carbohydrates 9g 3%
Protein 15g 30%
* Percent Daily Values are based on a 2000 calorie diet.